Sanyo Innuendo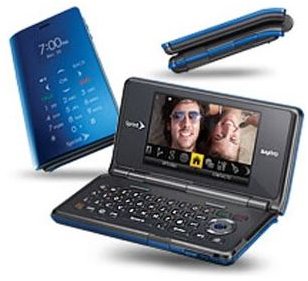 As mentioned above, the Sanyo Innuendo has similar features to its predecessor, the Sanyo Incognito; features such as the external touchscreen, Sprint's One Touch user interface and the sideways QWERTY keypad. On the other hand, it is slimmer and less boxlike than its old counterpart but retains its external touch screen and horizontal flip phone function. Find out what other similarities and changes have been integrated in the Sanyo Innuendo mobile phone.
Design (4 out of 5)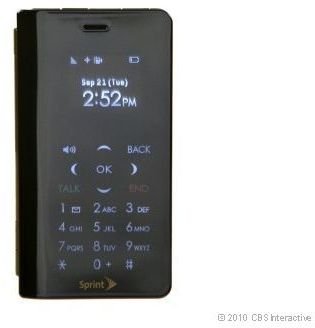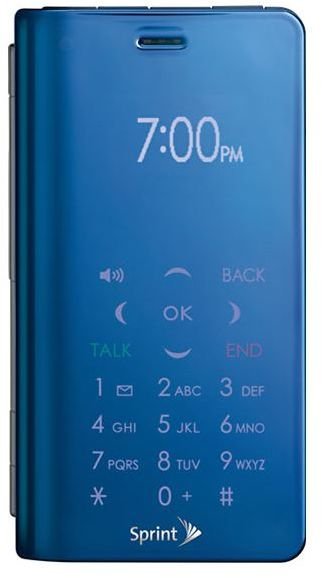 The Sanyo Innuendo measures 4.2 inches in height, 2.2 inches in width and is 0.6 inches in thickness. It is both slim and lightweight and its curved edges make for a current and modern design. It is available in black or blue colors. One major fault of the Sanyo Innuendo is its highly reflective external display which cannot be seen in sunlight and collects fingerprints and smudges.
The exterior touch pad consists of a number keypad, directional buttons, Talk and End key, OK button and a small external screen. The space between each key is enough to make typing easy, but because it is a touch pad having to check and double check the phone's response to each press may prove tedious. The small external screen shows the time and date while on standby and can also be used to access a few of the menu's options.
On the phone's side are a Micro-USB port and volume rocker. The MicroSD card port is unfortunately located behind the battery while the camera and speakers are on the back cover.
When the phone is flipped open it reveals a QWERTY keypad and an internal display. This display features a 400 x 240 pixel resolution and measures 2.8 inches. This makes for a great viewing experience. Additionally, the phone can only be viewed in landscape mode. Below the hinge that connects the screen and keyboard are two soft keys that go with two onscreen commands directly above them. The QWERTY keyboard features three rows and shares its 26 lettered buttons with symbols and numbers. Each key is adequately spaced making it easy to type and input text.
On the surface, which holds the keypad, there are also several other buttons including a navigational toggle, dedicated camera key, speakerphone button, Back button and Talk and End keys.
User Interface (5 out of 5)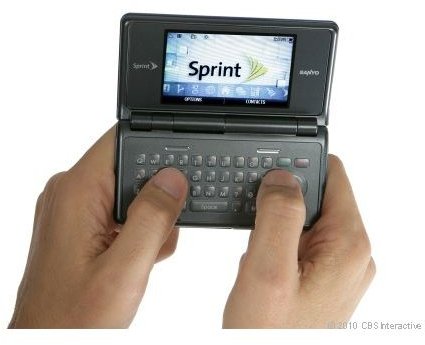 Just like the Incognito, the Sanyo Innuendo runs on Sprint's One Touch user interface technology. The home screen contains a carousel of icons which can be navigated using the toggle pad. Users can also pause on each icon to see more information about it. A small menu slides up from the icon which allows quick access to its sub-menus or options. For example, when the Internet tab is hovered over it will show a short list of favourites and recent web pages and also allows users to quickly search for a website in its search bar. The carousel can be further customized according to the user's preference.
Features (4 out of 5)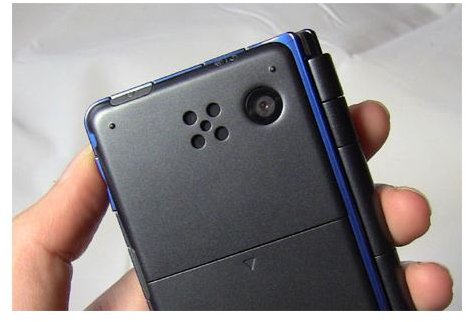 Many of the features on the Sanyo Innuendo remain standard, such as its calendar, notes, task pad, voice memo and email Exchange account. Its phonebook allows each contact to be fitted with several phone numbers, emails, addresses, employment and title. There is also voice recognition software by Nuance which relays accurate voice commands and performs the appropriate response.
The Sanyo Innuendo features a 3.2 megapixel camera which produces generally decent photographs both indoor and out, in sufficiently lit areas. The camera can also record video although its resolution and playback quality is troublesome. Other features include GPS navigation, social networking integration of Myspace, Facebook and Twitter, mobile email integration including Yahoo!, AOL, Gmail and Windows Live and also access to Sprint's TV and Music application. The Sanyo Innuendo also features a built-in MP3 player and an external memory slot for up to 32GB of extra storage space.
Performance (4 out of 5)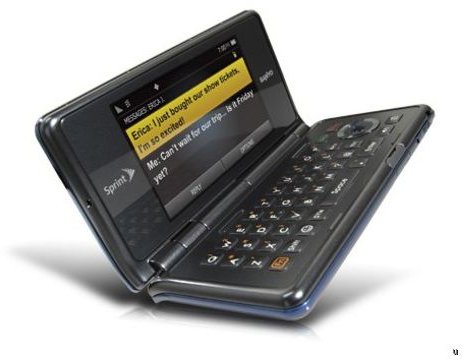 The Sanyo Innuendo has an excellent call quality and fairly decent reception while on the go. Users experience crisp and clear call quality on both ends of a phone call. The Innuendo's battery life lasts for up to 5 hours of talk time which is a bit low in comparison to similar mid-range mobile devices.
Verdict (4 out of 5)
When Sprint announced the Sanyo Innuendo and mentioned its similarity to the Incognito many people were wary of the device. Upon its release its many extra features and design attracted some fans to this truly innovative device. It is good at what it strives to do and corrects many of the Incognito's previous shortcomings. Not only is it unique but it is functional, features a user-friendly interface, great QWERTY keypad and a list of basic applications and software which makes the device well-rounded.
The Sanyo Innuendo is a mid-range mobile device which is relatively affordable. It costs $259.99 without contract and can be purchased at www.wirefly.com.