The New Pantech Ease Review
Pantech Ease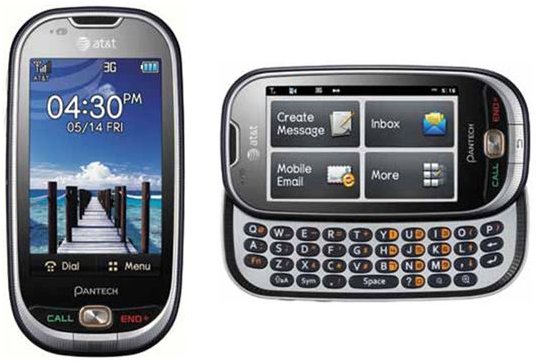 The Pantech Ease could have a pretty broad appeal and might suit older people. On the other hand, this slider phone is not a bland addition to the Pantech line but features a touchscreen and innovative QWERTY keypad as well as two unique modes for the younger generation and the not so savvy older folk.
Design (5 out of 5)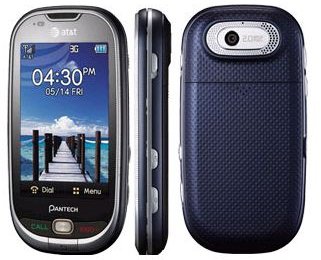 The Pantech Ease is more oval than square, following closely behind Pantech's previous release of the Pursuit. The handset is constructed of plastic but has a rubberized texture on its back case promoting a safe grip. The Ease is similar to other touchscreen mobiles with its long oval screen and slide out QWERTY keypad. It is lightweight at 3.5 ounces and measures 2.28 x0.56 x 4.48 inches.
The Pantech Ease has a large screen size of 3.2 inches and features a resolution of 240 x 400 pixels and promotes 262K colors. These specifications are much larger than other Pantech phones. The touchscreen is a capacitive display which functions better than resistive screens. Its shiny and reflective screen coating unfortunately, makes it hard to view in direct sunlight.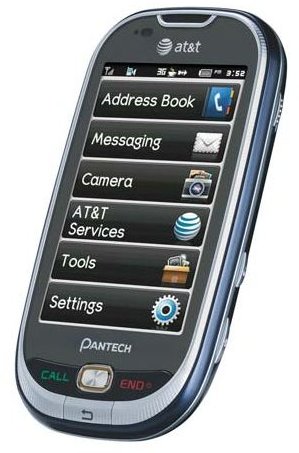 The Ease has several dedicated buttons which appeal to more tech savvy individuals while being large enough for elderly users as well. There are three buttons on its main console while the keypad is locked in place. These are the Send/Accept, End/Reject calling buttons, a Back/Clear and a direction button. On its sides you'll find volume control, a camera sidekey, voice activation and a lock/unlock button.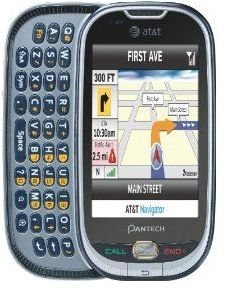 The QWERTY keyboard slides out horizontally and the screen flips to be viewed in that direction as well. The buttons are oval and slightly flat. There is a very strong backlight when being used in the dark making it great in any lighting situation.
User Interface (5 out of 5)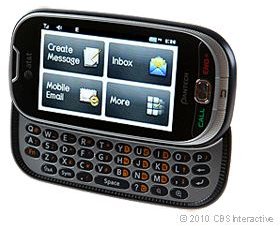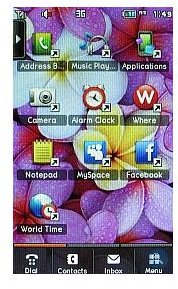 The Pantech Ease carries two different interfaces, Easy and Advanced modes. Within Easy mode, the interface is basic and straightforward. It features one home screen, two shortcuts below, making the phone dialer and main menu accessible, and also hides some of the phone's extra and technical applications such as the music app, instant messenger and social networking applications. There is also the option of adding sound or vibration for touch feedback, a great addition for the older generation.
Advanced mode features three home screens, two of which can be customized to suit user preference. On the bottom row of the touchscreen is a row of quick selection icons for accessing the contact list, phone dialer, messages and the main menu. Within the menu, icons are arranged in a grid pattern.
When the keyboard is slid open, the screen's orientation will change from portrait to landscape view. The virtual phone dialer can be accessed from the main home screen and has shortcuts for accessing call history. Inputting text messages can be done using the onscreen T9 keypad or the slide out QWERTY keyboard.
Features (4 out of 5)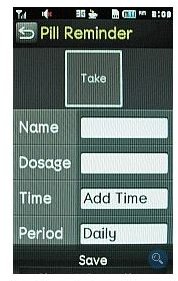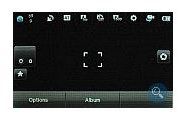 The Pantech Ease features a 2 megapixel camera which is of a low quality compared with similar mobile devices. Photos taken with the Ease's camera tend to be overexposed in bright sunlight. Within Advanced mode users are given the option of adjusting several preferences in order to achieve better photos. Easy mode, unfortunately, does not allow these options.
Music and video playback are both pleasurable because of its great sound quality and ample screen display, respectively. Both features are great additions to the Pantech Ease although accessing them would require Easy mode users to switch over to Advanced mode.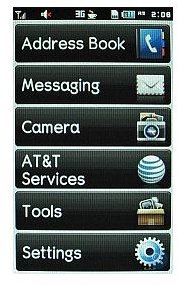 Advanced mode also allows for more apps to be utilized such as AT&T's mobile video and music app, a social networking app and instant messenger.
The Pantech Ease also features, within both modes, speakerphone, calendar, alarm, calculator, text and MMS, Bluetooth, GPRS and an Internet Navigator. AT&T's HTML web browser is usable within the Ease's large screen interface and is easy to navigate. There is also the option of enabling the readout feature which reads text from messages and announces incoming calls out loud.
Performance (4 out of 5)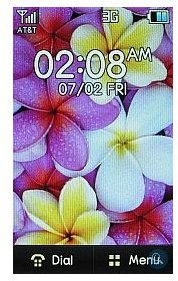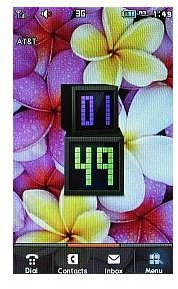 The Pantech Ease comes with 3G connectivity, equipping it with fast and speedy web browsing capabilities, loading pages in under 30 seconds and downloading media in under a minute. Streaming live video does require some buffering time but produces a decent feed throughout.
The mobile device is also compatible with M3/T4 and HAC hearing aid devices. A single charge on its lithium polymer battery will last for 15 days on standby and offer at least 5 hours of talk time.
Verdict (4 out of 5)
The Ease attracts both tech savvy and elderly individuals as a result of its text messaging appeal coupled with its laid back design and manipulation. This mobile device is an eclectic mix of usability and innovation offering each generation the very best in advanced mobile technology. In essence, it can be as simple as needed or as complex as necessary, so that both tech savvy and non-tech savvy people, depite their age can be fully satisfied with its use. Buy the Pantech Ease here.