Windows Mobile TV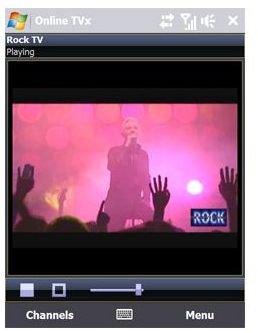 Online TVx Mobile 2.0.1 is a mobile app that allows you to watch online TV from phones supporting Windows mobile 5 or above. This is the only online TV application that doesn't need extra 3rd party apps to function. The windows mobile TV gives you instant access to 800 channels that are categorized by countries and genres. It's an easy to use app loaded with unique features. Its key features are
Access to more than 800 TV channels
Automatic channel and program update
Better choice than satellite or cable TV
G-sensor support
Multilingual support
The Good (4 out of 5)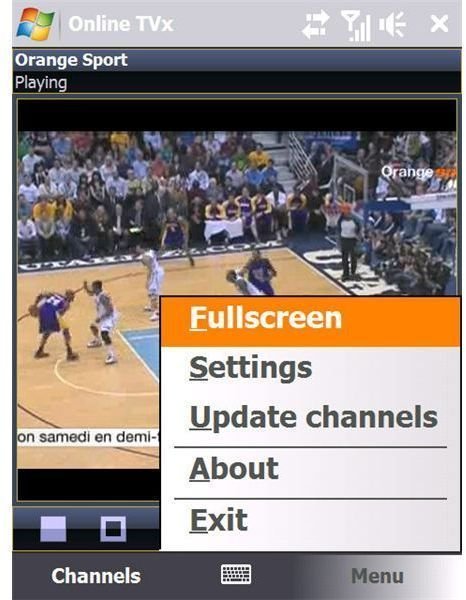 The app broadcasts TV programs via wmArcade player. The developers of this app have tailored the player with a boot screen to meet the needs of the TV channels. The main video interface has a play button, full-screen button and a volume slider. If you dig further into the settings, you can choose either English or Russian to be language of the app. The player takes a few seconds to download the list of available channels. Registering the application from the Menu soft key allows you to manually update the channels. The channel list is closely watched over by the developers and they quickly remove the channels from the list that experience regular hitches and snags. Unfortunately, the app doesn't allow the user to add channels; they have to choose the channel from the list of available channels, some of which are
Fox 11
Sky News
Deejay TV
ITV
Rock TV
Star TV
Automoto
Eurosport
The program comprises of more than 80 countries and nine genres. You can sort the channels either by the countries or by the genres. Each channel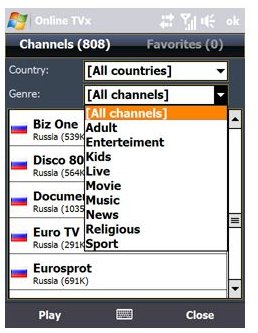 has a country flag on the side, which helps you recognize the stream. The bit rate at which the channel streams is also mentioned along its name. You can sort the channels according to the following genres.
Sports
Religious
Adult
News
Entertainment
Live
Kids
Music
Movies
Music
The Bad (2 out of 5)
The only thing that has been ignored by the developers is the adult content on windows mobile TV. Some serious adult content launches without warning when you try to open the app. Some sort of parental control for adult channels should have been integrated in the app. Also, the application forgets the country or genre filters, once you exit the app. This implies that you have to set these filters every time you restart the app. Another limitation of the app is being restricted to the available channels. And, most of the channels, except the News channels, go into the repeat mode.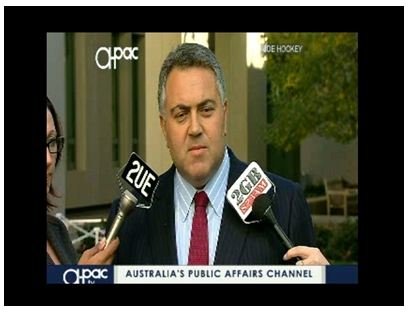 After reading the review if you feel like trying the app, try the demo version to see if you want to spend $14.95 on the full version. The demo version offers full access for five minutes.