Acer Stream Review: Specifications, Design and Hardware
Acer Stream Review
Acer hasn't had much success with its range of Android smartphones, but it's definitely trying hard. The newest launch by Acer in the Android segment is the Acer Stream. It is an excellent device which can easily rival the top Android phones in terms of hardware specifications and features. It has a 1 GHz processor, 512 MB RAM and comes with a 5 MP camera. In this review, I will check out the Acer Stream and tell you how it stacks up against the current Android champions.
Acer Stream Specifications
Dimensions: 119.5 x 63 x 11.2 mm
Weight: 140 gms
Display: 3.7 inch AMOLED capacitive touchscreen, 480 x 800 pixels, 16M colors
Processor: Qualcomm Snapdragon QSD 8250 1 GHz
RAM: 512 MB
Memory: 2 GB internal memory; up to 32 GB microSD
OS: Android 2.1 Eclair; upgradeable to Android 2.2 Froyo
User Interface: Acer Touch 3D UI 4.0
Camera: 5 MP camera, 2560 х 1920 pixels, autofocus, 720p video recording at 24 FPS
Connectivity: GPRS, EDGE, 3G HSDPA, Wi-Fi 802.11 b/g/n with DLNA and UPnP, Bluetooth 2.1 with A2DP
GPS: GPS transceiver with A-GPS
Radio: FM Radio with RDS
Battery: Li-ion battery, 1400 mAh
Design (4 out of 5)
The Acer Stream has a very stylish design which can easily go head to head with any other Android smartphone. It is quite pocketable with dimensions of 119.5 x 63 x 11.2 mm and weighs around 140 gms. It is very slim but is a bit more heavy than its competitors. The build quality is excellent. Below the display, you have the Home, Search, Back and Menu keys. It also has 3 multimedia keys which you can use when viewing video in the landscape mode.
On the left, there is the power button and the volume rocker. On the right, there is the camera key, the microUSB and the microHDMI port. On the top, there is the 3.5 mm audio jack while on the back there is the 8 MP camera and the battery compartment.
It also has a great 3.7 inch AMOLED capacitive touchscreen display with a resolution of 480 x 800 pixels. While the screen is not as awesome as the Super AMOLED display of the Galaxy S, it is quite good. The brightness and contrast is good and the colors are vibrant.
Hardware and OS (4 out of 5)
The Acer Stream is quite competent when it comes to hardware specifications. It has top of the line hardware: it comes with a 1 GHz Qualcomm Snapdragon processor and has 512 MB RAM. It has 2 GB internal memory and supports up to 32 GB microSD cards. It comes loaded with Android 2.1 Eclair but will get an upgrade to the Android 2.2 Froyo OS soon.
It also has the custom Acer Touch 3D UI 4.0. You can also switch to the vanilla Android UI if you prefer that. The Acer Touch 3D UI is visually appealing. It looks nice and has nice effects. The interface is easy to use and is very responsive. It also supports widgets. It has an Application Dock for easy access to shortcuts and a modified notification bar too. Overall, the Acer Touch 3D UI is one of the better custom Android UI jobs out there. It also supports almost all the applications in Android Market.
Multimedia (3 out of 5)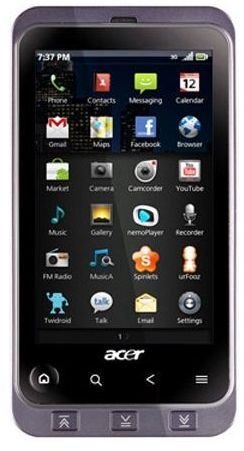 When it comes to multimedia, the Acer Stream is very capable. The gallery app gives you access to all the images and videos on your device. The gallery looks awesome and has some nice animations. It is very fast, irrespective of the number of images in it.
It comes with the default Android video player and the Nemo Player. It also supports HDMI out via the microHDMI port. The video playback is pretty nice, the 3.7 inch OLED display is ideal for watching videos. It supports 3GP, MP4, DivX and H.263 videos.
The Music Player is also very good with a nice, usable interface. The audio quality is great, especially when coupled with a nice set of headphones. The Acer Stream also comes with a stereo FM Radio with RDS.
It has a 5 MP camera which has an image capture resolution of 2560 х 1920 pixels. It also offers features like autofocus, geotagging etc. The camera interface is easy to understand and offers a series of advanced options like resolution, white balance, ISO, exposure etc.
The image capture quality is good, but definitely not the best. I would rather recommend the Samsung Galaxy S if you are keen on the camera. The camera can also record 720p video at 24 FPS. The recording quality is not as good as other phones in the same range though.
Connectivity (4 out of 5)
The Acer Stream is fully equipped when it comes to connectivity. It offers every feature under the sun: GPRS, EDGE, 3G HSDPA, Wi-Fi 802.11 b/g/n with DLNA and UPnP etc. It also offers Bluetooth 2.1 with A2DP and microUSB connectivity. It comes with a GPS transceiver and has A-GPS support.
The Acer Stream comes with a lot of goodies. It is bundled with an 8 GB microSD card, a HDMI cable and the charger. It also has a nice headset and a carrying case.
The Verdict (4 out of 5)
The Acer Stream is a very good Android option. The list of high end Android smartphones is growing fast and now has about 6-7 phones which can easily compete with the iPhone 4. However, I would recommend the Samsung Galaxy S or the Motorola Droid X over the Acer Stream.