Sony Ericsson Xperia X10 Mini Review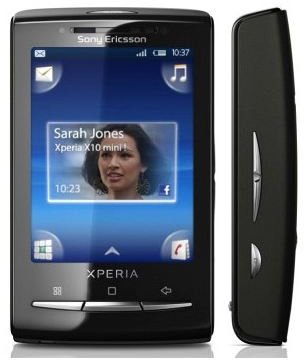 The Sony Ericsson Xperia X10 Mini is a miniature version of the flagship Sony Ericsson Xperia X10 Android smartphone. The Xperia X10 Mini is a smaller replica of the Xperia X10 when it comes to design, and it also cuts back on some features and sports a lower hardware configuration. It is also priced much lower than the Xperia X10 – it costs around half of what the Xperia X10 does.
Sony Ericsson Xperia X10 Mini Specifications
Dimensions: 83 x 50 x 16 mm
Weight: 88 gms
Display: 2.55 inch TFT capacitive touchscreen display, 240 x 320 pixels, 16M colors
Processor: Qualcomm MSM 7227 @ 600 MHz
Memory: 128 MB Internal, 2 GB micro SD (upto 16 GB supported)
OS: Android 1.6 (Donut)
Connectivity: GPRS, EDGE, 3G HSDPA, Wi-Fi 802.11 b/g, Bluetooth 2.1 with A2DP, microUSB v2.0
Camera: 5 MP camera, 2560 х 1920 pixels with autofocus, LED flash
GPS: GPS with A-GPS
Radio: FM Radio with RDS
Battery: Standard Li-ion battery, 950 mAh
Design (2 out of 5)
The Sony Ericsson Xperia X10 Mini has a nice design; it looks like a mini version of the Xperia X10. It is extremely compact with dimensions of 83 x 50 x 16 mm and it weighs 88 grams. The build quality is nice and the phone is sturdy.
The front face houses the small display and three buttons - Menu, Home and Back. The right side hosts the volume rocker and the dedicated camera key. The bottom has the 3.5 mm audio jack and a microUSB 2.0 port. On the top is the power key while the back has the 5 MP camera with LED flash.
The Sony Ericsson Xperia X10 Mini sports a 2.55 inch TFT capacitive touch-screen display with a native resolution of 240 x 320 pixels and it supports 16M colors. The display is much too small compared to other touch-screen phones – it is the smallest display in any Android phone. Despite the size, it is comfortable to operate with your fingers.
The display quality is pretty good but not as good as AMOLED displays in the higher end Android smartphones. The small size makes it inconvenient to watch long movies on the display, but short videos are just fine. The display offers nice contrast and has decent sunlight visibility.
User Interface (2 out of 5)
The Sony Ericsson Xperia X10 Mini runs on an older version of Android - 1.6 Donut. It has a custom UI which runs on top of Android. It has a 600 MHz Qualcomm MSM7227 processor and comes with 128 MB internal memory and support for up to 16 GB microSD cards. It should probably get an upgrade to Android 2.1 along with its older cousin, the Xperia X10 soon.
The small screen size means less space for the UI elements - you cannot add shortcuts to the homescreens, only one widget per homescreen is allowed. It also doesn't support a full virtual QWERTY keypad, which may be a serious drawback for some. Other than that, the OS runs perfectly well. It is fast and responsive, despite the slower processor and less RAM. Also some of the applications on the Android Market won't work on the Xperia X10 Mini because of the low, non-standard display resolution.
Features (3 out of 5)
It comes with an image gallery which allows you to browse through the images on the phone. You can send images directly to Facebook or Picasa. The video player app is also very basic with standard controls. You can play 3GP and MP4 video files. However, watching videos on the small display isn't a very good experience. The music player is visually appealing and offers the basic stuff like playlists, album art etc. The sound quality is pretty good. The Xperia X10 Mini also offers an FM radio with RDS support.
The Xperia X10 Mini has a nice 5 MP camera with autofocus and an LED flash. It can capture images at a maximum resolution of 2560 х 1920 pixels. The camera interface is easy to use but doesn't offer advanced customization settings. The image capture quality is pretty nice and has nice contrast with vibrant colors. The LED flash is helpful for night time shots. It can record video at the VGA resolution at 30 FPS in the 3GP format. The video quality isn't much to speak of.
It features all the basic connectivity options that are expected in a smartphone - GPRS, EDGE, 3G HSDPA, Wi-Fi 802.11 b/g, Bluetooth 2.1 with A2DP and microUSB v2.0. It has the built in Webkit browser which performs quite well and loads pages fast. It doesn't have Flash support; that will come only with Android 2.2. It does have a YouTube application which you can use to view YouTube videos.
It also comes with a GPS transceiver with A-GPS and Google Maps.
Performance (3 out of 5)
On the network side, it has no reception issues and offers nice call quality. The battery is a standard Li-ion 950 mAh which lasts for a day with moderate usage.
Unfortunately the limited hardware does lead to the odd crash and the lack of a virtual QWERTY keyboard, due to the small screen, means it isn't always easy to use.
The Verdict (3 out of 5)
As one of the cheapest Android phones on the market it will compete directly with budget offerings from HTC and Samsung. Most people will prefer something with a larger screen but then the tiny size is the whole point here. There's no denying it is cute and it's not expensive either, but the lack of a full virtual QWERTY keyboard is annoying. If you're more interested in having a dinky phone that fits in your bag then go for it, if you really want to experience the full benefit of the Android platform then look elsewhere.
References