Review of the Garminfone: A GPS Phone for T-Mobile
The

Garminfone is a nice middle of the line phone on T-Mobile. This is not Garmin's first foray into the mobile world, they also have a phone with AT&T called the NuviPhone although it isn't quite as nice as this one. The Garminfone is similar in size and shape to either the MyTouch 3G or the Motorola Cliq XT. The Garminfone is also very similar to these phones in terms of hardware specs. T-Mobile and Garmin-Asus seem to have been targeting a select group of people with this phone. I think they realized that many people are using the maps and GPS functionality of cell phones and decided to take advantage of that. This phone is very much phone and GPS first, everything else second. It is easy to see that by simply looking at the home screen because there are three buttons on it: Call, Where To and View Map. Everything else is hidden in menus. Seems pretty specific to me anyway.
Design (3 out of 5)
The Garminfone is a sleek, eye-grabbing phone while still managing to keep a straight-forward and simple user interface.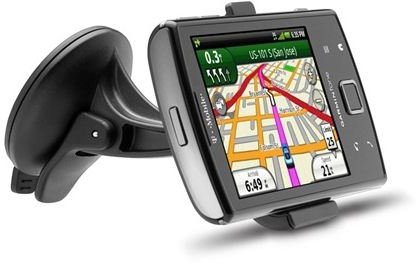 You will also notice the nice, large 3.5 inch capacitive touch screen (with a 320 x 480 resolution) on the device. Below the screen are, what seems to be standard on Android devices, four buttons (home, back, menu, and call) as well as a touch sensitive joystick. Also on the bottom is the soon-to-be standard for T-Mobile mini USB charging port. There is an additional charge port as well though, along the left-hand side of the Garminfone, this is for the handy dandy cradle that you can get for it. This allows the phone to be mounted just like a GPS. Along the other side is your volume control as well as a camera button.
The screen is very easy on the eyes and does include a night time mode so that it doesn't overtake other things that may be more important like other cars, the road, or maybe even your dashboard. Unless you really think that the Garminfone can keep a good eye on traffic, in which case you can feel free to try it on full brightness and best of luck.
User Interface (4 out of 5)
The driving power behind the interface is Android 1.6 however Garmin-Asus put their own spin on the interface with what they call Breeze. This interface is why the home screen has the three big buttons that were mentioned above. It is easy to find and get to what you want whether that be an application or a place on the map. Like the other versions of Android, addresses and phone numbers become links so that if you have an address in a text you can simply click on it to get it pulled up on the map. It seems like, even though they are using an older version of Android, Garmin tried to polish it up by adding in their own proprietary bits. So there are many navigational items that are done using the Garmin functionality that can be done on newer Android 2.1 phones. Some users may want to keep that in mind, especially if they want the newest apps to play with since Android 1.6 won't support all of the new apps that are released. One of the things that you can do with the Garminfone that the new version of Google Maps also supports is Geo-tagging pictures. However, the Garminfone takes it an extra step and allows you to Geo-tag your texts as well and will even let you pull up a list of recent tags on the map to show what you saw along the route you were taking.
Features (4 out of 5)
This Android powered Garminfone has a few nifty features to show off, mostly the fact that it is a highly accurate GPS that just happens to be a phone as well, but there are some other neat things too.
600 MHz Qualcomm ARM 11 processor. This is a decent mid-grade processor and normally does a good job, but does get bogged down at times and can make the phone seem sluggish.
Built in Wi-Fi.
3 Megapixel Autofocus camera that captures video as well.
Supports up to a 32 GB microSD card.
Voice Command for GPS as well as the ability to record your own custom directions to be played for certain routes.
Bluetooth.
3G Quad Band phone (which means it can be used all over).
Real-time traffic, weather, and local information as well as lots of pre-programmed locations on the map. Helps with the ability to find the closest gas station or hotel.
This is a great niche phone for those who are more concerned about getting where they want to go than all of the other frills that can be on a phone. Granted this GPS phone does have access to a lot of frills, but they aren't necessary and don't come as standard. The phone is relatively free of Android apps, unless you download them of course.
Performance (3 out of 5)
As a GPS navigation device the phone performs admirably. It stays accurate even just walking around. As far as overall performance is concerned, most of it is great but the processor can get a bit bogged down if you try to do a few too many things at the same time. It loads the apps that it supports pretty quickly though. One thing that is a bit lacking is the battery. It is only specified to last for 3 or 4 hours worth of talk time. If that is the case, then having the mount for the Garminfone in your car would be a major plus.
Overall (4 out of 5)
Overall, this is a great navigational tool and niche GPS phone for people that want the functionality of an Android smartphone but aren't overly concerned with the latest and greatest apps. Garmin-Asus and T-Mobile have said that the phone will have the ability to receive over-the-air updates but it is unknown when those will occur or even if those will be operating system updates or Garmin software updates.
So all in all, if you want more practicality than shiny objects to play with, then this is the phone for you. It will allow you to consolidate and use one electronic device for many functions, and it may even help you to lower bills if you're currently paying for a GPS service. Just pay for your phone bill and allow it to do the job of both!
References
Garmin, https://www.garminasus.com/en_US/garminfone/