Newsroom For WebOS. Advanced RSS Reader With Quick Launch Functions
Overall Use (4 out of 5)
Using Newsroom couldn't possibly be any more simple than it already is, users can search through the apps featured and included RSS feeds or simply click on the "+" sign and add RSS feeds from their favorite sites. Those sites are then listed on the applications main screen which acts as the RSS feed launch screen. If you have more than one page of icons you can even scroll through various pages to launch your favorite RSS feeds.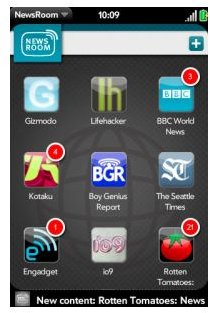 As you'll notice in the screenshot shown above, the RSS feeds when available will include the name of the site, along with the sites logo, all of which are setup on 1x1 cell spots for simple finger pressing without any fat fingering. You'll also see the little red circles with numbers in them, this showed me when new articles had arrived on my favorite feeds, allowing me to stay on top of all articles as they came into play. The bottom of the page also shows the "new content" section with the newest article from all my sites, ensuring breaking news is never missed, even if you don't visit that site right at that moment. The program also perfectly integrates with the WebOS notification system, allowing for quick "new article" alerts to appear as they arrives as well. Overall the launch screen is one of the best I've found on an RSS reader to date.
The Newsroom application is also extremely simple to read articles with, mainly because it optimized text for easy reading on WebOS devices, while also including all pictures found within the sites feeds. The program also includes clickable URLs when they exist within stories all of which are easy to discern from the main text found on the page.
Here's a quick screenshot from the popular electronics (one of my favorite) site Gizmodo: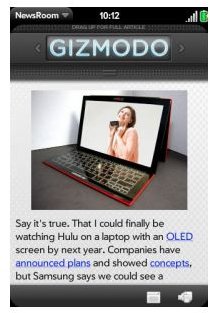 It's also important to note that I didn't have to zoom in and out on articles, they were all set for simple reading, right from their current state. Also, it's important to notice the top of the page where there's a "drag up for full article" section, this is where you would open the story among various other articles, allowing for full touchscreen access for launching stories as you find worthwhile reads.
You can also swipe left to right and then right to left in order to browse various articles without needing to head back to the main output screen to launch articles.
Conclusion
Newsroom isn't a perfect RSS feed application, however it does justice for WebOS with it's simple to navigate interface, integration with the WebOS notification system and optimized page output that makes reading articles and viewing photos a simple process.
If you want a simple RSS feed program that offers quick access for up to date articles as they arrive, this might be the program for you. If you need podcast support and more functionality you may want to keep looking.
I personally use Newsroom for finding blog stories to right about and I wouldn't leave home without it.