pReader for WebOS Review: A Simple Yet Effective eBook Reader
Overall Use (4 out of 5)
While pReader doesn't provide the type of functionality or file support found on the Amazon Kindle or Barnes and Noble Nook, it does offer a great free option for WebOS users with moderate file support (plain-text, PalmDOC and non-DRM). The program also offers an intuitive interface that's simple to master. Let's take a look at that interface.
I began using the program by launching the file launch screen. From this option I was able to choose the type of file to open which included a button for PDB/TXT files and Reader files. The buttons are both large and "finger friendly" with the familiar grey WebOS background on a darker button set. Nothing revolutionary here, but it's a simple launch option.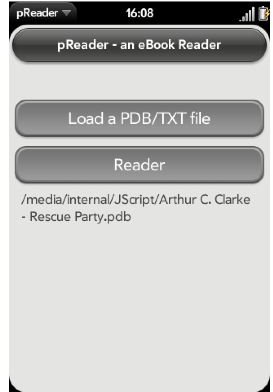 After choosing which type of file I wanted to launch I was pleased to see all of the files on my device arranged in simple alphabetical order. I simply clicked on the file I wanted to launch and it was ready to go. I could also see the date of the file creation and the file size.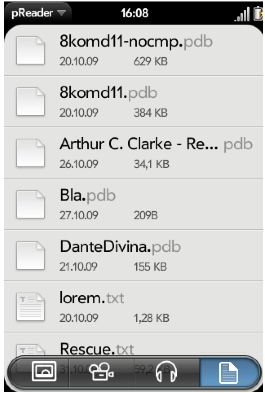 Once the file is launched reading through text is very simple thanks to a great font selection and well spaced wording that makes the program easy on the eyes. Again there's nothing groundbreaking here but it was simple to scroll through the pages using screen touches and the text looked good.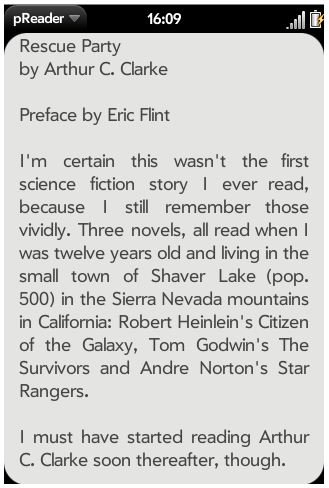 If for some reason I ever needed to close and relaunch the program at another time it also saved my last location which made picking up a book at a later time and getting right back into it at my last position was very simple.
Of course there are times when you may want to skip around to various parts of a book, while not the best option, the program does offer a "Go To" option which can move you to any "percentage" of the book, such as 53% of the way in, just use the slider to move along from section to section.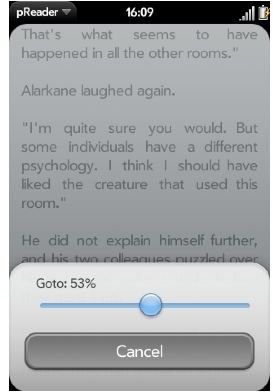 As I mentioned earlier, the font selection that defaults on the application is very nice for reading purposes, however there may be times when you want to increase the font size, bold font for easier on the eyes reading or even italicize fonts while aligning the text at the left side of the page or along the center line. Thanks to a simple display option screen all of these options are available with just a few quick clicks of your display.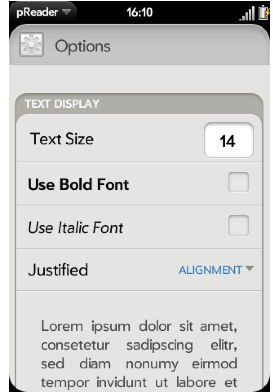 Conclusion
pReader is a free homebrew application that you can download and install with PreWare or via the PreCentral repository. The program offers a moderate about of file supports with nice text layout options that can be optimized for each users preferences, while offering a simple navigation setup that most users should get along with well.
Overall I loved this application and I would highly recommend it to any reader looking for a simple option for non-DRM eBooks they want to take on the road with them, just watch your battery life, having your screen on at all times can really wear down your WebOS Smartphone.
Give it a try, you won't be disappointed if you only need a simplistic eReader.