Music Player (Remix) for WebOS: Featuring More Options for Playing Music on Your Palm
Music Player (Remix) offers a few new tools that the original WebOS player is sorely missing. With faster, more simple navigation abilities, music organization tools, screen enhancements for the programs "Now Player" function and user customizable screens the Remix program is perfect for Palm users looking to make their music app their own.
Keep reading for more information about the Music Player (Remix) app, including a few screenshots of this sleek and fun music player.
Overall Use (4 out of 5)
The most important screen for any music app in my opinion, is the "now playing" screen, after all this is where you'll control your music as it plays, while also launching new songs and even checking out artist album work. The Remix app thankfully offers a very straight forward now playing display, equipped with album work (when available) a nice large track placement slider for quick navigation to any part of a song you choose and simple track forward, track back and pause/play buttons.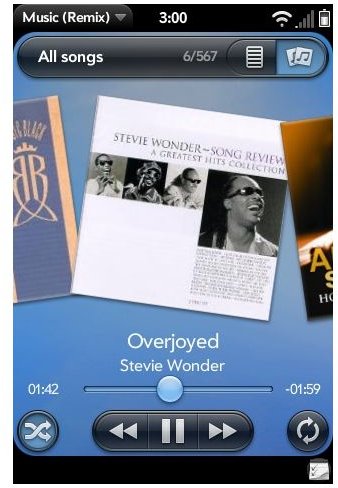 From the now playing screen I was even able to bookmark my songs by clicking on the Bookmark icon, which would also bring me to my bookmark screen where I could add and delete bookmarks.
My personal favorite part of the now playing screen though was the simple save points that it offers, just close the app in the middle of a track and it automatically saves and starts from the same spot when you enter the app at another time by just pressing the "Resume Play Button" that appears.
Remix player also allows users to click on "flylists" which in turn saves the song playing in the "Now Playing" screen directly to their "flylist"
Users can also flip up and down on the now playing album art to be taken to that artists album, where new songs for playing can be selected. It's a very simple option but definitely worth having.
Another excellent option is the ability to find more music and even purchase songs right from the application. Just open the options menu and you'll have immediate access to the Amazon MP3 store along with a "Wikipedia" option which allows you to find information about the artist you're listening to. The program also offers a "YouTube" video search for the current playing artist so you can watch videos from those performers.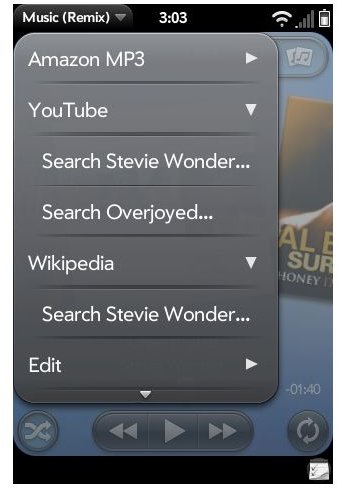 Users can also tap on the lyrics button from the Now Playing screen to read lyrics from the song, lyrics which are pulled from Lyrics.wikia.com and which were delivered on every song I tested them with, even bands that are at least practically "underground" such as "Jets To Brazil" and "Self."
Of course before you start searching for playing songs info you need to find songs you want to listen to, for this purpose you can simply use the finger friendly scrolling option to alpabetically find "all albums", "artists", or "songs". This option is much like those found on Google Android and iPhone devices.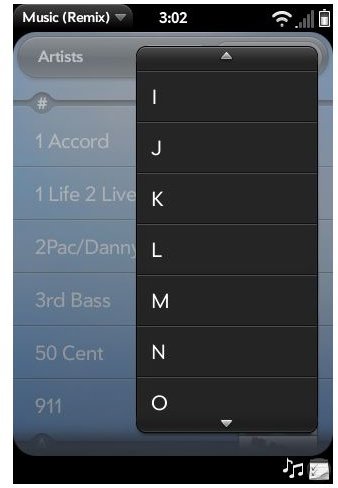 I really enjoyed the navigation bar since I could search for various files based on whether I knew the artist name or the song title or heck even just the first letter of either since I could search "All Albums." For added navigation the program also allowed me to swipe from right to left on the title bar to also return to the main menu, it's a small addition but it makes browsing my player much faster.
Finally the player offers some excellent customization abilities including the ability to change background colors by mixing the red/green/blue indicator in the preferences screen. The slider makes it VERY simple to quickly customize one of the main screens you'll be viewing on your program. I could also use the preferences screen to change the background of the application to any picture I had stored on my device, while also changing the fonts to "white" or "black" to better match my lighter and darker backgrounds.
Conclusion
Will Music Player (Remix) revolutionize the WebOS audio platform? No. What it does do though it make using the WebOS platform a little more enjoyable by turning the task of finding, playing and bookmarking songs into a simple process.
The program also offers excellent song and artist "information" screens with the help of the programs Wikipedia web page launcher and YouTube video finding portions.
I would highly recommend the Music Player (Remix) application to any user looking for simple, yet enhanced music playing capabilities. The program is free from the PreCentral repository and the developer is continually updating the program with new options, so give it a try today and a month or two from now you may find even more advantageous uses arriving to the program.