Review of the Palm Pre Pandora App: Stream Music, Get Artist and Song Information, and Buy Music on Your Phone
Overall Review (4 out of 5)
Pandora is known for excellent music streaming capabilities, thankfully that excellence translates very well onto the Palm Pre with a host of features that will keep most audiophiles happy for days.
From the moment you launch Pandora you'll quickly realize why it has become an instant hit, the options available are all layed out in extremely easy to navigate menus that are optimized for touchscreen use. For example radio stations are setup in A to Z order and by date. I found several stations I liked and clicked on the "+" key to add the station to my favorites list. You can also search by typing in an artist, song or album for a more dynamic experience. Here's a look at the listed stations menu: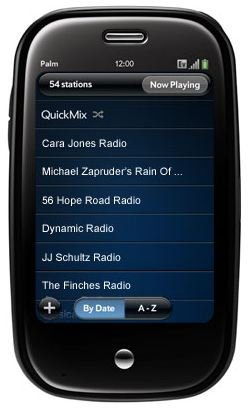 After a station is chosen and launched the Pandora Application will show the name of the artist for each song as they are playing, the albums name and the artist name along with any album artwork available. Users can then also choose to thumbs up or thumbs down a song just as they would on the Pandora PC application, while also pausing songs and forwarding on to the next song if they choose to skip a tune. Thanks to the excellent capacitive display on the Palm Pre I found using the on screen options easy, while they loaded very quickly.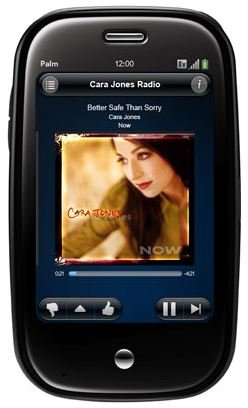 Song, Artist, and Album Information on the Pandora App
Of course sometimes simply hearing a song isn't good enough, for those occasion you may want to bookmark a song or better yet buy it! Using the "now playing menu" users can easily bookmark the currently playing song or even the artist so they can hear more from that artist. They can also choose to ignore the song for one month. Using the menu options users can easily tailor their playlists to their own preferences while also purchasing songs for device and MP3 player use. When using these options I felt right at home because they are exactly the same as those options found on the Pandora.com website.
Finally this application allows users to check out "artist info" this info section is the typical artist biography information you would find on sites such as Rollingstone.com. Simply choose the artist info tab or the song tab to learn more about the artist or a specific song. You can even thumbs up or thumbs down an artist after reading their info page.
Finally the Pandora Palm Pre App is fully integrated with your online Pandora account, simply enter your login information and your already created stations will be available for instant listening. Of course you can also easily create new stations based on songs you hear and even specific artists and artists that sound like them.
Conclusion
The Palm Pre Pandora Application is a solid app that is not only free, it's extremely effective. Whether on a 3G connection or slower connections we found that the application worked well and the screens were intuitive enough to use that no instruction was needed. I particularly liked that the program integrated with Pandora.com giving me full access to my already created playlists from our online account.
I highly recommend this application so head on over to your Palm Pre App Catalogue and starting downloading it directly from your device, I promise you won't be disappointed.
Photos Courtesy Of Pandora.com