Huawei X3 8150 Review: Setting the Budget Android Market Ablaze
A "Blaze" Amongst Budget Android Phones!
The budget Android smartphone category is a highly competitive market to be in. Though for a time all handset makers were looking at the higher end models, it's now time for the entry-level handsets to make waves. Big players like Samsung, HTC and LG have already started pushing out multiple models to quickly grab the budget smartphone market. Huawei, a less popular name has come out with the Huawei X3 (AKA Blaze). As a budget Android phone this device seems to compete with several big name manufacturers, does the Blaze have what it takes to succeed in this competitive market? Let's find out.
Design (5 out of 5)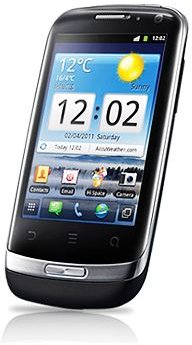 The Blaze features a very sleek and glossy finish which at first glance probably belies its pricing. The "aluminium-like" bezel running through the front face is a classy touch on the otherwise completely black body. The plastic body provides a very sleek look well supported by the slim (11.5mm thick) phone. The home button, with again an aluminium finish, completes the look perfectly.
You should keep in mind that this phone is completely plastic and therefore my mention of "aluminium" just refers to the chrome finish given to the plastic and not the metal. The 3.5mm headphone jack at the top and the micro-USB port at the bottom, along with the micro SD card slot on the right, are designed into the chassis of the phone and so the device has a smooth finish and is comfortable to hold.
The design finish on the Huawei X3 8510 is well above its price range and is definitely one of its selling points. Since the phone targets entry-level smartphone users and people with not much money to burn (read students, teens etc.) Huawei appropriately allows for different colored backs to be used with the X3 (though these haven't supposedly hit the market yet!) like all the other youngster targeting phones these days. The home button with aluminum finish is easy to access and provides a satisfying push when pressed. The back, search and menu buttons provided just below the screen are touch sensitive, though for some strange reason are not lit! They work well even if locating them in dark situations is difficult, but this is a minor discomfort that you will overcome with time.
Features (5 out of 5)
A budget Android phone running Gingerbread is in itself an awesome feature to start with. There are a very limited number of entry-level Android smartphones providing the goodness of the latest Android release. Android 2.3 or Gingerbread is the latest version of the Android mobile OS available on the market for smartphones (version 3.0 or Honeycomb is designed for tablets and you will only find the new Ice Cream Sandwich on the latest releases). It offers a better overall user experience than previous versions. I believe Android 2.3 is one of the secrets of the Huawei X3's snappy performance and it's quite surprising, considering the limited hardware it is running on.
The usual smartphone requirements like 3G, Wi-Fi and Bluetooth connectivity are provided. Connectivity is not a weakness of this handset with fast HSDPA, wireless N, and Bluetooth 2.1 with A2DP support. The 262k color TFT HVGA (320 x 480) screen is not very classy but then it is a budget phone! When compared with other handsets in its class the X3 is not a loser. A front facing VGA and rear 3.2 MP cameras provide for video chat and some photography possibilities. The Huawei X3 sports 256 MB of RAM and 512 MB of built-in memory which is pretty much the norm for entry-level handsets, though may not be for long. A micro USB port provides for charging the device and the micro SD card slot allows for memory expansion. Accelerometer, proximity sensor, A-GPS and a 1200 mAh battery complete the specs of this quad band smartphone.
Performance (4 out of 5)
The 600 MHz processor in the phone specs means you should not expect too much from the device! Going in with very low expectations, the Huawei Blaze X3 performed admirably for an Android smartphone selling under 100 bucks. As is the norm these days, I started out by running Angry Birds on the X3, I've finished the first two levels without any problems! Games like Fruit Slice, Labyrinth life, and Gameboy emulator, which demand little from the hardware, perform well. Running Need for Speed Shift showed that this isn't the phone you would want to run demanding games on – slow frame rates and poor performance makes it unplayable! That's not to say that the Huawei X3 can't satisfy gamers, choose your games wisely and you can enjoy them on the X3.
Regular Android performance was snappy though not excellent. Depending on how demanding an app is you may experience lags in closing and opening applications, though this is a performance hit found in all phones in the entry-level Android handset category. The limited built-in memory is quickly consumed by apps and it would be a good idea to set the SD card as the default download and installation media to avoid slowing down your phone.
The Huawei skin on Android 2.3 seems to slow things down a bit, when switching to the vanilla Android look a noticeable difference in performance was observed. The provided 3.2 MP camera leaves a lot to be desired, image quality is average and low light performance is non-existent.The typing experience was a little less satisfactory, though switching over to the stock Android keyboard or the fantabulous Swype keyboard (has to be installed as a separate app) made things significantly better.
Call quality was decent, though the speakerphone is quite noisy and substandard. The 1200 mAh battery typically lasts for a day with intermittent Wi-Fi and GPS usage. If you play games frequently for extended periods, battery life goes down further. Suffice to say that the battery on the Huawei X3 is one of its notable disadvantages, but it may not be much of a concern to casual smartphone users.
Verdict (4 out of 5)
As a budget Android smartphone the Huawei Blaze X3 8150 offers great value for the money. The incredible features and performance at this price make it an easy recommendation for any entry-level smartphone user. The handset is currently available in Europe for under €100 and a north American variant is soon expected. If Huawei set out to pull first time users into the smartphone community with this inexpensive device, they have definitely succeeded. As a light and smart-looking smartphone it is definitely going to appeal to youngsters and the fairer sex looking for a stylish device on a budget.
References