Introducing The Sony Ericsson Xperia Active: Android Smartphone Review
Meet the Active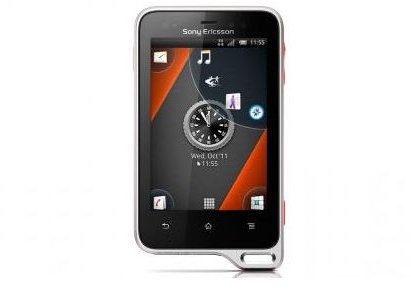 The Sony Ericsson Xperia Active is a candy bar smartphone which operates under the Android OS. It is specifically targeted towards the outdoor type individual, as its name, Active, suggests. It features a scratch resistant screen, is water and dust proof and boasts additional sport features like a barometer, personal trainer and compass. This smartphone is perfect for those who are always on the go, like athletes and outdoor aficionados and is slated to be officially released at Q3 in 2011. I only got to spend a little time viewing this model because it's a pre-release, but you should still be able to get a feel for it with the info given below.
Design (5 out of 5)
The Sony Ericsson Xperia Active is a medium sized smartphone making it perfect for toting along on long hikes and runs. It measures 3.62 by 2.17 by 0.65 millimeters in length, width and thickness, respectively and weighs 3.91 ounces. Therefore, it is easy to carry around and it can actually fit in a regular sized pocket. As an outdoor type device, the Active's aluminum chassis feels very secure and sturdy and will be made available in several colors including pink, white, gold and black, but please ensure that you get yourself a protective case to secure your investment.
Along with its compact measurements, the smartphone also features a 3 inch TFT 320 by 480 resolution screen, which shows up to 16K colors and is powered by the Mobile Bravia Engine. It has a capacitive touch screen with a light and proximity sensor made of scratch and dust resistant glass. The phone is also water resistant and is said to be able to withstand and track wet fingers. It can also last for 30 minutes fully submersed in up to 3 feet of water without any damage, but I wasn't able to test that so maybe you should get yourself a waterproof cell phone case just be sure!
On the sides of the device is a volume rocker, dedicated camera key, earphone jack and charger port. On the back of the device is a 5 megapixel camera embedded within the phone's waterproof barrier. Lastly, jutting out at the bottom of the device is a lanyard loop to attach a string for easy transport if you do not wish to stick it in your pocket.
User Interface (4 out of 5)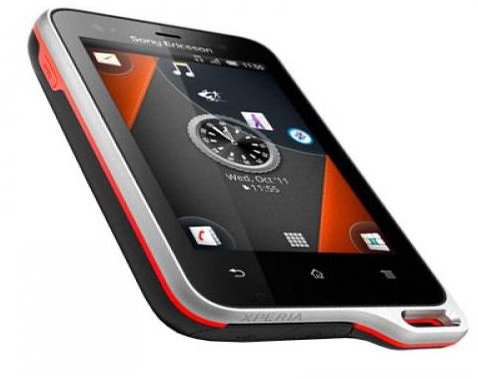 Although the Sony Ericsson Xperia Active has not been released on the market as yet, it does boast a very savvy and user-friendly interface that all users should appreciate. The home screen features a quick menu on the top right hand side of the screen which allows users to choose several options without having to go through its menu. The options include a compass, personal trainer and music tab. There is also a dedicated messaging icon on the top left hand side of the touchscreen. The home screen also has options for the phonebook, menu and dialer.
Features (5 out of 5)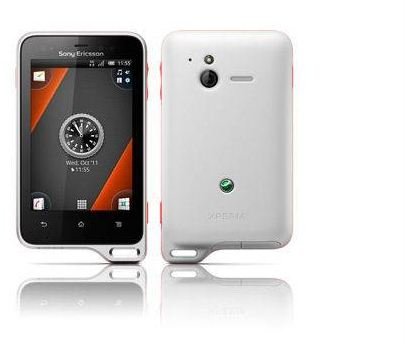 As a sturdy smart phone, the Sony Ericsson Xperia Active has many features which appeals to the physically active demographic. It features a phonebook which can house multiple numbers per contact, picture, ring and video ID and caller groups. It also features a calendar, alarm, task notebook, document viewer, flashlight, calculator, stopwatch and timer.
There are also a plethora of innovative features such as a health management application, barcode reader, compass, accelerometer and barometer.
The Sony Ericsson Xperia Active features a 5 megapixel camera with flash, digital zoom, self-timer, image stabilizer, auto focus, scenes, geo tagging and face and smile detection. The camera also has video capture capabilities which can record a scene at 1280 by 720 high resolution display.
The smart phone carries a music player which supports both AAC and MP3 formats and features a music recognition application. It supports video playback in MPEG 4 format, has an FM radio and a YouTube player.
In terms of connectivity, the Sony Ericsson Xperia Active supports both Wi-Fi and Bluetooth. In addition, there is also a native Internet browser which supports both flash and HTML and also a built-in Facebook and Twitter application.
Performance (5 out of 5)
The Sony Ericson Xperia Active works as a GSM phone within the 850, 900, 1800 and 1900 network and also a UMTS phone within the 900 and 2100 network. It has a built in memory capacity of 320 megabytes and the ability to hold up to 32 gigabytes of additional storage with microSD or microSDHDC cards.
This smart phone operates under the Android 2.3 network and has a processor speed of 1000MHz. It's 1200 mAh battery features up to 4.88 hours of talk time and a standby time of 351 hours. On a 3G network the Sony Ericsson Xperia Active lasts for up to 5.5 hours of talk time and 335 hours of standby.
Call quality on the Active is remarkable even while on travels and treks in the most remote locations. There is no report of static or dropped calls making this smart phone the perfect choice for active individuals.
Verdict (5 out of 5)
The Sony Ericsson Xperia Active is a great smart phone for individuals who have an active lifestyle. Thanks to its water and dust proof exterior and additional sport related applications the Active smartphone will be one of the top Android phones on the market once it is released at Q3 in 2011.
Reference
Source: Personal experience of trying out the phone.
Image Credit: https://www.sonyericsson.com/cws/products/mobilephones/overview/xperia-active?cc=gb&lc=en