Xperience The Xperia Ray: Sony Ericsson Xperia Ray Reviewed
What's So Special About the Ray?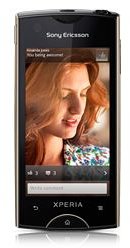 The Sony Ericsson Xperia Ray is a new candy bar smartphone which competes with the popular Play and Xperia Arc within the same line. The phone's main features include its extra thin frame, vivid display screen and its high quality 8 megapixel camera. Read on to find out what else this smartphone has to offer.
Design (5 out of 5)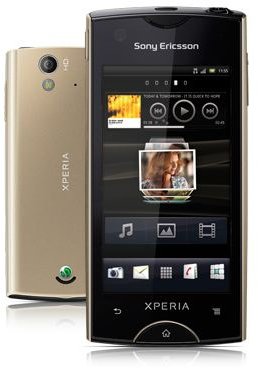 The main highlight of the Sony Ericsson Xperia Ray is its large FWVGA screen. It measures 3.30 inches and features an 854 by 480 pixel resolution. The display of the Ray shows more than 16k colors and is very vivid and bright. Images and texts are very sharp and video playback is of the highest quality. It is a capacitive touch-screen phone which also boasts additional light and proximity sensors, multi-touch technology and scratch resistance, but you should still get yourself a screen protector as one of your first set of accessories.
The Xperia Ray measures 4.37 by 2.09 by 0.37 inches in length, width and thickness, respectively. It weighs approximately 100 grams making it an extremely light and thin device so you can easily carry it around in your pocket if you wish. It is also available in white, yellow, pink and black, so whether you are a male or female, you can have a stylish phone that matches your style and preference. The phone is designed to be angular and also compact and its rubberized chassis feels very comfortable as well as secure and minimizing slippage.
On the sides of the device is the volume rocker and power/lock key as well as a headphone jack and microSD slot. The 8.1 megapixel camera is housed on the back and features quick shutter speed and a LED flash function. There is also an additional 0.3 megapixel camera on the face of the device so that you can engage in video chat and even use it to put your makeup on or something.
User Interface (5 out of 5)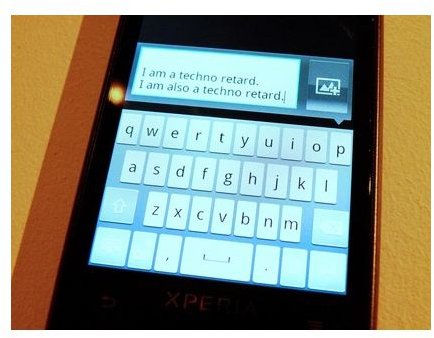 The Sony Ericsson Xperia Ray runs on the newest TimeScape Android version 4.0. It features an intuitive Facebook application which is built-in and allows users to share content very quickly and easily. It also emulates the Google Nexus S's user interface and as such features a similar shut off animation screen. The home screen features widgets which float around on the screen. There is also an additional fun feature where objects wobble about when the phone is shaken.
Features (4 out of 5)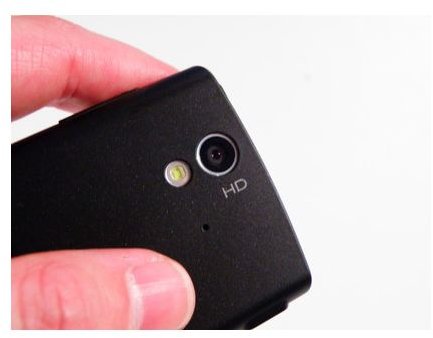 The Ray's main feature is its native Facebook application which makes social networking much simpler for people on the go. Apart from this innovation, there is the usual phonebook with caller ID as well as photo and ring ID and multiple numbers per contact. There is also a calendar, alarm, document viewer, calculator and barcode reader.
The Ray features a 8.1 megapixel camera with LED flash, self timer, smile and face detection software, digital zoom, scenes, video and image stabilizer, auto focus, and geo tagging. It is able to take sharp high definition videos at 1280 by 720 pixel resolution. It is also aided by a video light. On the face of the device is a 0.3 megapixel VGA camera perfect for the Ray's video calling feature.
In terms of multimedia, the Sony Ericsson Xperia Ray has a music player which supports the MP3 format and also has a music recognition feature. MPEG4 video playback is supported. There is also an additional FM radio and YouTube player.
There is a built in Internet browser which supports both HTML and Flash and also has an integrated Facebook and Twitter function. The Ray supports both SMS, MMS and Email push. The display makes it easy to use the onscreen keyboard to type messages and browse the Web and there are many accelerometer games that will look lovely when played on it. Lastly, there are additional features such as GPS navigation, POI or Points of Interest app, turn by turn and voice navigation.
Performance (4 out of 5)
The Sony Ericsson Xperia Ray is an Android powered smartphone with a 1000GHz processor and operates under the 850, 900, 1800 and 1900 GSM network and the 850, 900, 1900 and 2100 UTMS network; therefore, you can use it almost anywhere with any network. It features EDGE data and also HSPA support. It has a built in memory of 300 MB and supports up to 32 GB of additional memory, using either a microSD or microSDHC card so that you can hold all your media items, including the many pictures that you will take with its awesome camera.
The Ray supports both Bluetooth and Wi-Fi connectivity as is expected of any phone that puts itself in the smartphone category. Its battery can lasts for up to 7 hours of talk time, but most people will spend time on social networking sites and checking their emails rather than talking so your battery may only last you up to 5 hours, which is pretty disappointing.
Call quality on the Xperia Ray is exceptional – there are no dropped or interrupted calls and users attest to clear and crisp phone conversations on both ends.
Verdict (4 out of 5)
The Sony Ericsson Xperia Ray is the perfect phone for social networking and is also a great mobile device for small business professionals. Due to its thin and compact design the Xperia Ray is a great device for the younger generation, not to mention its wonderful camera with 8 megapixels. Although, anyone with an interest in social networking or one that is business oriented can still appreciate the use of the Xperia Ray, no matter which generation gap they fall in. I am a BlackBerry type of girl, but if I was planning to go Android, this would be among the phones in my list to choose from.
Reference
Overview, https://www.sonyericsson.com/cws/products/mobilephones/overview/xperia-ray?cc=gb&lc=en
Tech Specs, https://www.sonyericsson.com/cws/corporate/products/phoneportfolio/specification/xperia-ray#
Images courtesty of Sony Ericsson from above URLs.