Blu Speed Review - A Cheap and Unique, Alternative Smartphone
Blu is a relatively new contender in the smartphone market and is most likely a new brand for most consumers. Based out of Miami, Florida, Blu is aiming to create an offering of affordable smartphones, most unlocked GSM versions that are compatible with AT&T and T-Mobile networks. The Blu Speed is among one of their latest offerings and for an affordable price, it offers quite a well balanced mix of features and performance. In a market dominated by similar Android OS smartphones, the Blu Speed actually avoids using the popular route and instead comes with its own proprietary software. Is this affordable, unique smartphone from Blu able to compete in the highly competitive U.S. market?
Blu Speed Specifications:
Dimensions: 4.33 x 2.40 x 0.51 inches (110 x 61 x 13 mm)
Weight: 2.68 oz (76 g)
Display: 2.4 inch TFT display
Memory: 256 MB and expandable up to 16 GB MicroSD
OS: Proprietary Java software
Camera: 2 megapixel camera
Connectivity: GSM 850, 900, 1800, 1900 / UMTS 850, 2100
Data: EDGE / GPRS
Bluetooth: Bluetooth 2.0
Battery: Li-Ion 1100 mAh
Design and Display (3 out of 5)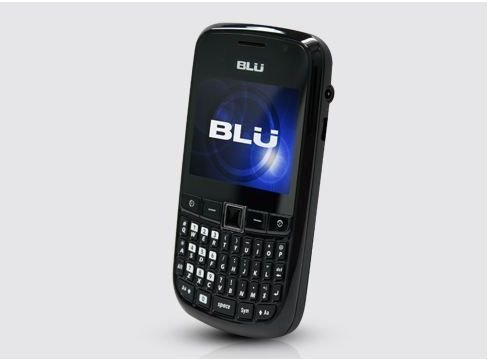 The Blu Speed is a decently built smartphone. While the parts do feel like cheap plastic, it's still fairly sturdy in the hand. The Blu Speed has gone for a more BlackBerry like design, with a 2.4 inch display and full physical QWERTY keyboard underneath. In between the display and the keyboard is a set of shortcuts and an optical trackpad. Along the left edge is the 3.5 mm headphone jack and microUSB for charging. Opposite on the right resides the volume rocker. The top and bottom edges of the Blu Speed are clear and smooth.
Overall, the Blu Speed looks and feels like a cheaply made BlackBerry knockoff and the placement of the 3.5 mm headphone jack does end up being a little annoying. While it may seem cheap, the design is still decent and for a price tag of under $200, the Blu Speed is an okay choice for those looking for an affordable, unique feature phone.
Performance (3 out of 5)
The Blu Speed's operating system is not Android but rather a proprietary Java platform, which runs fairly smoothly. There is a tiny bit of lag when it comes to responsiveness but the overall feeling is smooth. The call quality of the Blu Speed is also decent. It's not the best quality, as incoming calls do come in with a bit of static and outside noise. Outgoing calls came out fairly clear, with some background noise making it through. Another interesting, unique note is that the Blu Speed can connect on both AT&T and T-Mobile at the same time. This expands the coverage quite a bit for the Blu Speed, though only one of the 3G networks can be used.
The battery was also decent, while it's not the biggest and baddest battery, coming in at 1100 mAh, it still lasts quite a long time. The Blu Speed was able to last a little over a day, even with 3G turned on and both SIM cards active. Occasional browsing, calls and texting put a small dent into the battery, but overall it lasted much longer than one would expect.
User Interface (3 out of 5)
For those used to touch-screen interfaces, the Blu Speed may feel outdated and old, but for people who are just starting out with powerful phones, the Blu Speed is a good stepping off point. For those who couldn't afford a BlackBerry but really like the style and interface, the Blu Speed is a great way to start off. Using the optical trackpad is definitely different than using a touch screen, but it's very easy to use as well.
The keyboard itself works fairly well and doesn't feel too cramped. The keyboard is reminiscent of the Motorola Charm, responsive, clicky and well placed. There were times when the keys stuck or didn't snap back immediately, but overall the experience was smooth. Browsing on the Blu Speed was also simple due to it featuring Opera Mini, which was surprising. Overall the user interface is easy to learn and, while at times a bit laggy, was still decently responsive.
Features (4 out of 5)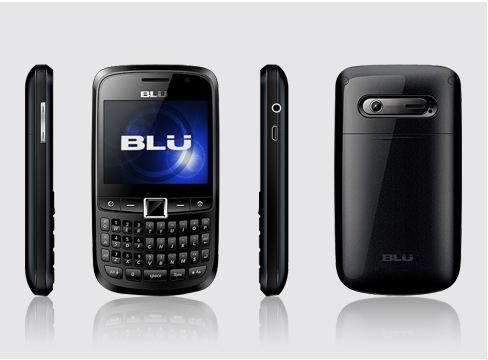 The Blu Speed actually comes with some interesting features. The 2 megapixel camera was a bit of a disappointment and the quality was a bit below average. Definitely do not replace your digital camera for the Blu Speed's camera, but when you're in a rush or an emergency, the Speed's camera may come in handy. Beyond the 2 megapixel camera, the Blu Speed has an interesting addition that helps make up for the disappointment.
The unique feature the Speed offers is a second SIM card slot. This means the Blu Speed can take in 2 SIM cards at once, which means it can use 2 numbers at the same time. This makes the Blu Speed compatible to be used with AT&T and T-Mobile at the same time. The only weakness is that only 1 SIM slot is able to connect to the 3G network. This ability to have two numbers and two different SIM cards is quite a unique feature in the U.S. market and is really what sets the Blu Speed apart from others.
The Final Verdict (3 out of 5)
Overall, for an affordable feature phone, the Blu Speed actually comes out with an 'Average' ranking. While it doesn't feel as solid as other entry level, cheaper smartphones, the ability to have 2 SIM cards makes the Blu Speed stand out from its competitors. It's actually a useful feature for those who wish to separate their business number from their personal number, but not have to carry two different phones. The cheap plastic feel is sub par, but it doesn't seem like the Speed will break that easily.
For a cheap, unlocked phone that can work on AT&T and T-Mobile, the Blu Speed is a solid choice. For those who want a contract and an Android powered device, reaching for the LG Optimus T at T-Mobile may be a better decision. Ultimately it comes down to whether or not you want the cheaper phone and whether or not you enjoy Android or don't mind using third party operating systems. The biggest factor to consider for the Blu Speed is, of course, the ability to use two different phone numbers using two different SIM cards.
References