Casio G'zOne Commando Review: Tough Android Phone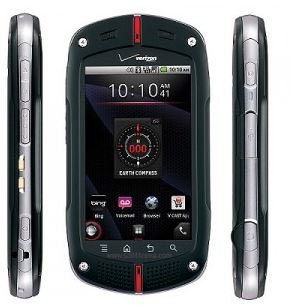 Demand creates products, and one of the most demanded products of the new age is a smartphone that can withstand water, wind, dust, fog, being dropped on concrete, driven over and dropped in quicksand.
The Casio G'zOne Commando is here to save the day for all smartphone users who need a rugged outdoors smartphone, and happen to be Verizon customers. No matter the flaws of this phone, it is by far the single most rugged Android smartphone on the market currently, the only pity is its lack of availability in non-CDMA countries.
Design (5 out of 5)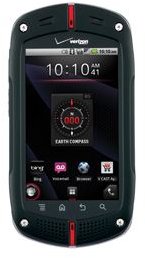 One look at the Commando and you immediately know this phone means business, the two Tron like red strips and all black body made of strengthened plastic, fiber glass and rubber, definitely hint towards the phone's outdoor heritage.
Another noticeable factor of the Commando is its size, the phone has a huge foot print with dimensions of 130 x 66 x 15 mm and weighs a solid 153 g. Luckily it is not as thick as one would assume, but all in all it will stretch your palm and a bit more.
At the front we have the phone's center piece, the 3.6 inch capacitive touchscreen, you'd think a 4 inch screen would suit a 5x3 inch phone, but most of the phone's real estate is eaten up by the padded rubber support. The screen is 1.2 inches thick and made out of relatively scratch resistant Gorilla Glass, the screen's WVGA resolution and 16 million color

support make for smooth and clear images, plus the 480 x 800 pixels resolution support means you'll pretty much be able to view and fit any app or non HD movie onto the phone.
Underneath the phone's screen we find the traditional touch sensitive buttons of Menu, Home, Back and Search. Then we have the stereo speakers and the red microphone hole. The left side houses the volume rocker, power/lock key, and a multi-function button which can be customized to open any app immediately.
The camera key is placed on the right side, which also houses the 3.5 mm headphone jack and microUSB port both of which are protected by water proof orange tainted flaps.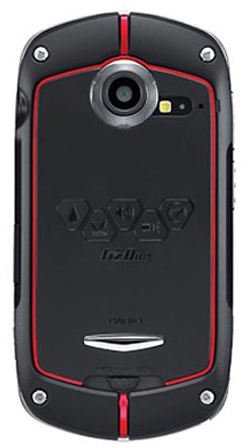 The LED notification light is on the right instead of on top, another weirdly placed peripheral, but it's big enough to make up for its odd placement. The back houses the 5 MP camera and LED flash, which as per Casio's rugged phone tradition can back up as a flashlight as well. There is a slider button which, well needs to be slid open to access the battery, SIM and microSD card slots.
That is pretty much all the hardware the phone has to offer, next we dissect the phone's OS and UI.
User Interface (4 out of 5)
The Casio G'zOne Commando is supposed to come with a custom UI skin, but it looks more like a light modification to the standard Android UI. First of all, it should be noted that the capacitive touchscreen is not as responsive as you might be expect it to be, this is not because it has been badly calibrated or the OS is faulty, it just takes a slightly pressured swipe or tap for a touch to register through 1.2 inches of glass.
Also at times you may notice a lag in the system, this is the processor's fault. It takes about a second to exit an app if you tap the exit buttons very quickly, but the lag and stutter happens infrequently so it shouldn't be a big problem. There are only five home screens instead of the usual seven, which may or may not prove to be an inconvenience, depending on your home screen preferences. An interesting feature available on any home screen is the silver tab like button, once tapped or pulled out, it produces your top 5 apps in a rainbow like setup. You can replace or modify any of your top five apps as you wish.
Other than the mini G'ZGear widgets scattered across the five home screens, the Bing Maps and Bing Search bar, both of which can be replaced with the superior and traditional Google set of apps and custom clock, the entire experience is competently stock Android 2.2.1 (Froyo).
Now onto the G'ZGear program, which provides a complete set of outdoor apps and tools which are essential for the outdoor enthusiast. The G'ZGear program can be launched straight from its dedicated button on the phone's right side, although if you customize this dedicated button to launch another app, you lose the G'ZGear shortcut button, but it's not a big deal since you can simply re-assign the shortcut button.
G'ZGear is made up of Earth compass, Walking counter, Adventure training, Trip memory, Thermometer, Tides, Sun and moon, and finally Stargazer. The names are pretty self-explanatory, but here is a basic rundown of what they do; Earth Compass is a compass, it is pretty sophisticated and you can even add layers, Walking counter simply keeps count of how many steps you've taken, Trip memory shows the closest notable geographical locations such as Mt Kilimanjaro. Thermometer uses a real thermometer embedded within the phone to produce accurate temperature results, Tides simply tell you the times of high and low tides, Sun and moon pretty much does the same, and Stargazer is an app which shows you the constellations once you point it up at the stars.
That pretty much wraps up the user interface part of our review, read on as we take look at the phone's features.
Features (3 out of 5)
The Casio G'zOne Commando comes with a completely adequate set of features for a mid-range Android smartphone, just exactly what you would expect and not a whisker more. Connectivity is limited to Verizon's CDMA network frequencies of 800 and 1900, 3G is handled via EVDO rev.A, local connectivity is handled by Bluetooth 2.1 with EDR, Wi-Fi and microUSB 2.0, you can also use the device as a Wi-Fi hotspot that can support five devices simultaneously.
The phone is powered by an 800 Mhz processor, 512 MB ROM and 1 GB of RAM, the phone comes with a preloaded 8GB microSD card, so no storage worries.
The phone comes with a lot of preloaded apps from Verizon, such as; Mobile IM, City ID, VZ Navigator, Skype Mobile, NFL Mobile, Slacker Radio and Social Beat. Social Beat is Casio's home grown social networking app, it integrates all your Facebook and Twitter feeds into one window, you can upload photos, tag people and update your status as well.
The phone's auto-focus 5 MP camera is not much to brag about, it takes average photos with a complete negation of any detail on distant objects, and a strong preference of the color black is seen in photos where shadows are present. Also the auto focus is far too sensitive, any attempt to use the physical camera button almost immediately produces a blurry picture, you are much safer using the touch shutter button.
Video is not much better either, everything turns out pixelated and overly dark, the frame rate stutters at an alarming rate. So it seems Casio have continued their proud tradition of installing poor cameras on their phones with the Commando.
Music is not only top notch it's fully supported via a large amount of formats (MP3, AAC, AAC+, eAAC+, WMA, MP4, MIDI) full album art cover and background playing. Nothing out of the ordinary here, but nothing to complain about either.
The video player is also pretty good, you can play videos form the traditional 320x230 resolution all the way up to 1280x720, there is no XVID/AVI support only MP4 formatted videos play. The occasional MP4 video encoded in H.264 may stutter or lose audio sync.
Performance (3 out of 5)
This part of the review usually deals with the phone's call quality, web browser and battery life performance, but today we're also reviewing the phone's toughness. After all that is the phone's main appeal right?
The phone meets the military grade specifics for being waterproof, dust proof, shockproof, humidity and cold. The phone withstood being sunk in a sink for an hour, though watching the screen being moved by the water's ripples was certainly entertaining. Next the phone survived being driven over by a saloon car, finally it survived being dropped 8 times onto a pavement from about a meter.
The call quality on the Commando leaves a lot to be desired, there is a constant hiss of static during calls, although people calling you sound relatively clear, your voice sounds hollow and unclear to them.
The web browser thankfully comes supporting Flash 10.1, although you will start to notice lag when using Flash heavy sites, the over all web browsing experience is typically Android, which means it is rather good.
Now for the battery life, which is pretty good compared to average Android smartphones, but a bit less when compared to rugged feature phones. You get 7 hours of straight talk time and two days of standby on the 1460 mAh LI-Ion battery.
Verdict (4 out of 5)
The Casio G'zOne Commando is probably one of the easiest phones to recommend, as long as you realize the phone's main strength is it toughness. It is not the best Android phone for the price or mid-range pedigree, but it is the single best tough Android phone on the market, and it is going to stay there for sometime.
It has its flaws, the static and sometimes slow response, awful camera, bad physical shutter key and pre-loaded Bing. But its better features outweigh the more negative features by far indeed. It's best suited to outdoors lovers but if you're an urbanologist looking for a tough phone and you don't care about the camera, or an office clerk with no care in the world about good quality photos, the Commando is definitely a phone you won't regret buying.
References
Author's personal experience.