Casio G'zOne Ravine Review: Rugged, PTT Phone at Verizon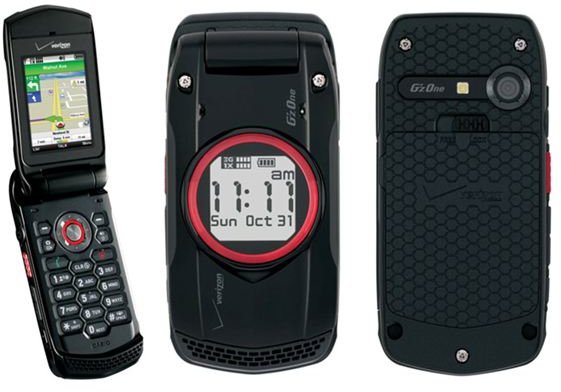 Casio got a lot of flack for their past series of PTT (Push To Talk) phones, the Boulder, Rock and Brigade. The Casio G'zOne Ravine is an attempt to fix issues with the above mentioned phones and offer general improvements and upgrades.
So the big question is, has Casio managed to make a better phone than their previous Verizon exclusive PTT models, the plain and simple answer is yes. The new Ravine is military grade STD-810 certified, capable of withstanding water, dust, shock, snow, fog, being run over by a car, being smashed against a pavement and being swallowed by a Hippo.
Design (4 out of 5)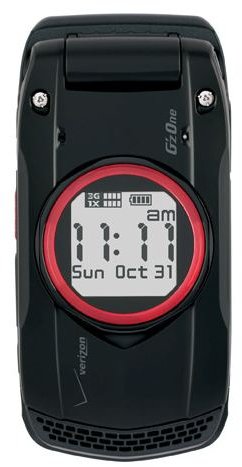 The Ravine sports an exemplary flip-phone design, the red ring that compliments the red LED notification light might put some people off, but at the same time it might just be the visual cue that other people need. It is made of hardened plastic and water tight rubber, a series of orange rings inside the charger port and various other ports are there to prevent infiltration by water.
The phone weighs a hefty 130 g and with dimensions of 109 x 53 x 20 mm it is a bit on the large size, but that's the way rugged phones should be anyway. Easy to press and hold, with working gloves and without.
At the front we have a 1.3 inch LCD screen with no color support, just black and white or white and black, it shows the time, date, 3G and 2G signal strengths, and any missed calls or messages that need your attention. You can change the screen to display a compass or other types of useful, yet simple, graphics.
The left side of the phone is where all the important ports and buttons are housed, starting from top to bottom we have 2.5 mm head jack (unfortunately), the red PTT button, the volume rocker and voice command key. On the right we only find the microUSB port.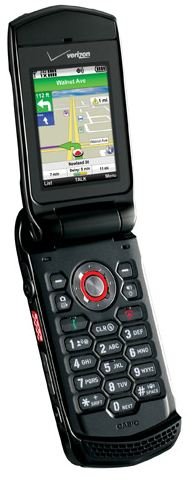 Looking at the back we find the large and depressed 3.2 MP camera lens and LED flash, which can also be used as a flashlight. There is a sliding tab which opens up the phone's back cover, here you find the battery, SIM card and microSD card slot, both of which are underneath the battery.
Now we flip open the phone, you immediately notice the hinge is extremely strong and rigid. You're greeted by a TFT 2.2 inch screen, with 240x320 resolution and capable of supporting 65,000 colors, although on the low end this side of a pixel count, the screen appears vivid and clear. The navigational pad is another red ring, there are two soft keys on either side, the camera and Call buttons to the left, while the right side houses the loudspeaker and End call buttons. Nestled in the middle is the Clear button. The dialing pad is made of somewhat hexagonal buttons, arranged in an offset pattern, so you'll need to look at the D-pad every time you want to dial a number, it's not too dial-by-intuition friendly.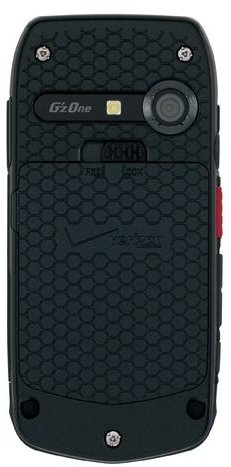 And finally we have the loudspeaker grill at the phone's bottom lip, that is the entire physical package of the Ravine.
User Interface (4 out of 5)
The Ravine has a rather snappy and trouble free interface compared to its predecessors, and you can customize it with various themes and wallpapers, either through Verizon's store or the Internet.
The main interface consists of the Media center, Contacts, Messaging, Recent calls, Settings and Tools, which can be viewed in either the Tab, List, or Grid views, which can be customized further by four main themes, White, Wireframe, Trek, and Clash. So there is quite a bit to mess around with in terms of UI, the best looking theme and view combination is White viewed in Grid.
Now onto the Ravine's party piece, the G'ZGear Program, this program is located in Tools but can be easily accessed with a long press on the Clear button. G'ZGear give you access to the following features; Earth Compass (which is simply a compass), Temperature (you guessed it, shows real world temperatures), World Nature (this app tells you where locations such as Mount Everest or the Yellow Stone Park are in relation to your current position), Walking Counter (counts how many steps you take, in miles and kilometers), Tides (tells you about the tide, its high and low times, and gives you optimal fishing information), Sunrise/Sunset (gives you information about the next sunrise or sunset, their exact timing etc), Lunar Phase (shows phases of the moon), Cosmic View (shows the locations of Earth, Moon and Sun in relation to each other) and Star Gazer (which is similar to Google Stars, though you have to use the pad to scroll and change views).
The phone book can store 1,000 names and 700 contacts with multiple field entries supported. you can assign any one the 12 polyphonic ringtones and picture tag your contacts, there is a separate list for PTT contacts which can take up to 500 contacts, and another bit of space for the 999 speed dials.
Messaging is well in hand with support for SMS, MMS, IM and Email. You are provided with the Social Beat and Verizon IM for all your social networking needs, you can check statuses, change your own, reply to news feeds and even upload pictures.
Features (4 out of 5)
The Casio G'ZOne Ravine is pretty well stocked on features, which is a bit of a surprise, as traditionally flip phones tend to underwhelm users with their list of features.
Connectivity is well catered for via CDMA 800 and 1900 for calls, and the speedy 1xEV-DO rev.A for high speed connectivity and PTT calls. By now you've probably noticed this phone is not usable worldwide, no GSM compatibility at all. The only thing local connectivity lacks is Wi-Fi, but no one was expecting any, instead you're saddled with Bluetooth 2.1 with AD2P and microUSB.
Internal memory is adequately sufficient at 200 MB, plus the phone can handle a 32 GB microSD card trouble free.
The fixed-focus 3.2 MP camera is actually quite good, apart from a slight misrepresentation of colors, pictures come out vivid and strong. Unfortunately low light shots are a complete no go, the LED flash is virtually useless, best used primarily as a flashlight, I've seen better night-time shots on phones equipped only with night mode shooting options. Speaking of shooting options, they're pleasantly extensive, you get six shooting resolutions ( 2048x1536, 1600x1200, 1280x960, 640x480, 320x240, 160x120), five white color presets and and six color effects to tweak and customize your shots with.
Video quality is adequate enough to be viewed on the phone itself, you can shoot videos at a maximum of 15 FPS in QVGA resolution in 3GP format. Speaking of 3GP, it is the only natively supported video format the phone can play. And you can only play videos at the phone's native resolution.
The music player is pretty much bare bones, you can create playlists and play MP3, ACC and WMA formatted files, you can transfer files via Bluetooth, PC and USB. There is no album art or radio player.
Other than the above you have the following miscellaneous list of features at your disposal; GPS, A-GPS, Verizon VZ, Social Beat, World clock, E-911 compliant, TTY compatible, Speech-to-Text (speech recognition), Flash light, Thermometer, Pedometer and JAVA.
Perfomance (4 out of 5)
Now we come to the true test of prowess for the Ravine, call quality, both normal calls and PTT calls, web experience and battery life.
Call quality on the Ravine is almost amazingly good, in city environments you may notice a slight amount of static, but it is barely perceptible. Otherwise calls are loud, clear and natural. Same story on the loudspeaker, the PTT fares pretty good as well, you can use to it create conference calls or hunt Rambo in the woods. The signal also holds pretty well, but bear in mind that PTT technology utilizes the EVDO network for use, so if there is no 3G in your signal bar, no PTT calls.
Web browsing, on the other hand, is a great disappointment, simple webpages load without a problem, though images and other icons are horribly rendered. However, websites like Bright Hub, are cut into separate sections, which is known as optimized view. You can choose to turn it off, but webpages will load with a lot of errors and badly rendered images. At best the HTML browser should be used to view your email or if you need to use the Internet in an emergency.
Now for the battery life, now keep in mind this phone does not have the endurance to rival Sonim phones, but 6 hours of talk time and 4 days of standby are not bad for a 1140 mAh battery on 3G.
Verdict (5 out of 5)
Well, we've arrived at the end of our review, and what do we have to say about the Casio G'zOne Ravine? It's a pretty good phone. Especially for its target audience, such as construction workers, outdoor enthusiasts and weekend warriors hunting down Rambo. The PTT and call quality make this an excellent phone for calling, the rugged design makes it very difficult to even scratch, and battery life is very good. Plus the G'ZGear is virtually unrivaled in terms of features and functionality, it's also an excellent tool for almost anything you wish to do outdoors.
The phone does have weak spots, the 2.5 mm jack, bad music and video player, weak flash, and awful browser are definitely not your cup of tea. But this phone is not meant for fun, it's meant for work, and as such it would be pretty hard to find a better phone out there.
References