Sonim XP1300 Core Review: Tough Phone for the Outdoors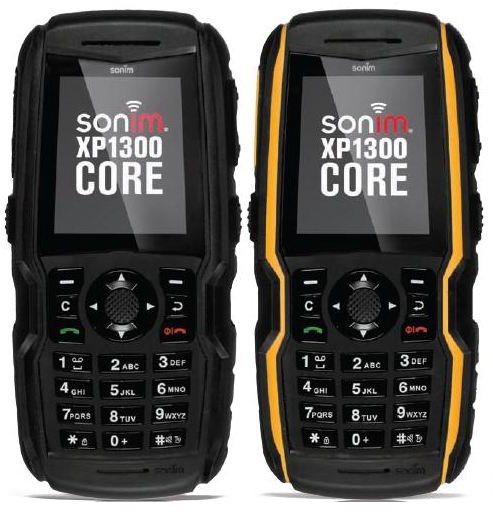 Today we are reviewing the Sonim XP1300 Core, one of the toughest phones ever made. The phone costs a hefty $300, and for this price you get only a basic phone, no camera, no 3G and no smart OS. But you do get a phone that can survive the frigid temperatures of the Arctic, the blistering heat of the Sahara and even an oil spill.
So if you are in the market for a nearly indestructible phone, with a minimum list of features and specifications, then you have come to the right place, so buckle your seat belts and put on your safety helmets as we kick off the review.
Design (5 out of 5)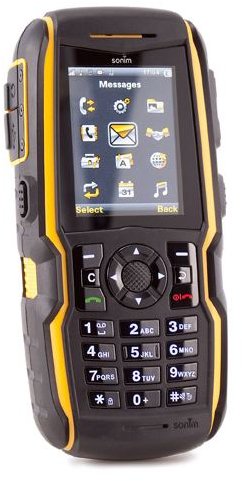 The XP1300 is an extremely well designed device, every angle, every curve and every dent screams "I'm super tough!".
Indeed it is, as it is an IP68 certified phone and capable of surviving in 6 feet of water for nearly three hours without any damage, it can survive being dropped from a height of 6.5 meters onto concrete, being frozen in anti-freeze for two hours, it is water, shock, fog, humidity, dust, mud and micro-particle proof. There is almost nothing that can get into the phone, and very little you can do to destroy it.
The phone is made from a powerful combination of plastic and fiber-glass, it weighs a truly brick like 185 g and with dimensions of 126 x 60 x 25 mm, it will fit into your toolbox or belt clip, but your average pocket might find it cumbersome.

At the front we have 2.2 inch 240x320 QVGA Gorilla Glass display (1.5 mm thick), capable of supporting 65,00 colors. Then the four directional D-pad flanked by the Select, Cancel and Call on the left, on the right side we find the Contacts, Back and End call buttons.The keypad itself is backlit and easy to press, though people wearing heavy duty work gloves may find the buttons a bit small.
The left spine contains the "mud flap" protected 3.5 mm headphone jack, proprietary 3.5 mm microUSB charging jack and programmable (via PC) JAVA button. Be careful not to lose the supplied USB cable as that's the only one that will work on the XP1300. The right side houses the volume rocker and torchlight button.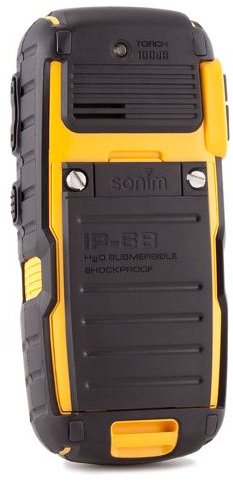 On the back you'll find the very bright light torch, and of course the screw protected back cover, don't worry the screwdriver is provided by Sonim. Unscrewing the back cover provides access to the battery, SIM and microSD card slots. If anything ever happens to your Sonim XP1300, the company has a three year no questions asked replacement or repair warranty.
User Interface (3 out of 5)
The UI is rather simple and straightforward, perhaps not the most practical, as updating any application usually requires up to ten verifications (just keep hitting the yes button) and sending a text requires some practice and patience as the clear and end buttons are directly next to each other.
The screen itself, despite supporting only 65,00 colors is bright and easy to navigate, especially when you consider the UI is made up entirely of two colors, orange and silver. Dialing options are rather limited, no smart dial or voice dialing options are available, at least speed dialing is present.
The phone supports SMS, MMS and E-mail (IMAP4 or POP3), IM users will need to download a JAVA chat app. The phone book can hold 1,000 contacts with multiple field entry, photo tagging and ringtone tagging.
Features (2 out of 5)
As noted in the introduction, the only truly premium function the Sonim XP1300 offers is itself, so other than that we're looking at an almost painfully low-end set of features.
The first, is of course, the 2G GSM network support of; 850, 900, 1800 and 1900. No 3G, no Wi-Fi or anything fancy, at least local connectivity is well catered for via Bluetooth 2.1 with AD2P and EDR, plus the proprietary microUSB 2.0. Internal memory is capped at a rather miserly 100 MB, but you can use a 16 GB card problem free, despite Sonim's claim of 8GB being the maximum supported.
Music is a viable option on the XP1300 via the music player or FM radio, the bundled in earphones are excellent, unfortunately the same cannot be said for the loudspeaker, which is a glaring hole in the XP1300's design. Tough phones must have very, very loud and clear speakers. Supported audio formats are MP3, WAV and AAC.
Surprisingly viewing videos is an available option, you can watch either MP4 (H.263 encoded) or 3GP videos. Always take care to play videos at the phone's native resolution (230x320) and never above, otherwise you player will simply not work.
Other miscellaneous items include - flashlight, organizer, voice memo, stopwatch, count-down timer, JAVA, file manager, calculator, calendar, alarm, unit converter and world clock. The omission of GPS is truly unforgivable, in a phone like this. It is the equivalent of omitting a speedometer from a car.
Performance (2 out of 5)
Now we come to the do or die part of our review, where we determine if a phone is truly worth its salt by determining the call quality, web browser and battery life.
Call quality on the XP1300 is a mixed bag, while the signal holds true and strong, and background noise cancellation is perfectly executed, sound quality is rather disappointing. Voices sound slightly muffled and robotic and there is a micro-second interruption between words. Worse still is the loudspeaker, although it does improve sound quality somewhat, it is too quiet to be heard in a crowded situation or over a waterfall. So overall the call quality is not debilitating but not good enough either, particularly the loudspeaker.
Web browsing is definitely low-end, Opera Mini comes bundled with the phone and is the primary browser, so despite the slow loading speeds, it will serve well enough in an emergency situation.
Battery life deserves a ten out of ten, the Li-Ion 1750 mAh battery produces enough power to last for 18 hours of talk time and a week on standby. No matter how heavily you use this phone, it will be at least 5 days before you need to charge it.
Verdict (3 out of 5)
The Sonim XP1300 Core is a very well built phone, it can withstand almost anything nature can throw its way, and mostly anything a human can do to it. But it takes a lot more than that to make a good, rugged, tough phone, and unfortunately the XP1300 is missing some essential elements.
Such as GPS, a properly loud speaker and good call quality. While these may seem like forgivable mistakes, on a phone like the XP1300 they're not. Remember, those who would buy this phone are most probably involved in activities such as mountain climbing, cleaning up an oil spill or surviving in the Amazon. So features such as GPS are essential.
Sonim have realized the mistakes they have made on the XP1300, and have rectified all their mistakes in their newest phone, the Sonim XP3300 Force, a phone which can be easily recommended in lieu of the XP1300.
References