Introduction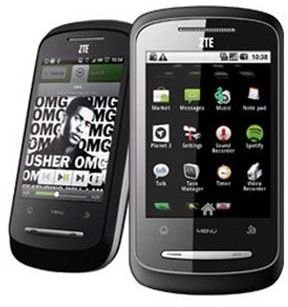 Welcome to another review of a cheap ZTE smartphone, in today's episode we introduce the ZTE Racer, the phone that essentially sparked off the low-end smartphone war.
The ZTE Racer is one of ZTE's most adventurous forays into the world of Android and cheapness, think of it as their test phone (and as result, we the consumers their guinea pigs), to see how the world would react to their idea of cheap smartphones running Android. It is also one of the few phones made by ZTE that is sold free of any ties to a particular carrier or service provider. Unlike the newer ZTE Blade which has been re-christened the "Orange San Francisco", the ZTE Racer keeps its cool name and you can pick it up unlocked for just $150 anywhere.
Although in the UK it comes on Three Mobile, which results in a very big and rather ugly looking number "3" on the phone's back, at least the Android robot beneath the 3 is cute.
Design (2 out of 5)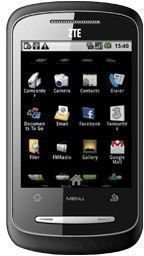 Most cheap phones have decent build quality, not so on the ZTE Racer. It feels cheap and looks cheap, ZTE do not want you to forget you are using a budget phone. The Racer weighs exactly 100g, so it's slightly on the heavy side for smartphones of a similar category. Dimensions are pretty much standard at 102 x 55 x 14.5 mm, it might not fit snugly in your palm but it is easy to hold and use overall.
At the front we have a 2.8 inch 240x320 TFT resistive screen in QVGA, capable of supporting 256,000 colors. I understand this is a budget phone, but using a resistive screen on an Android device is akin to torture. What's worse, the phone comes minus a stylus. Directly under the screen we have the Home, Menu and Back touch sensitive buttons, then we have the physical Call and End call buttons, the End call button can be used to wake up the phone, so you don't need to lock/unlock the phone if the screen times out.
The left side is barren, on the right side you'll find the volume rocker, naked microUSB port, and on top we have the 3.5 mm jack, small but not difficult to press power/lock button and the lanyard eyelet. Can't help feeling that left handed consumers will feel more at home with the Racer compared to right handed consumers.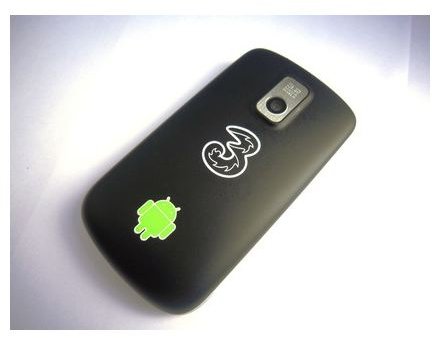 Turning the phone over we have the 3.2 MP camera directly in the center, "3.2 MEGAPIXELS" has been added by ZTE just in case you have any doubts about the camera being a 3.2 MP. Then you have the green Android bot. The back cover is not well made, it wobbles and tends to pop open with even the lightest of touches, dropping your phone even once will be the end of it.
User Interface (1 out of 5)
The user interface is horrible by today's standards, resistive screens on Android devices should be made illegal. The entire user experience is crushed to bitter shards due to the screen, it does its best to resist almost every touch or swipe, this feels like the middle-ages of touchscreens.
Otherwise you are treated to a pure Android 2.1 (Eclair) experience, which is not a bad thing by any means, thought the most essential services such as texting, dialing and swiping take rather long and require a rather strong push, if you have ever used a capacitive screen before, it wont be too long before you are tempted to drown or crush the ZTE Racer under a tank.
The screen reflects like a mirror and colors are poor and look washed out, to type anything with even a semblance of comfort, you need to tilt it in landscape mode, although the accelerometer is fast it is also pretty ugly to watch in action. Landscape mode has its own issues, you need to tilt the screen slightly to the right when in landscape mode to create a proper viewing angle. What a pain.
Your are provided with access to three homescreens, you can place various widgets and apps on each. The phone book easily syncs all your contacts whether they be Facebook or Twitter friends, you get a combined e-mail inbox, a customizable lock screen and all the various goodies that come standard with Android 2.1 Eclair. Even the app menu is designed as a semi-3D roller, it looks rather cool really.
But it would not matter if this phone had the HTC Sense UI, or even the iOS UI, the touchscreen just kills the joy of using this phone stone cold dead.
Features (3 out of 5)
The ZTE Racer was the first smartphone under $150, and for that price the features included were pretty much the best you could have on a phone, not so anymore. The feature are now recognized as standard across all smartphones, as such the ZTE Racer comes with a completely standard set of features.
The phone is 2G GSM capable, supporting the 900, 1800 and 1900 frequencies, High speed is handled by 3G HSDPA 900 and 2100 (7.2 Mbps). Local connectivity is handled by an outdated Bluetooth 2.0, Wi-Fi 802.11 (b,g) and microUSB 2.0.
The phone is powered by a 600 MHz ARM 11 processor, Adreno 200 GPU and Qualcomm MSM7227 chipset, the Racer has 256 MB of RAM, and 256 MB ROM. All in all it's a pretty good CPU unit, but again it's hard to notice that fact with a resistive screen.
The camera is awful, the 3.2 MP camera performs on par with a 1.3 MP camera, or worse. Only under the brightest of suns do pictures turn out viewable, and you have to remain absolutely statue still to capture a picture, as even the lightest of movements creates an insufferably blurry picture. The color balance, ISO setting and all other settings are absolutely useless, the best settings are the factory ones. The auto focus is nowhere to be seen and it takes nearly 7 seconds to snap a picture and head on to the next.
Video shooting is not even worth mentioning, a measly 10 FPS in CIF, videos look like semi-complete abstract paintings. Spare your eyes the horror of watching videos on the Racer and never use the camcorder.
The music player is good, not outstanding but it will suffice in case you leave your dedicated MP3 player at home. The traditional Android player works well, separating tracks by artist , genre, most played etc. The only problem is that the front facing earpiece also serves as the loudspeaker, and it seems to be suffering from a lack of volume. Also the earphones shipped with the Racer seem to have come from a box marked "damaged goods". So the first thing you want to do when you have a Racer (I cannot fathom why you would buy it) is to get a new pair of earphones.
The FM radio is a completely forgettable experience, the interface is mind numbingly plain and radio stations do not sound clear, if you use the boxed in earphones then the station clarity gets even worse (the box marked "damaged goods" wasn't a joke), in short if you listen to FM often you will need some better earphones. When viewing or listening to any form of media on the Racer, if you turn to landscape mode the movie/song skips for a second. Supported audio formats are MP3, WAV and eAAC+.
Video playback is not too bad, videos run at the native resolution play smoothly even if they have a noticeable amount of pixelation, plus you can encode MP4 videos in either H.264 or H.263. The phone overall does not lend itself very well to watching entire movies and such, just keep it to funny clips of a cat barfing.
Other miscellaneous but important features are; Google Search, Maps, Gmail, YouTube, voice memo, organizer, document viewer (Word, Excel, PowerPoint, PDF), predictive text input, JAVA (via Java MIDP emulator), GPS, and A-GPS.
Performance (3 out of 5)
Now we come crucial moment of the review, where we check out the phone's call quality, web browser and battery life.
Calling is something that the ZTE Racer actually does well, calls sound clear and sharp, if slightly muted. The loudspeaker is not really worth using, and way too much background noise comes through unfiltered when the loudspeaker is active. Though dialing a contact's number itself can be problematic, due to… you guessed it, the resistive screen.
The web experience is average, the lack of Flash and Multi-touch support does not help matters, neither does the QVGA resolution. Pages do load adequately fast and the text re-flow is relatively accurate and fast, pictures and pages are rendered with almost no issues at all, but the experience is very sluggish and annoying due to…you guessed it, the resistive screen. At least the fact it's operating on Webkit is somewhat consoling.
Battery life is pretty useless, even by smartphone standards. The Li-Ion 1100 mAh battery only manages 3 hours of talk time and 200 hours on standby, with absolutely no usage the phone will last for 2 days. Heavy usage will zap the battery life in 4 hours, and mild usage will only get you 12 hours of use. In short you will be charging the phone daily, so keep that microUSB cable near and dear to yourself.
The charging process on the ZTE Racer is quite deceptive, after an hour of charge you will see a green light, an hour later you'll be charging it again, so always let the Racer charge for 5 hours at least no matter what it says or shows you.
Verdict (1 out of 5)
The ZTE Racer can be summed up in one word, poor. Almost everything performs between adequate and terrible, but don't hold it against the Racer, as I said in the beginning of the article, the ZTE Racer was an experiment in the field of dirt cheap smartphones. All the faults and problems in the Racer were taken, analyzed, and done away with in the ZTE Blade.
So in short, just pass over the Racer and consider purchasing the Samsung Galaxy 5, Huawei Ideos or ZTE Blade.
References