Sonim XP3300 Force Review
Introduction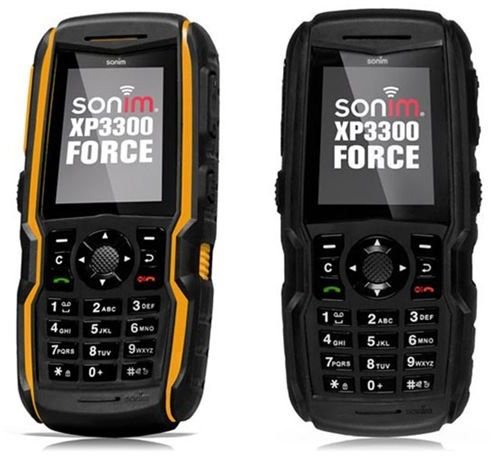 Sonim has a reputation for making durable phones that can be used underwater, on a construction site, or almost anywhere else one can imagine.
The Sonim XP3300 is their newest tough phone. It's also their first phone to surpass military grade specification and has an IP68 certification, it can withstand electrocution (but you cannot, please keep in mind), being buried in cement, being submerged in water (6.5 liters) for 2 hours, being run over by a car, pressure shock, a hammer, dust, oil, ice, fog, salt, snow, sleet, gravel, mud, foam, a bubble bath and hot soup.
Design (5 out of 5)
Right off the bat, this phone looks like it was made for Batman. It has been called the Hulk of mobile phones, but I prefer to think of it as the BatCell.
The physical form of the phone is its main weapon, it is made from a combination of rubber and fiber-glass, at the front we have 2.2 inch Gorilla Glass (1.5mm thick) QVGA 240x320 display capable of supporting 65,000 colors. It can withstand a nail being hammered into it three times in a row. Although a seven foot drop will break the screen. The phone weighs a truly hefty 185 g and has dimensions of 126 x 60 x 25 mm.
The control center is made up of the four-way D-pad which is flanked by three buttons on either side, to the left; Select, Clear and Call. To the right; Contacts, Back and End Call/Power. The dial pad is evenly spaced, comfortable to press and backlit, all the buttons are easy to press as long as you are not wearing gloves, which sort of defeats the purpose of a rugged dial pad, as the users of such tough phones are generally expected to be heavily gloved (construction workers, outdoor enthusiasts, Batman etc).
On the right side we have two flaps (mud and water proof) that house the 3.5 mm headphone jack USB charger, further down is the web activation button and JAVA programing key. The right side houses the very thick and flat volume rocker, further down the spine we have the camera shutter key, which also acts as the LED flashlight's power button.
Turning the phone over we find the the 2MP camera lens and LED flashlight, the flashlight can be used for cinematography purposes or simply to illuminate your way inside the Bat Cave.
The Sonim comes with a special screwdriver used for opening the back, unscrew the two very tight screws and you are provided access to the battery and microSD card slot.
User Interface (3 out of 5)
The UI is simple and relatively clutter free, it is perhaps not the most logically organized UI out there, but then again Sonim are know primarily for the hardware capabilities, not UI design.
One rather big problem with UI is the SMS editor, since the Back and Cancellation buttons are right next to each other, if you're not paying attention you will exit the editor instead of simply canceling a typo, this is not good, what if Batman needs to send an SMS quickly? The phone handles SMS, MMS and E-mail, no IM, though this can be easily fixed with a download of E-Buddy or any other JAVA chat app you prefer. Typing is a relatively quick affair with the aid of T9.
The phone book can handle 1,000 entries with multiple fields of entry and custom ringtone and picture tagging. Eventually Sonim will release software designed to track and provide info and specialized means of communications.
Features (3 out of 5)
High speed connectivity is not available on the Sonim XP 3300, so if you're looking for 3G you might consider the Samsung Rugby instead. International connectivity is handled via 2G GSM network with the following frequencies supported; 850, 900, 1800 and 1900. Local connectivity is made up of Bluetooth 2.1 with AD2P and microUSB 2.0, no Wi-Fi.
Internal memory is limited at 67 MB but it can handle a 32 GB card with no problem, also the phone has an OS, the MediaTek MT6235 is not spectacular but works well enough.
The 2 MP camera redefines the word mediocre, pictures are noisy, blurry and there is a permanent shade to everything you snap, all of this in bright sunlight. Videos are recorded at 12 FPS in CIF resolution of 324x240. At least media playback is tolerable , MP4 or 3GP videos in QVGA resolution played at the native resolution work smoothly and the MP3 player, while not flashy does an adequate job of playing MP3, WAV and AAC.
Other miscellaneous but important features include: flashlight, organizer, GPS, voice memo, stopwatch, count-down timer, file manager, alarm, calculator, calendar and world clock.
Performance (4 out of 5)
Now we come to the true test of grit and brawn, is the phone's call quality, browsing experience and battery life as strong at its build?
This being a rugged phone, certain features were implemented in the telephony. First of all background noise cancellation is excellent, you will hear the sound of a power drill on a construction site, but all normal everyday sounds are completely filtered out, just you and your caller. The call quality is a mixed bag, signals are strong and hold on even in dead zones, actual audio quality is about average, voices sound smooth if ever so slightly hazed, but overall there is nothing to complain about.
The web experience is not much to call home about, you are treated to a WAP 2.0 browser with Opera Mini in-built, pages load as fast as can be expected on a 2G network, pictures are not very well rendered but text appears almost perfect. There is not much to expect in the way of page rendering as it simply renders a long line of text, if not for Opera Mini the browsing experience would have been quite terrible. Tabbed browsing, automatic text correction and Flash are not available, at all.
The battery life is truly unbelievable, the Li-Ion 1750 mAh battery can produce 23 hours of talk-time, a week of standby, over two straight days of battery life on heavy usage, and over 27 hours on GPS. Average users will be charging the phone perhaps once a week, heavy users maybe once every two days.
Verdict (5 out of 5)
The Sonim XP3300 is a truly excellent phone and it is also truly expensive. The $400 price tag might be rather steep, but remember this phone is virtually indestructible, it is used by Batman, and comes with a three year, no questions asked warranty.
But please keep a few things in mind, the screen is as low end as the phone can be while still maintaining some respect, there is no 3G and the camera leaves a lot to be desired. But overall the phone price tag is completely worth it for the rugged performance it offers, so if you're going to climb the Himalayas, construct a building or save Gotham city, the Sonim XP3300 is definitely the phone for you.
References