Get a Jitterbug Cell Phone: Simple and Functional
Introduction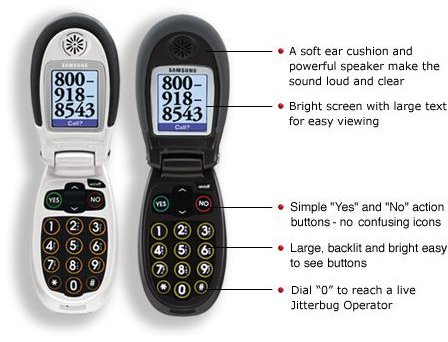 The mobile phone industry is very competitive and every day new cell phones are being made to satisfy the needs of different consumers. Well the Jitterbug cell phones have all been created to satisfy a specific market, which includes, but is not limited to the elderly. This is one of those cell phones that is not focused on being a smartphone, but rather an easy to use simple device.
There are currently two separate Jitterbug cell phones. One is the One Touch Jitterbug and the other is the Jitterbug Dial. They are both designed to serve the same purpose of making the use of a cell phone as simple as possible, but they have their differences which are reflected by their names.
The One Touch Jitterbug is what most people would call an emergency phone because it is simply designed to dial preset numbers at the touch of a button. No keypad necessary. There are only 3 call buttons on the phone, where the operator, a family member and the emergency number are stored for easy calling. The Jitterbug Dial, also known as the SPH-a120 is a bit more of a normal simple phone, wherein it has a standard keypad, but not much else. There are no smart features to figure out, just a phone to make phone calls and that's it.
Design (5 out of 5)
Both Jitterbug cell phones feature a similar design which takes on a kind of duck bill shape. The phone is not meant to be youthfully stylish, but more functional for its intended end users. It measures approximately 4 x 2.25 x 1 inches which makes for an easy hold and usage for seniors. They are both flip phones and are a bit longer than most other cell phones when opened, thus allowing the speaker and the microphone to line up well with the user's ear and mouth. The buttons for the OneTouch are long rectangular buttons that go right down the middle and above that are the simple Yes and No buttons, eliminating icons that may confuse the user.
User Interface (5 out of 5)
The user interface of a Jitterbug cell phone is pretty simple and straightforward. It is intended to be easy to use for anyone. The OneTouch is as simple as pressing a button to call whomever and the Dial is for people with more than 3 numbers to call. The dial pad is there to use with big solid numbers for easy manipulation. The screens on both Jitterbug cell phones are wide and bright with large numbers for easy viewing.
Features (5 out of 5)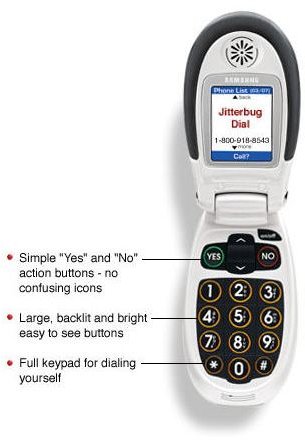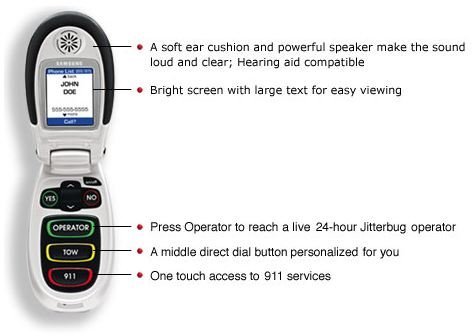 A Jitterbug cell phone is not a smartphone, so you cannot expect a lot of fancy features; however, the features that these Jitterbug cell phones are equipped with are just enough for their intended end user. The text on the screen is bright, big and clear. The call and hang up button, does not have the usual green and red phone icon like most other cell phones do, but rather a simple green yes button and a red no button to avoid confusion. The Jitterbug OneTouch is as simple as you can get with three buttons to preset. One with the operator, the second marked "Tow" which can be used to set a friend or family member, and the third for 911 emergency. Compared to the OneTouch, the Jitterbug Dial could be considered superior, but it simply allows the end user to dial their own numbers instead of having them preset, thus giving them more leeway in the number of people that they can contact.
Performance (4 out of 5)
It is understood that even though the Jitterbug models and interfaces are so simple, the users still have the option of dialling the operator for live support. These operators will answer their questions, find numbers for them and even place the call for them if necessary. When the phone is flipped, a dial tone is emitted, giving the users who are generally familiar with a land line, a feel of familiarity and assurance that they can go ahead and make their call now.
The quality of calls is deemed pretty good and the conversations are louder than most other phones to accommodate the "hard-of-hearing". The battery life is said to provide about 3 hours of talk time and roughly one week on standby.
Verdict (4 out of 5)
The Jitterbug is not made for the everyday cell phone user so it is not a feature packed cell phone with smartphone capabilities. The Jitterbug cell phones are uniquely designed for users who simply want a cell phone that makes phone calls without all the extra features that they will never use or attempt to learn to use. A Jitterbug cell phone is ideal for young kids and elderly or disabled people who just need to make a phone call and nothing more. If you have a parent or grandparent who swears that they will never use a cell phone because it's too complicated, introduce them to a Jitterbug cell phone.
Choose your plan and get your Samsung Jitterbug cell phone at Great Call.
Resources and Images
Great Call, https://www.greatcall.com/