Kyocera Phone Comparison: Kyocera M1000, Kyocera X-tc, Kyocera Laylo M1400, Kyocera Domino S1310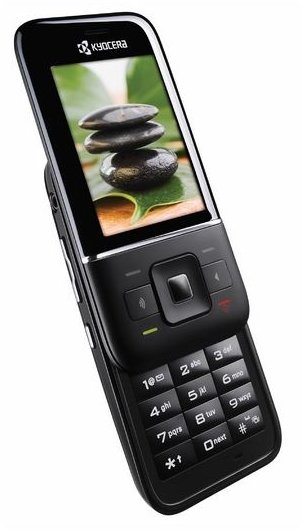 Best Kyocera Phone
Kyocera is a relatively small player in the mobile phone market but it does have some pretty nifty phones in its range. From entry level camera phones to more feature friendly web browsing models there is a wide selection of phones to choose from whether you like to just text and make calls or whether you expect a bit more from your mobile. In this article I will take a look at some of the different Kyocera mobile phones available on the market today and give you my opinion of which one delivers the best value for money.
Kyocera Laylo M1400
This is a great little entry level camera phone which features a vertical slide to reveal the number keys. It has got a large, bright 2.2" contoured QVGA display and a 1.3 megapixel camera with 5x digital zoom as well as a cool slide out vanity mirror on the back. The keypad is quite large and the keys have a slight upward curve so texting and dialling numbers feels easy enough. This phone also has a large phone book memory allowing you to store over 500 entries and it comes with Bluetooth 2.0 support. It has a talk time of around 200 minutes and quite a smart design but lacks many of the features some users might like. The Laylo has good call quality and at around $59 it's not going to break the bank but I would recommend this one for people who mainly like to talk and text and take the occasional photograph.
Kyocera Domino S1310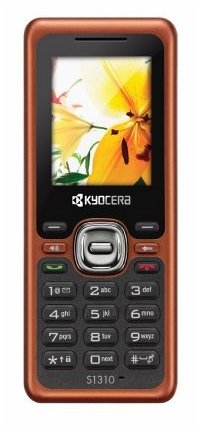 This phone looks quite sleek and stylish with a streamlined design and a large display. The sound quality is robust enough and it comes with Bluetooth 2.0 and around 200 minutes of talk time. It's a fairly compact 109mm x 44mm x 13.8mm and weighs in at just 72 grams. As well as the features you would expect from a basic phone it also has support for standard web browsing and voice memo recording. At around $99 it's a solid enough phone but there are probably a couple of other mobiles from Kyocera in a similar price bracket that boast a few more features
Kyocera M1000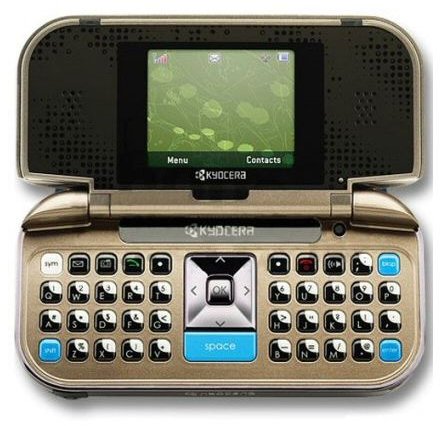 This is the first phone we come to that really has all of the bells and whistles you might expect from a higher end mobile. It has got a full QWERTY keypad and 2 color LCD displays. The external display is 1.5" while the internal one is 1.8" but could probably have been made a little bigger as there is quite a lot of empty space on either side of the screen. The phone (also known as the Lingo or Wildcard) opens like a book with a hinge along the left side and offers voice recognition, voice dialing and voice digit dialing. Handily, opening and closing the phone doesn't interrupt whatever feature you are using. It has got a 1.3 megapixel camera that you can record video with and comes with Bluetooth. The Kyocera M1000 supports instant messaging and email over a high speed connection and has a talk time of 195 minutes. The internal keypad has shortcut keys for the speakerphone, camera and messaging but the keys do feel a bit slippery. At around $99 this is a decent phone for the money.
Check out our full Kyocera Lingo review.
Kyocera X-tc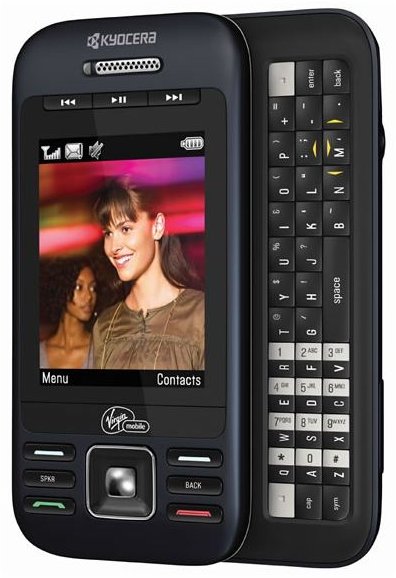 Aimed at the mid to high end of the market, yet retaining a budget price, the Kyocera X-tc is another handset featuring a full QWERTY keypad but on this phone it slides out rather than being hinged. With a compact design, micro USB port, 2.5mm headphone jack and micro SD expansion slot this phone offers many useful features. It supports instant messaging and email but unlike the Kyocera M1000 it comes with social networking apps. You can customize the screen with different wallpapers, graphics, themes and screensavers and it has dedicated music buttons above the display (play, pause, forward, back). The phone feels solid and comfortable and the sliding mechanism is smooth but the keypad feels a little overcrowded. However, at around $99 and with a lot of features I think this is the best value Kyocera mobile phone on the market today.
You may also be interested in taking a look at the Kyocera Neo and the Sanyo Zio.
Image Credit: https://www.kyocera-wireless.com