Review of Pantech Slate Mobile Phone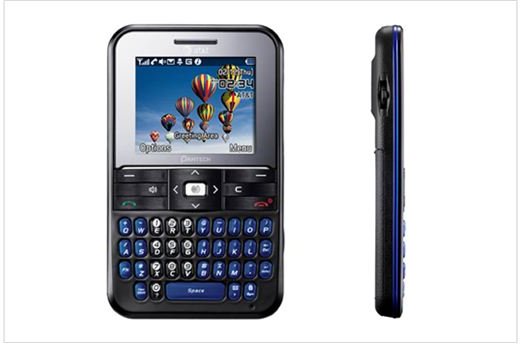 Pantech Slate
The Pantech Slate is firmly targeted at text addicts, but that's no problem as the current generation, hipsters and tech savvy individuals have directly contributed to texting surpassing phone calling in popularity. The Pantech Slate incorporates good design and usability into a great entry-level messaging smartphone.
Design (3 out of 5)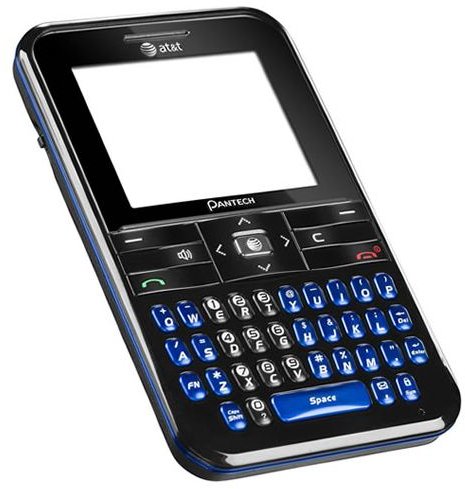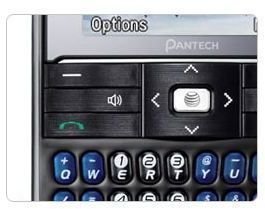 The Pantech Slate actually does look like a slate in a glossy black color. It is dark, slim and not over-designed which gives it a flat but attractive look. The Slate measures 4.2 inches by 2.5 inches by 0.39 inches in height, width and depth, respectively and weighs 3.2 ounces as a result of its predominantly plastic build. It certainly is one of the thinnest and lightest messaging phones on the market today.
On the front of the Pantech Slate is a 2.2 inch display which supports 260,000 colors and has a resolution of 176 x 220 pixels. The colors on the device are vibrant, text is legible and images are sharp. Underneath the display are the navigational buttons and soft keys. On either end of the four way navigation button with the OK option in the centre, are two soft keys which correspond to menus on screen. There is also a dedicated speakerphone button, Send and End/Power key and a Clear button. The navigational arrows are also shortcut keys to preset menus like a new text message, IM, the contact list and E-mail.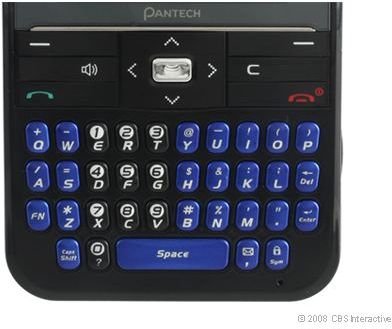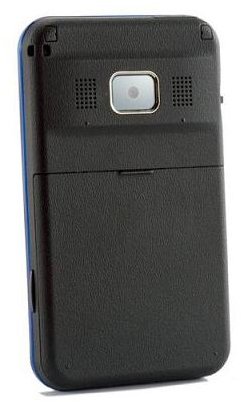 The Pantech Slate features a QWERTY keyboard. Each key bubbles and is slightly raised from the surface which makes for accurate and fast dialing and texting. The numbered keypad within the QWERTY layout is colored black, while the remaining buttons are blue. The keyboard also features a shift button and a dedicated inbox button, as do most other smartphone keyboards.
On the sides of the device are the volume rocker, headset/charger port and dedicated camera key. On the back of the device is the camera's lens and external speaker.
User Interface (5 out of 5)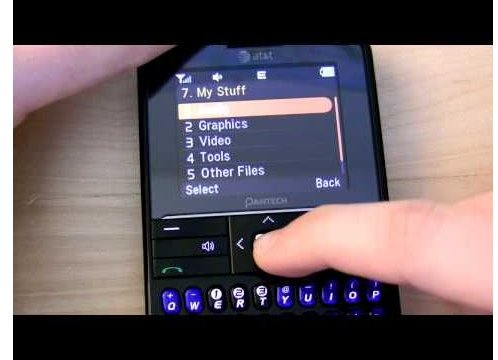 The Pantech Slate has a user interface that is very similar to many of the other AT&T mobile devices on the market today. The home screen displays the time, date, service level and battery life. The bottom dock has two menu options which are accessible by pressing the soft keys which correspond to them. The Menu is displayed in a 3x3 grid of icons.The navigational arrows above the QWERTY keyboard allow users to navigate through the icons and sub-menus.
Features (3 out of 5)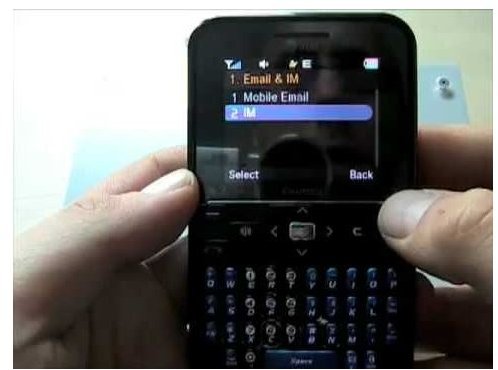 The Pantech Slate can handle up to 600 entries in the phone book where each contact can be assigned three phone numbers, two emails and a note. Other standard and basic essentials include, an alarm clock, SMS and MMS services, speakerphone, calendar, voice memo software, notepad and calculator.
The device is mainly centered around messaging and aimed at people who are frequent text message users. Instant messaging is included within the Slate's features with an IM client which supports Yahoo! Messenger, AIM and Windows Live Messenger. The IM client will also keep running when switching back and forth from the home page and the client so users will not have to worry about missed messages. The Pantech Slate also offers some advanced features and email connectivity through Yahoo!, AIM, Windows Live and AOL addresses. Unfortunately Gmail is not offered.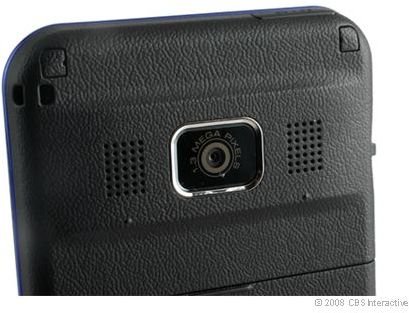 The Slate's 1.3 megapixel camera isn't its best feature but does produce decent shots in great lighting. The camera can take pictures in up to 6 different resolutions: 220x176, 320x240, 640x480, 800x600, 1024x768 and 1280x960. The camera also includes color effects, white balance presets, a self timer, mutlishot options and a shutter sound option. Photographs taken with the Slate's 1.3 megapixel camera may seem blurry and out of focus in indoor or dim lighting but outside shots are sharp and vibrant. The Pantech Slate is also able to record short video clips at either 128x96 or 176x144 resolutions.
Some games are also preloaded on the Pantech Slate such as Poker, The Sims 2 and Ms. Pac-Man. The Pantech Slate can be customized with themes, wallpapers and ringtones to suit each users' preference.
Performance (4 out of 5)
The Pantech Slate is a quad band GSM mobile phone and runs on AT&T's network. The signal in most areas will be strong as a result of AT&T's reach nationwide. Call quality is decent with minor and short hissing or echoes due to the phone's make. The speakerphone function is also a bit dodgy but Bluetooth headsets will solve the problem of low volume. The Pantech Slate lasts for up to 3 hours of talk time, drastically lower than most other smartphones but will also last for 10 days on standby on a single charge.
Verdict (4 out of 5)
The Pantech Slate is a great messaging phone as it offers connectivity to email, IM and Internet software without issue. Its most promising feature is its IM client which allows up to three instant messaging clients, although Gmail users will have to opt for another device. The Slate offers a great design, simple features and is a great entry-level phone for people who are looking for a messaging friendly device. It costs $89.99 at www.amazon.com.