Top 5 Apps for Sony Ericsson Phones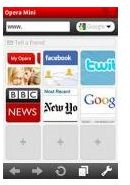 Top 5 Sony Ericsson Phone Apps
Sony Ericsson may have been relegated when it comes to smartphones but it is still a major player when it comes to feature phone sales. It has had a lot of success with its range of stylish feature phones with great cameras and multimedia capabilities. All its feature phones used to support Java MIDP apps, which, while not as good as smartphone apps, used to increase the functionality of the phone a lot.
In this article, I will present a list of the Top 5 Apps for Sony Ericsson phones. You can also check out the list of Top 5 Sony Ericsson Games.
Opera Mini
This is the number one application worldwide. It has the maximum number of downloads across all major mobile phone platforms. It is a superb browser which allows you to browse the web from your mobile phone. The new version 5 has many excellent features like tabbed browsing, a beautiful UI, a download manager, bookmarks, speed dial, URL auto completion, fullscreen browsing, a bookmark and notes synchronizing feature etc.
Using Opera Mini will also reduce your data charges as the web pages are compressed before they are delivered to your phone.
You can download Opera Mini here.
eBuddy Lite Messenger
The eBuddy Lite messenger is an excellent messenger app for your Sony Ericsson phone. It allows you to log in to your Yahoo, MSN, Facebook chat, AIM, iCQ, Google Talk accounts directly using your mobile phone and chat with your online buddies. It is available in 26 different languages and supports emoticons, status messages and user modes. It is probably the best messenger app for your phone.
You can download eBuddy Lite Messenger here.
Nimbuzz for Mobile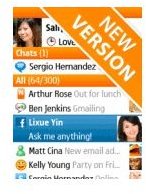 Nimbuzz for Mobile is a nice application for your Sony Ericsson phone which allows you to make free calls, instant message your friends etc. It also includes Twitter functionality. You can make free calls using 3G or Wi-Fi to all your friends. You can also locate your friends and share your own location on a map.
You can download Nimbuzz here.
Snaptu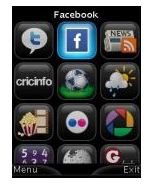 Snaptu is a nice AIO application which gives you access to the functionality of many apps. It includes the features of all these apps in one place: Twitter, Facebook, Flickr, Picasa, News, AccuWeather, Cricket, Soccer, Movies, Sudoku. You can install and run all these apps within Snaptu and switch between them easily.
It is the ultimate must-have application for your Sony Ericsson phone.
You can download Snaptu here.
Concise Oxford Dictionary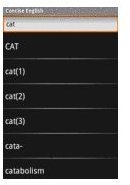 The Concise Oxford Dictionary is one of the best English dictionaries for students and professionals. It has clear, concise definitions for almost the entire English vocabulary and is updated every year. You can have it all on your mobile by installing this Concise Oxford Dictionary application. It gives you instant access to over 240,000 words and phrases with their precise definitions and usage examples. It has features like quick dynamic search, hyperlinks between words, pronunciations etc.
You can download the Concise Oxford Dictionary here.