Acer M900 Review: Specifications, Design and User Interface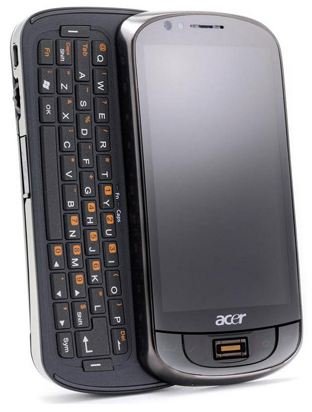 Acer M900 Review
The Acer M900 was released quite some time ago, back in 2009. It was a great smartphone with good hardware specifications and ran on Windows Mobile 6.1 Professional, which was one of the major mobile OSes back in the day. However, Windows Mobile 6.1 has now been almost phased out, Microsoft is planning to launch Windows Phone 7 phones soon. Windows Mobile 6.1 smartphones are no longer a viable option, irrespective of the hardware they pack in, as most of the application developers have migrated to the iOS and Android platforms.
But there is still hope, Windows Mobile still sports a very large application library with really useful applications and games. Also, the Acer M900 comes with a really cool feature: a fingerprint reader for user authentication. In this review we check out the Acer M900 and see if it's worth buying.
Acer M900 Specifications
Dimensions: 119 x 62 x 17.1 mm
Weight: 188 gms
Display: 3.8 inch resistive touchscreen display, 480 x 800 pixels, 65K colors
OS: Microsoft Windows Mobile 6.1 Professional
Processor: Samsung 533 MHz processor
Camera: 5 MP camera, 2592 x 1944 pixels, autofocus, LED flash
Connectivity: GPRS, EDGE, 3G HSDPA, Wi-Fi 802.11 b/g, Bluetooth 2.0 with A2DP, microUSB 2.0
GPS: GPS transceiver
Battery: Standard 1530 mAh Li-ion battery
Design (4 out of 5)
The Acer M900 is a bit bulky with dimensions of 119 x 62 x 17.1 mm and a weight of 188 gms. It has a 3.8 inch display and a sliding QWERTY keyboard. It sports a nice design which looks great and has excellent build quality. It is one of the sturdiest smartphones I've seen.
The front face is covered mostly by the 3.8 inch display, the phone keys and the fingerprint reader sensor. On the left lie the microSD slot and the volume rocker. On the right there is the camera button, the power keys, the voice command button and the stylus compartment. The QWERTY keyboard slides out from below the display. The keyboard is large and the key spacing is adequate. The keys have a nice feel and good feedback.
It has a 3.8 inch resistive touchscreen display with a resolution of 480 x 800 pixels and support for 65k colors. The display quality is quite good but the sunlight legibility is very bad. It can be used to watch movies and videos. However, a capacitive touchscreen display would have been better.
User Interface (3 out of 5)
The Acer M900 comes with Windows Mobile 6.1 Professional. It has the custom Acer Shell interface on top which is very intuitive and easy to use. It is one of the better Windows Mobile shells available, though not as refined as TouchFLO 3D. It includes a "3D Office" which visualizes a real office on your display with the objects in the office being application shortcuts like messages, email, calendar etc. It is powered by an underpowered 533 MHz Samsung processor.
Being a Windows Mobile phone, it supports all Office formats: Word, Excel and Powerpoint, 2003 and 2007. You can easily view and edit documents on the large 3.8 inch display.
It also supports all the older Windows Mobile applications, so you can install everything you want: alternative browsers, chat clients, games etc.
Multimedia (3 out of 5)
The Acer M900 has a 5 MP camera which can capture images at a resolution of 2592 x 1944 pixels. It has autofocus and an LED flash. It also comes with a secondary VGA video call camera. The image capture quality is pretty decent and the captured images have good contrast. The camera interface is intuitive and easy to use. It allows access to many advanced settings like white balance, ISO settings, effects etc.
It comes with a built in music and video player. The audio quality is quite good, it can easily double up as a PMP. The videos look good on the large display. The M900 can play MP4, H.264, DivX encoded videos flawlessly even at high resolutions. You can also install 3rd party video player apps if you are not satisfied with the built in software.
Connectivity and Other Features (4 out of 5)
It has all the standard connectivity options: GPRS, EDGE, 3G HSDPA and Wi-Fi 802.11 b/g. It also has Bluetooth 2.0 with A2DP and microUSB 2.0 connectivity. It comes with Internet Explorer Mobile 6.0 installed which is a decent web browser, but not as good as the Webkit based ones in the iPhone or Android phones.
The call reception quality is really good. This is one area where the Acer M900 really beats the iPhone 4.
It comes with Fingerprint Recognition built in. It has a fingerprint reader over which you can swipe your finger to gain access to the locked phone. You can also protect certain files or contacts with the fingerprint information or alternatively use a password. The fingerprint protection feature works perfectly well.
The Verdict (3 out of 5)
Despite have good hardware features and a nice OS, the OS is nowhere as good as iOS4 or Android 2.1/2.2. There are many good Android alternatives with better hardware specifications than the Acer M900, available in the same price range. For this reason alone, I would not recommend the Acer M900. Check out our list of Top 10 Android Smartphones for more options.