Top 10 Best Palm Pre Apps: Explore the Best Paid & Free Apps for the Palm Pre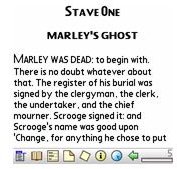 Palm Pre apps are on the rise, and offer a wealth of functionality to rival some of Palm's bigger brothers in the smartphone market. One of the big bonuses about Palm apps is that Palm encourage developers in a way that the big boy in the market, Apple, simply doesn't. The result is that you get a lot of diversity in the market, and you aren't just restricted to the apps on the Palm App Catalog on your phone. Consequently, there are some great homebrew Palm apps included in our list; if you haven't heard about them then don't worry, as we have a guide for that too.
eReader for Palm
With the much-hyped Kindle readers and apps for other smartphones, Palm users could be forgiven for feeling a little left out when it comes to e-books. However eReader for Palm is actually a pretty great little app - and it's free. What's more, it's easy to use, has plenty of options, and even offers some free e-books, simply by choosing free books from the menu when you've downloaded the app. The type is clear, and will make waiting for a doctor's appointment almost pleasurable. Downloaded books (whether purchased or free) will be stored on your bookshelf, and upon opening the app will default to the last book you were reading.
The only thing to look out for when using the eReader is if your Palm is set for auto-screen dimming, as this can make reading the text difficult, so a useful tip would be to turn that off before starting a book. Without a doubt this is one of the best free apps you can get.
FlightView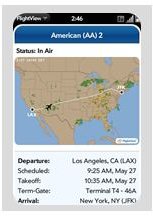 If you're expecting relatives to fly in for the holidays, or if you or your spouse is a regular business traveler, Flight View is one of the best Palm Pre apps you can get. The flight information is given in real time so you know exactly what the status of the flight is at all times. If you are the one traveling then you can also add information such as car rentals, and get it all working in sync with your calendar too. Another great feature is that you can set alerts on particular flights to keep you updated, even if you don't have the app running. The only downside is that it is currently only available for flights within North America, or those that have a finish point of North America.
TuneIn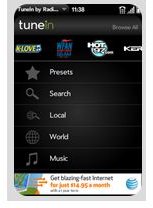 If you like your radio, then TuneIn is the app for you. With 100,000 radio stations to choose from on a worldwide basis, you'd find it hard to suggest a radio station that doesn't feature. To help you get it down to a more manageable number of stations that might interest you, you can limit your choice by category – even local stations and police scanners are included in the list. Simple to use, and also comes with the ability to store some presets to your favorite stations too. It's hard to find much wrong with this app at all – a very worthwhile purchase.
More apps on page two!
2TwitMe
As the name suggests, this is one of the best choices to get you up and running on Twitter. The pages aren't particularly pretty, which is the biggest downside of this app, but it does everything you would expect an app like this to do. As well as the usual reading, and tweeting, there are also operations available to support multiple accounts, and to shorten any URLs you want to put in your tweets too, which is a pretty useful feature to save you going back and forth to tiny or bit.ly etc. All in all, it's not pretty but it is functional, and will only set you back a couple of US dollars.
Flixster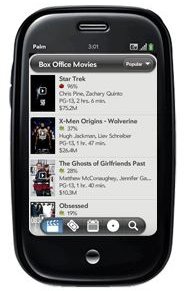 Flixster is a recognized app by most mobile phone users, as it's available on iPhone, Android and BlackBerry… and it's now available as a free app for Palm Pre users too. This isn't just an app that will tell you the local cinema times, it's a whole lot more than that. You can get reviews from critics as well as people like you, even for older films that are now just on DVD. See trailers for upcoming movies, and hear all about the latest releases very early on. If you read a review of a film you like, a simple tap will get you to the cinema's online booking page.
Even if you only go to the cinema every now and again, Flixster it's still a very worthwhile app, and doesn't take up too much space. 
Game Center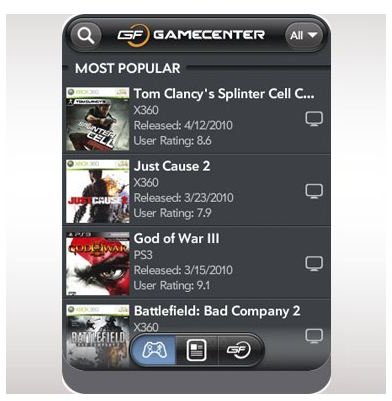 GameCenter has all the information you could possibly need, and if you are a gamer, it is an absolutely must-have app for Palm Pre users. Currently featuring over 7,000 games for all current consoles, handsets like the DS, and mobile games too. You'll get the usual reviews and release dates of the hottest upcoming games, as well as access to some great cheats, tips, hints and walkthroughs too. If you are a gaming fan with a Pre, then see our article on the best Palm Pre games.
You can access this from the Palm App Catalog on your phone, or get more information by following this Download Link > Entertainment.
Battery Monitor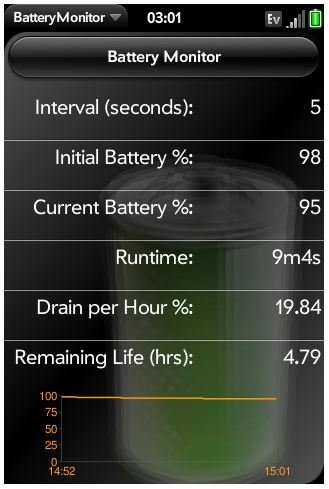 If you're feeling a bit edgy today, then get out of the standard Pre box, and try a homebrew app. OK, so the subject of battery life isn't exactly a riveting one, but the battery life of the Pre, is definitely one of its downsides. So if there is an app that can help with this, then that has to be a good thing, right? There's lots of advice given on ways to extend your battery life, but it completely depends on just how you use your phone. This app will track just what apps and processes are using up your battery juice, as well as given you an indication of remaining battery life, in terms of percentage and time. If you think a certain operation might be responsible then you can track how much it's draining the battery, by consulting the graph on the Battery Monitor app. A very useful free tool.
If you aren't sure about the whole business of homebrew apps on your Palm Pre, then consult our easy guide to installing homebrew apps.
[Download Link]                                                                                                                             Even more apps on page 3!
Engadget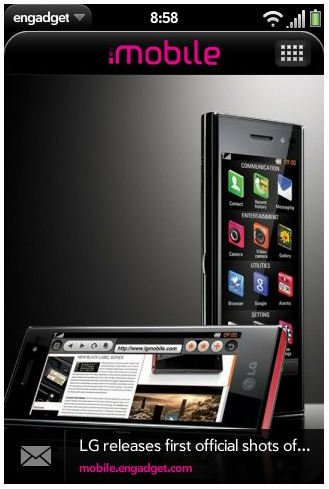 For all those gadget lovers amongst you, you'll no doubt be aware of Engadget as a website to offer first class up to the minute info, on everything in the world of gadgets and tech. This Engadget app for Palm Pre is a neat little app, that will keep you up to date on all things gadgety for free. It's a really good looking app, and the pics are of a surprisingly high quality. If you are a gadget guy or gal then this is one not to miss. Keeping up to date with gadget reviews, hands-on demo clips, as well as gaming news too, has never been so easy. It's genuinely hard to find anything wrong with this app at all – it's even free.
What's For Dinner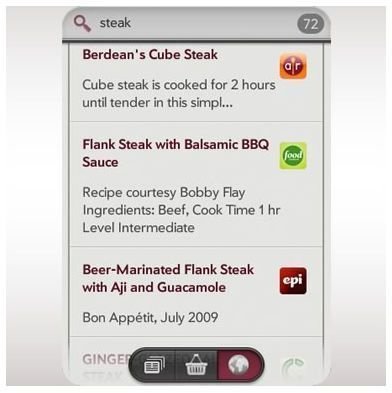 Everyone is a cooking expert nowadays, but with this app for your Pre, you will certainly be armed with some great foodie knowledge. So much more than just recipes, this is a great shopping list app too. You can look up recipes by ingredient, and be faced with a summary of each one, compiled from various sources from Epicurious to Food Network. Once you've decided on a recipe that suits you, tap on it to be presented with the full recipe and instructions. Then you can add the items you don't already have, to your shopping list, making shopping for ingredients a breeze too.
The major downside to this app, is the lack of any pictures to accompany the recipes, which is pretty strange for an app of this type, and it's always nice to know what you're supposed to be cooking has come out right. Despite this, the instructions are clear, and is still a very worthwhile purchase.
Access this app from the Palm App Catalog on your phone, or get some further info, by following this Download Link > Featured Apps > Lifestyle.
Fit Track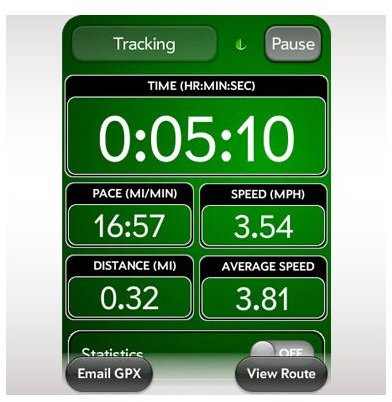 Exercise junkies needn't miss out on great apps for Palm either, and Fit Track is a tough one to beat – especially for joggers and cyclists. This basic, but well designed app will record your current speed, how far you've traveled, average speed, and pace count. It will also record your route covered, using GPS. When you've finished your workout you can check out where you've been, and all the related stats, to see if you've achieved any better results than last time. I would say the downside to this game is the lack of calorie counter, that is usually featured on apps of this type, but is nonetheless a very worthwhile app for your Palm.
Access this app from the Palm App Catalog on your phone, or get some further info, by following this Download Link > Featured Apps > Lifestyle.
Conclusion
So what is the best app for Palm Pre phones? Given the range offered, it is obviously hard to pick just one, as apps should reflect your lifestyle and interests. However, no Palm Pre phone should be without eReader, TuneIn and Battery Monitor. The rest is personal choice.
References
All images remain copyright of the respective dev__elopers.