Top 10 Palm Pre 2 Apps Your Pre Shouldn't Be Without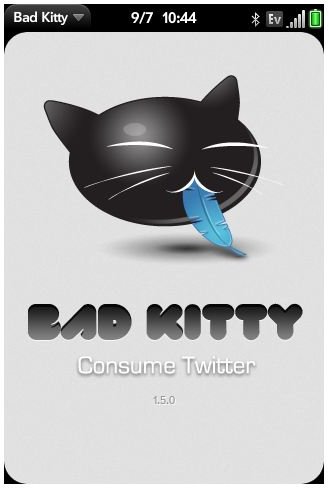 Palm Pre 2 apps are on the increase, not only in terms of number, but also in terms of quality too. No more clunky, or practical apps that are unattractive, the Pre market has really opened to include some wonderful apps, that are pretty fancy looking too. We've uncovered our top ten apps for your Pre 2 that should keep you amused for hours to come.
Bad Kitty - Twitter App for Palm
Twitter on the Palm Pre 2 just got a whole lot more stylish. Bad Kitty was winner of Palm Central's best Twitter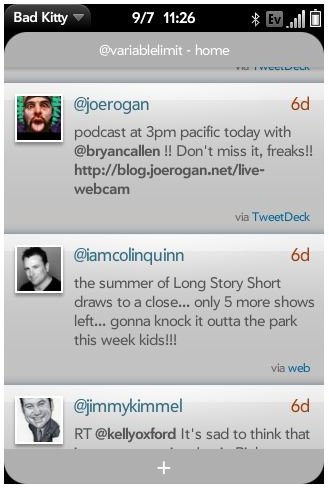 app for Palm in 2010, and with good reason. As well as it being a visually appealing app, there are a few extra features that make this Twitter app stand out from the crowd. You don't have to mess around with different menus to find how to start tweeting, you just start typing, and the app will recognize you are starting a tweet. It also supports multiple accounts, customizable alert tones, as well as the usual trending topics and geo tagging.
Tweed is another great Palm Pre 2 Twitter app, but Bad Kitty gets my vote for being a bit more intuitive and user-friendly.
FlashCards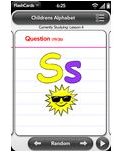 Not just for kids, this Flashcards Palm Pre 2 app can even help adults who are studying a language, revising for a professional exam, or to help with hint cards during a presentation. Of course you can use them to help your kids too – this app is highly versatile. Once you've downloaded the app, you are then free to download hundreds of editor picks for FlashCards, or get access to millions via a third party source. You can also record audio to accompany your cards. For the sheer range on offer, and its cost effectiveness, this is a must-have app for the Palm Pre 2. It's quite dependent on you to make this app work, but it does mean it's highly customizable.
To add a bit more fun to you child's learning, why not see our article on the best educational games for your mobile.
Flixster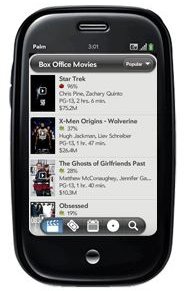 Flixster has been a fun and funky app on smartphones for a while now, including iPhones, BlackBerry, and Android. Now Palm Pre 2 users can get their hands on this useful little app too. You can look up reviews of films (even older ones that are now on DVD), and with a simple tap you will find yourself at your local cinema page and booking tickets. Watch trailers and clips, get reviews from the pros, or from cinema goers like yourself. This Palm Pre app even comes with integration to Facebook so you can share your views on a certain film with your friends. Even if you are only just an occasional visitor to the cinema, it's still worth taking up this small amount of space on your Pre 2.
Read our full length review of Flixster on Palm, if you need further convincing.
Flight View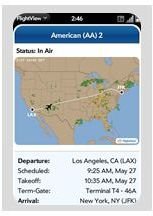 If you have a spouse who travels regularly for business, or you want to keep tabs on your parents who are visiting you for the holidays, then Flight View is for you. It allows real time tracking of any flight within North America, or for those flights who have an end destination of North America. If you are the traveler, then use the app to track how long it will take you to reach your destination, and store all your travel info like car rentals in the same app too. Flight View can even integrate with the calendar on your Palm Pre 2. The best thing about this app is that it can notify you of flight changes even when the app is closed. The downside would be that it currently only works in North America. Still a handy little app to have for your Pre 2 though.
TuneIn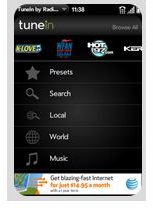 A simple little app that packs a big punch, TuneIn brings more radio stations to your Palm then you would ever get time to listen to. You have access to over 100,000 radio stations worldwide, including local stations, and even police scanner radios – it cleverly uses your phone's GPS to work out these last two. Store your favorite stations into the presets, and you'll have instant access to your faves in an instant. If you are just in the mood for a certain kind of music, or you just want to hear some sport talk, then you can narrow your choice down by category easily. A must have Palm Pre 2 app for any user.
Please continue to page 2 for more fantastic Palm Pre 2 apps.
Engadget - Palm Pre 2 Application for Gadget Lovers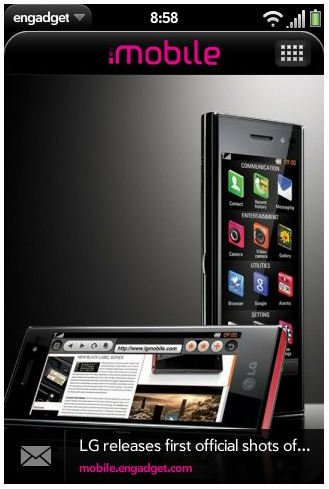 If you love your tech, then you are likely to be already familiar with Engadget, and this cute little app does the same job. Actually considering the screen size, this app is surprisingly appealing as a visual, and you don't feel like you are missing out on anything, that would be presented in the bigger brother website version. This Engadget Palm Pre 2 application helps you keep up to date with release dates for upcoming tech, as well as critic and reader reviews, and hands-on demos of the latest gadgets. The images are stunning, and will have gadget guys and gals drooling. Hard to find much wrong with this app at all, especially as it's free.
NewsRoom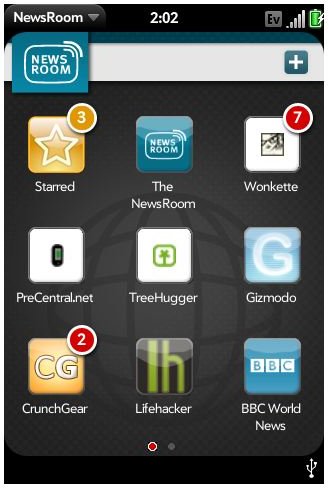 Even if you aren't a news kind of person, this NewsRoom app for Palm Pre 2 is still a must. You can choose what to be updated on, simply by holding down your finger on stories you like. This app takes news from all kinds of different sources, from BBC to Gizmodo so you get a good range. One of the best things about this app is that it will work even when you don't have a signal, as it updates even when the app isn't open, so you are sure to find some unread options to keep you happy when you've got a lost signal to deal with.
At five dollars, you might consider this a downside of the app, but thanks to constant updates and upgrades, it's one of those Palm Pre 2 applications that will grow with you.
Free Books - Classics to Go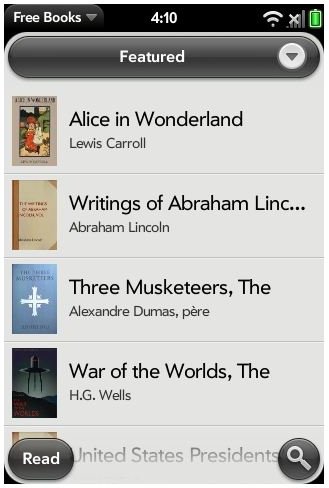 With well over 23,000 classic books at your fingertips, who is going to complain at a two dollar price tag? Once you pay for the app, all the books are included. You'll find almost any classic you can think of from Alice in Wonderland, to the plays of Shakespeare. The menu is attractive and easy to use, just tap on a title that takes your fancy and within seconds you'll be reading your chosen classic. You'll obviously need a data connection to download your chosen book, but after that you can read at your leisure, as you don't have to remain connected. Close the app down and it'll remember where you were - automatic bookmarking at its best.
The downside of this app is the lack of modern classics. The books you'll find in this app are all older titles that are now in the public domain. For the price though it's hard to argue.
BFG Maps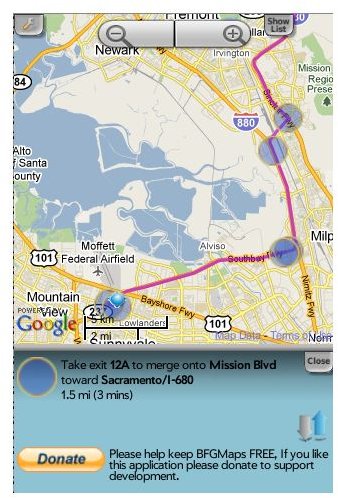 So much more than a GPS navigational driving app, BFG Maps has it all. You can also use it to find your way walking around the city, using the streetview option, and as it has integration with FourSquare, Buzz and Wikipedia too, you get a bit of extra info, pictures, and dimension to the experience. You also have the ability to set up traffic alerts to avoid any delays in your car journey.
As it's free you become aware of some small but annoying adverts popping up, but if you want the app ad free you only need to donate $0.99 and this minor irritation will be removed. Requires a data connection to keep it running, so occasionally it's slow to respond, but at this price it's still your best GPS option.
GameCenter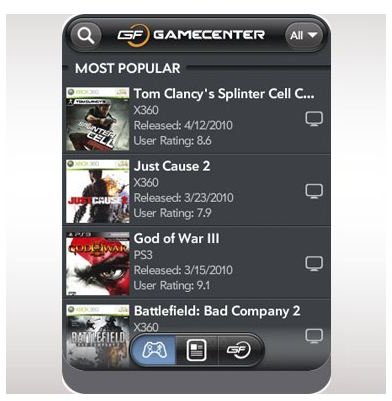 GameCenter is an app for Palm Pre 2 lovers of all things gaming. You'll have access to thousands of games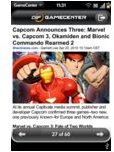 across all current consoles, handhelds and phones. As well as the usual reviews, you'll get previews, info on the hottest releases, and a whole ton of gaming news. A major plus for this gaming app is the access to all those lovely cheats, hints and tips too. GameCenter takes its info from all your favorite places like IGN, EA and Shacknews, and brings them all together in one gaming heaven. Oh yes, and did I mention this fabulous app is a free Pre app?
If you are a gaming Palm Pre 2 owner, why not check out our article on the best Palm Pre games.
Conclusion
Palm Pre 2 applications are all about making your phone personal to you, to help you keep up with your hobbies and interests, so making a recommendation of the absolute best app for your Palm Pre 2 is difficult. However, there are a few must-haves in the list that will keep everyone happy. Download TuneIn, BFG Maps, and Free Books apps for your Palm Pre 2 and you won't go far wrong.
References