Review of the LG Remarq: The Eco-Friendly Mobile Phone
Introduction
The LG Remarq is one of the best LG phones. It is a small and handy mobile phone with a user-friendly, slide-out QWERTY keyboard and it is advertised as an eco-friendly device. The phone is said to be composed of 87 percent recyclable material.
Design (4 out of 5)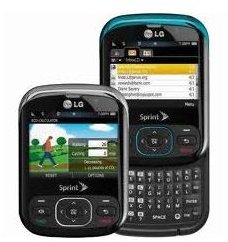 The LG Remarq has a length of 3.5 inches, width of 2.5 inches and depth of 0.6 inches. It is a compact phone with rounded corners and curved sides. The Remarq is remarkably lightweight at 3.8 ounces and covered in a glossy and durable plastic that feels solid when held in hand. This slider phone has a 2.2 inch display capable of flashing up to 262,000 colors at a resolution of 220x176 pixels.
The right spine features the camera key and charger jack while the counterpart features a volume rocker, 2.5 mm headset jack, and a memory card slot. The back of the phone has the camera lens and the external speaker.
User Interface (4 out of 5)
Beneath the main screen is a navigational array consisting of a four way toggle with a central Menu key, a couple of soft keys, a back key, an End/Power key and a talk key. The four way toggle also serves as a shortcut to the photos, message inbox, web browser and My Stuff folder.
The full QWERTY keyboard slides out beneath the display. Despite being a small phone, the LG Remarq does have a roomy keyboard. The keys have good spacing in between them. It is easy to type in messages with the keys raised above the surface. The keyboard has the familiar function and symbol keys, while the enter and space bar keys are significantly bigger than the other keys.
Features (3 out of 5)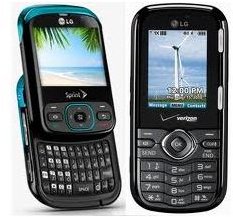 The LG Remarq is advertised as an eco-friendly phone, and to further support that claim, LG integrated an eco calculator into this phone. It is a gimmicky addition, but for an environment conscious user, it can be a great tool. The eco calculator assists in measuring your carbon footprint. It particularly calculates how much less CO2 you could generate by opting for more environmentally friendly measures like walking or cycling instead of hopping in a vehicle.
Of course, the LG Remarq also has basic features such as speakerphone, vibrate mode, calendar, alarm clock, unit converter, notepad, tip calculator, stopwatch, world clock, text and multimedia messaging. Some of the more advanced features of the Remarq include USB mass storage, web browser, voice command, and stereo Bluetooth.
The LG Remarq's phone book can store up to 600 contacts. Each entry can have a maximum of six phone numbers, three email addresses, URL address, street address, instant messenger handle, and details like company name, job title, and birthday. Contacts can be assigned with pictures or LG ringtones.
The LG Remarq has several social networking apps like MySpace, Facebook and Twitter installed by default. Through these apps, users can easily update their status on their social networking websites and upload images just like on regular websites.
The music player of the Remarq is typical of other phones from Sprint, allowing users to organize songs by album, artist and genre. Users can also create and edit playlists easily, while player controls, like shuffle and repeat, are available. Music can be stored on the internal 22MB memory of the Remarq, or through the microSD card which has a maximum expandable memory of 16GB.
The LG Remarq also has a 1.3 megapixel camera capable of capturing images in three resolutions and quality settings. It also has other settings such as brightness, color tones, white balance, fun frames, and self timer.
Performance (3 out of 5)
The LG Remarq's 1.3 megapixel camera cannot be relied upon to take decent quality images. Images usually are washed out, even when taken under good lighting conditions. The media player's performance also leaves a lot to be desired, as audio quality is mediocre when played through the phone speakers. Users may have to opt for a stereo Bluetooth headset to maximize their audio experience.
When it comes to voice calls, the Remarq delivers. Voice calls using the phone are pretty clear and audible. Users should have no problem hearing the person on the other line when using this phone. Voice calls do not dip in quality when the speakerphone is used.
The Remarq has a battery life offering 5.5 hours of talk time.
Verdict (3 out of 5)
The LG Remarq mobile phone has several things going for it - a good design, good user interface and a good set of multimedia features. The mediocre media player and camera performance are both disappointments but you cannot expect too much from a low end phone and the LG Remarq is cheap. For people who are eco-friendly, this phone is great because of the calculator that assists in measuring your carbon footprint, particularly calculating CO2.