Introduction
The LG Imprint is a lightweight and compact handset with a QWERTY keyboard. It features several multimedia functions like e-mail, a music player and a camera. This is an entry level phone that should be good enough for people who want to send texts, check email, make calls and little else.
Design (4 out of 5)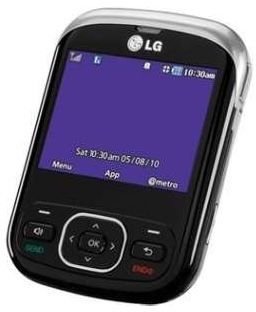 The LG Imprint has a similar design to the LG Remarq, although it is not advertised as an eco-friendly device. The Imprint is not made of recycled plastic like the Remarq. The design may just be one of the strongest suits of the Imprint. It measures 3.5 inches in length, 2.5 inches in width and 0.6 inches in depth. It has rounded corners and is shiny and smooth throughout. The phone weighs 3.8 ounces and won't feel bulky when slipped into a pants pocket. The LG Imprint has a glossy and black frame with a silver band on its front.
The LCD screen of the Imprint measures 2.2 inches at a resolution of 320x240 pixels. It is capable of supporting up to 262,000 colors. Beneath it are a couple of soft keys, the familiar four directional key with an OK button in the middle, and buttons for speakerphone and back. The latter buttons also serve as buttons for Talk and End functions.
The left spine of the phone reveals a camera button for the 1.3 megapixel camera of the Imprint. Just above it is the micro USB port. The volume toggle, microSD slot and 2.55 headset jack are found on the right side of the phone.
User Interface (3 out of 5)
The phone screen slides up to reveal a spacious QWERTY keyboard. There is a button dedicated to the messaging function, while another button serves to open the device's music player. This allow users to easily access these two frequently used applications. The keyboard has tall and narrow keys which have adequate spacing in between them, so users will have an easy time inputting their text messages. The lack of backlighting in the keys, however, is quite a disappointment.
Features (3 out of 5)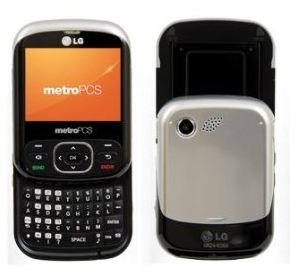 The LG Imprint features threaded text messaging, so users can easily trace their conversations with their friends and loved ones. It also supports multimedia messaging. Other basic features include calculator, calendar, alarm clock, stop watch, world clock, and unit converter. There are also provisions for speed dial and voice commands. More advanced features of the Imprint include Bluetooth support, speakerphone, and voice recorder. There is no full HTML web browser and instant messaging, but the Imprint does have POP3 and IMAP email support.
The Imprint's address book can store up to a thousand contacts. Each entry can have up to seven phone numbers, a couple of e-mail addresses, and photo caller ID. Users can also customize their phone book by assigning ringtones from the pre-installed 33 polyphonic tunes.
The Imprint has a 1.3 megapixel camera which delivers pedestrian photos. There are several settings for the camera such as multi shot mode, self timer, three resolutions, image editor and 10x digital zoom. It should be noted that the 10x digital zoom is not available for the highest photo resolution of 1280x960 pixels. Users can also adjust the brightness and resolution settings before capturing an image.
The Imprint also comes with a media player which can be accessed through the main menu of the phone. The phone has a limited internal storage of 23MB although it can be expanded through the microSD card slot up to 16GB.
Photos taken using the Imprint's camera can be sent to other devices through Bluetooth. They can also be saved and used as wallpaper. The photo editor is a practical multimedia feature enabling users to rotate, zoom in and adjust photo elements. They can also add photo effects like gray sketch, mirror image and cartoon conversion. The device also has an airplane mode allowing users to shut down the phone's data service feature and GPS support while flying.
Performance (3 out of 5)
The LG Imprint is a nice, practical phone for voice calls. It gets good marks on audio quality and volume during voice calls. Callers can expect natural and clear sounding voice calls when using this phone. Calls made using the speakerphone are also good.
Since the Imprint's camera is only 1.3 megapixels it cannot be relied upon to provide good quality pictures. Most of the time, photos taken using the phone camera are washed out and pale colored. This is not surprising given the limited settings available in the camera. Also, audio played using the media player is not the best of quality.
The Imprint's battery can last up to 5 hours of talktime and up to 170 hours of standby time.
Verdict (3 out of 5)
The LG Imprint is an entry level phone and has a limited set of features. Performance is so-so, but for users in need of a basic phone for texting and calling, this phone should be good enough.