LG Prime Review: Basic Phone with Standard Multimedia Features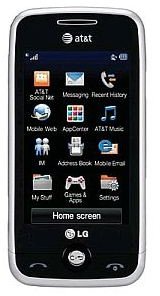 Most prepaid phones have hardly any high-end features. They are usually no-frills and barebones. But, looking at the LG Prime GS390 and some other prepaid phones on the market today, it seems the trend of including basic features in prepaid phones is diminishing, and the LG Prime is the best example here. It is the first touchscreen prepaid phone with a cool candy bar form and a 3 inch touchscreen on AT&T's GoPhone lineup.
Though not a smartphone at all, it does flaunt a few standard multimedia features such as a 2MP camera offering video capture, a music player and the facility to check emails. Priced about $99.99 without any contract, the tablet-style touchscreen phone features AT&T services such as AT&T music and AT&T mobile e-mail. Besides that, the phone also utilizes the EDGE network of AT&T for web-browsing and data.
(3 out of 5)
Design wise, the LG Prime resembles the previously launched LG Vu Plus. The cell phone has a simple rectangular body, including little rounded corners and edges. Measuring 4.25 inches long by 2.08 inches wide by 0.5 inches thick, the Prime comes with a 3 inch touchscreen, which offers a 400 x 240 pixel resolution and support for around 262,000 colors. The phone also has three physical keys for Send, End/Power and Clear/Back. The microSD card slot and the volume controller are located at the left side of the phone, while its top side has a 3.5-mm headset jack that comes in handy while using speakerphone on calls as there is a lot of distortion and high background noise. On its right side there is the screen key, the charger jack and the camera key.
Features (3 out of 5)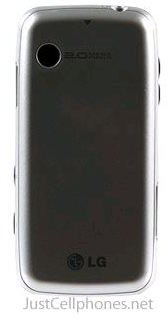 The phonebook memory of the LG Prime allows users to store up to 1,000 entries, with each entry having capacity for 6 numbers, 4 instant-messenger names, three email addresses, a company name, a display name, 3 street addresses, a birthday, an anniversary, a memo and a Web address. Plus, the phone is decked out with the features of a speakerphone, a vibrate mode, multimedia and text messaging, a calculator, a world clock, a notepad, an alarm clock, a calendar, a task list, a tip calculator, a unit converter, and a stopwatch.
In addition, the phone also has a few additional high-end attributes like a voice recorder, an FM radio, voice command, (IM) instant messaging, AT&T's mobile e-mail (whereby users can check their personal e-mail) and Bluetooth. The LG Prime also offers direct access to Twitter and Facebook via the AT&T application, known as Social Net. The email service doesn't come free, you will have to pay $5 every month for it.
User Interface (3 out of 5)
As has been mentioned, the LG Prime isn't a smartphone at all, but a few of its standard multimedia features let people think of it as one. It has a 2MP camera including more than the standard number of settings. Such as, users have the option of picking from 3 quality modes, 3 color effects and more to augment the image quality. Unfortunately, the quality of the photos isn't great. The sharpness remains missing from the photos. They're grey and dull. Plus, the video mode only allows you to record videos at 176 x 144 or 320 x 240 pixels (QVGA or QCIF).
Additionally, the music player can play most of the standard audio formats. It comes with Repeat and Shuffle functions and allows users to edit and create their own playlists. There is also a visualizer and a 6 band equalizer built into the phone.
The LG Prime also supports the feature of AT&T Mobile Music, which allows users to buy and download music from Napster and eMusic. Plus, users are also allowed to access a music fan community site, while apps such as MusicID, quite like the TrackID, keep informing the users about the latest song.
The Prime has an HTML browser that allows access for the internet. Plus, AT&T's mobile e-mail allows users to check their personal e-mail from the phone. The phone has an AT&T Social Net application that allows quick and fast access to (SNS) social networking sites such as Facebook and Twitter. The handset is also integrated with games and apps such as Tetris, Mobile Banking, Bubble Bash, Pocket Auction and more.
The phone lacks GPS and Wi-Fi capability. Data can only be transferred via EDGE or GPRS, while for wireless files transfer, there is the facility of Bluetooth 2.1 with (Enhanced Data Rate) EDR. The EDR allows for fast reception and transfer of files. Plus, for quicker transfer of files between PC and phone, there is a USB 2.0 connection.
Performance (3 out of 5)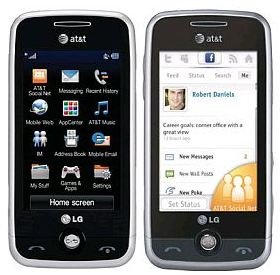 Performance wise, the LG Prime isn't as satisfying as expected. Thanks to the AT&T network, it is able to offer pleasing call quality though, at times, some static was heard. The phone has very low touchscreen sensitivity as compared to other highend touchscreen phones such as the Sony Xperia X8 or Nokia X6. In addition, users have to face a lot of distortion and high background noise while using the speakerphone on calls. So, it is better to use headphones as the phone comes with the standard 3.5 mm jack. The data transmission speed via GPRS and EDGE is in line with other prepaid handsets in its range.
The LG Prime just packs in 48MB of internal memory that allows users to store SMS and contact lists. The external memory is expandable up to16GB via a microSD memory card. With this additional 16GB support, users can store bigger files like videos, images and music.
The rated battery life of the LG Prime offers a talktime of 4hours and up to 16 days of standby time.
Verdict (4 out of 5)
Though some features of the LG Prime GS390 do need a bit of retweaking, considering its price ($99.99) and service, the pretty decent Prime is a value for money phone from AT&T with no contract required.