LG Accolade Review: Budget Flip Phone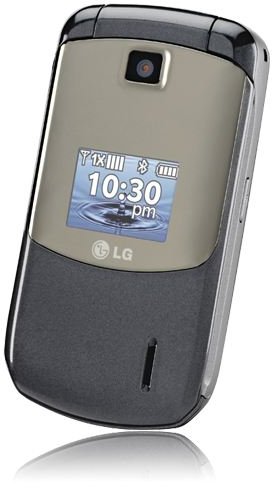 The LG Accolade VX5600 is the latest offering from LG, building on the LG VX5200 which was released back in 2005. It's a fairly compact device that fits well in the hand, thanks to its rounded shape. Few features have changed between models - Bluetooth has been updated from 1.0 to 2.1+EDR, there's a 1.3MP camera, and the design is a bit different. One concept has remained within the series and that is the fact that this is a budget mobile without any added bells-and-whistles. The LG Accolade is a nice user friendly mobile that has most of the essential features.
(3 out of 5)
The LG Accolade is a basic and inexpensive flip phone that has a more streamlined appearance than its predecessors. The LG Accolade is an average size with rounded corners. It is 3.6 inches long, 1.8 inches wide, 0.7 inches deep and weighs around 3 ounces. The front has a two tone design, mirror like finish, 1.04 inch external display and a 1.3 megapixel camera. Though the device is sharp looking, it's a magnet for smudges and finger imprints. Located on the right side are a 2.5mm headset jack and a camera button and on the left side you'll find the volume rocker, microUSB port and voice command key. The LG Accolade doesn't have a microSD memory card slot.
The hinge opens and closes easily. The 1.76-inch internal display supports 262K color and 176x220 pixel resolution. There are 7 brightness levels for the user.
Keypad (4 out of 5)
The navigation array is spacious and comfortable. There is a four way toggle with an OK button in the center, two soft keys, a clear button, a nice speakerphone control, and 'talk' and 'end' keys. All the controls are slightly raised and can be easily used. The numeric keypad is large with white LED backlight, allowing the user to see the keypad in low-light conditions. Pressing on keys gives a good "click" response and their large size makes typing a text message or dialing numbers error free.
Camera (3 out of 5)
The LG Accolade VX5600 is the only mobile in the series to have a 1.3MP camera that supports taking pictures at 1280x960 resolution. It also includes a 2x zoom, four color effects, a noise reduction feature, brightness meter, 3 shutter sounds, night mode, self-timer and four white presets. The camera also offers a spot metering feature and basic cropping and rotating functions. The video recording feature is not included in this device and the picture quality is also not impressive.
User Interface & Features (4 out of 5)
The main menu has the following categories: Messaging, Media Center, Recent Calls, Contacts, and Settings & Tools. The theme choices including Classic, Urban, and Metal and you can display them in List, Tab, and Grid view. Other than that there are wallpapers, seven clock formats, and three different fonts and sizes. The user can store up to 1000 contacts and with each contact 5 telephone numbers, 2 email IDs, a street address, ringtone, picture, IM screen and group can be stored. You can easily access the contact list by pressing the right soft key. Other basic features include multimedia and text messaging, world clock, alarm clock, calculator, calendar, stop watch, to-do-list, speaker phone, tip calculator and a note pad.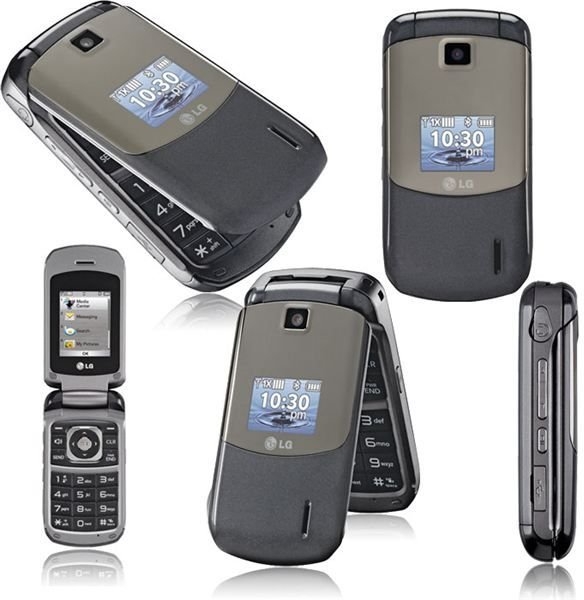 Software features include an appointment calendar in which you can save alerts, Mobile Web 2.0, text and picture messaging, VZ Navigator for GPS guided driving directions, and the ability to download other ringtones and games. The LG Accolade only has 34MB of internal memory and it lacks a microSD memory card slot as well as a music player. One surprising feature that this device offers is Microsoft Bing search. The phone also offers a few high end features like Bluetooth, speaker independent voice dialing and commands, universal search, web based POP email, flight mode, and PC syncing. The LG Accolade is a dual band CDMA 1900/800 MHz device.
Performance (4 out of 5)
Even though the LG Accolade VX5600 is a basic model, the call clarity and call quality are satisfactory. Voices through the earpiece speaker are clear and distortion free. The Accolade also supports voice dialing and that can be easily accessed from the button on the left side. The device is powered by 1000mAh Lithium ion battery and is rated to provide up to 7.5 hours of talk time on a full charge.
Pros
Compact device
LED backlit numeric keypad
Superior voice quality
Two screens
Excellent battery life
Configurable menus
Easy to navigate
Reasonably priced
Cons
Negligible internal memory
Poorly positioned camera button
Difficult to transfer photos
No video recording
No microUSB slot
Verdict (4 out of 5)
The LG Accolade VX5600 is a basic mobile phone designed for people who will use it for just making and receiving phone calls. Besides the essentials, the device offers basic functional features. Its overall design is smooth with an interesting color scheme, and the numbers on the keypad are big and easy to view. The Accolade might not be the best phone but it succeeds where it should.