LG Optimus GT540 Review: Specifications, Design and Hardware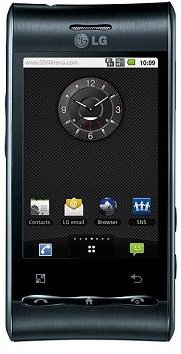 With the success of Android, almost every manufacturer seems to be wanting to use it on their phones. HTC, Samsung, Sony Ericsson and Motorola have already launched a lot of phones powered by Android, but LG's Android efforts haven't been very noteworthy. As of now, it has just the LG GW620 budget Android QWERTY smartphone in the market. LG has announced the new LG Optimus range of Android smartphones which will be launching soon, with the LG Optimus GT540 being the first, followed by the LG Optimus Z and Q.
LG Optimus GT540 Specifications
Dimensions: 109 x 54.5 x 12.7 mm
Weight: 115.5 gms
Display: 3.0 inch TFT resistive touchscreen display, 320 x 480 pixels
Memory: 130 MB internal memory, 32 GB MicroSD support
OS: Android OS 1.6 (Donut)
Processor: Qualcomm MSM 7277 at 600 MHz
RAM: 256 MB RAM
Camera: 3.15 MP camera, 2048 x 1536 pixels, Autofocus
Connectivity: GPRS, EDGE, 3G HSDPA, Wi-Fi 802.11 b/g, Bluetooth 2.1 with A2DP
GPS: GPS transceiver with A-GPS
Radio: Stereo FM with RDS
Battery: Li-Ion 1500 mAh
(3 out of 5)
The LG Optimus GT540 sports quite a nice design. It is pretty compact with dimensions of 109 x 54.5 x 12.7 mm and a weight of 115.5 gms. The body is composed almost completely of plastic and the build quality is pretty good. It is quite sturdy and is available in two colors, black and white. The black one is definitely the better looking one.
It comes with a 3 inch TFT resistive touchscreen display which has a standard resolution of 320 x 480 pixels. The display quality is pretty good but the display isn't as responsive or easy to use as a capacitive display. The brightness and contrast levels are quite good but the sunlight legibility is average.
Below the display, there are the touch sensitive Menu and Back keys and the Call, Home and End buttons. The right side of the phone sports the camera key, the search key and the microUSB port. The left side houses the volume rocker while the top holds the 3.5 mm audio jack. The back has the 3.15 MP camera, the battery compartment and the card slot below the battery cover.
Hardware and OS (3 out of 5)
The LG Optimus GT540 runs on Android 1.6 Donut but may get the upgrade to Android 2.1. It has a custom UI by LG which runs on top of the Android OS. The custom UI is quite good with nice graphics and sports the usual stuff: homescreens, widgets and shortcuts etc. The notification area has toggle switches for Wi-Fi, Bluetooth, GPS and audio. You can select either the Android homescreen or the custom LG homescreen. You can also use Facebook and Twitter widgets.
The hardware is not the best but does the job. It is powered by a Qualcomm MSM 7227 600 MHz processor and comes with 256 MB of RAM. It has 130 MB internal memory and can support up to 32 GB microSD cards.
Multimedia and Camera (3 out of 5)
The LG Optimus GT540 comes with a nice 3D image gallery similar to the one on the LG GW620. It is very attractive, intuitive and responsive. Browsing through images is fast and there is zero lag. You can zoom in on the images and also share them directly through Picasa and other social sites.
It also comes with a built in media player which allows you to play both music and video. You can browse through all the videos on the phone using a simple interface. It has the basic playback controls and allows you to view the videos in a grid and watch them in fullscreen. It supports DivX, XviD and MP4 videos at WVGA resolution. It can play audio files and supports album art. It also has the default Android music player with the basic features like playlists, album art etc. The audio quality is quite good even with the included headset. You can use your own high end headphones for maximum effect. It also has an FM radio with RDS.
The LG Optimus GT540 comes with a 3.15 MP camera which isn't much to speak of. It can capture images at a maximum resolution of 2048 x 1536 pixels and comes with autofocus. The camera interface is easy to use and provides most of the customization options you would need. The image capture quality is average. Even the video recording is mediocre with a low frame rate and average quality.
Connectivity (3 out of 5)
When it comes to connectivity, the LG Optimus GT540 offers all the standard options needed in a smartphone: it comes with GPRS, EDGE, 3G HSDPA and Wi-Fi 802.11 b/g. It also has Bluetooth 2.1 with A2DP and supports microUSB connectivity.
It comes with the Android Webkit based browser but doesn't support Flash. It has a built in YouTube app for watching videos. It also has a built in GPS transceiver with A-GPS. The GPS reception is quite decent, it gets a lock in less than 2 minutes.
The LG Optimus GT540 is powered by a standard Li-ion 1500 mAh battery which lasts for a long time, around 2-3 days, with moderate usage.
The Verdict (3 out of 5)
The LG Optimus GT540 is a budget Android smartphone which doesn't have much to offer. In this price range, I would recommend the Samsung Spica i5700. You should also check out our list of Top 10 Android Smartphones.