Review of the LG Rumor Touch
Introduction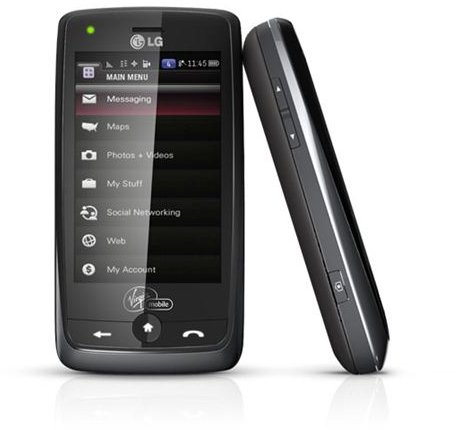 The LG Rumor was a bearable, if rather plainly featured texting phone – the LG Rumor 2 was a complete disaster. In an effort to leave behind the two embarrassing Rumor's of 2008, LG have come up with the new and improved Rumor in 2010, the LG Rumor Touch.
As the name suggests, they have done away with the D-pad set up and have gone totally touch screen here, but the physical slide out QWERTY is still there. No need to panic, this is still a texting phone, and it still comes cheap at a not-so-cheap, two-year contract price of $78 on Sprint. So in a world of dirt cheap smartphones and even dirtier, cheaper smartphones on contract, is this basic touch screen feature phone with slide out QWERTY keyboard worth your money? Pop open your packet of chips as we find out.
Design (4 out of 5)
The LG Rumor Touch has a pleasing design. It is a simple, plain old candy bar phone, but the slimness towards the bottom pans out well and also makes it comfortable to hold in your hand. Even the back is made of a matte like plastic, so it feels gripable and reassuring. The phone weighs 133g so it's on the light side for phones with physical keyboards, and with dimensions of 107 x 56 x 15 mm it's pretty easy to hold onto – it bulges a bit sure, but not uncomfortably so.
At the front we have a 3 inch resistive touchscreen, capable of supporting 262,000 colors with a resolution of 240x400. Beneath the screen we have the three physical buttons that are: Back, Home and Call. Despite the rather odd set up, this is still just a feature phone. The phone also feels like it was designed for left-handed people as the volume rocker and camera buttons are on the left side. So if you're a right-handed person, taking photos may confuse you a bit, you'll just have to use your thumb. The right side houses the 3.5 mm jack – yes, it seem like LG have finally come to their senses with the Rumor Touch. You also get a hot swappable microSD card slot and the Power/Lock button on the right. The back has nothing to show, just a small round 2 MP camera lens and round, loud-speaker grill.
Now we arrive at the party piece: the five row, slide out, physical QWERTY keyboard. You're greeted with well spaced keys, a logical layout and an orange FN button – all other important buttons such as Enter, Shift, Backspace etc. are highlighted in blue. The first row is a dedicated number row, and you also get a Smiley key! It's a pretty good keyboard with excellent travel and a very "clicky" feel, unfortunately it's made once again of a rather slippery plastic, and you'll have an easier time typing by striking the buttons with your nails rather than typing with the tips of your fingers.
User Interface (4 out of 5)
The one and only homescreen is suspiciously lacking of anything; there is just a home button at the bottom left corner. First of all, tapping that "Home" button brings forth the main menu, which basically has a list with ten items on it – pretty boring, but straightforward. To get to your Contacts and Phonebook, tap the physical call button and you are given access to the Hello UI, Missed calls, Contacts and the Dialpad.
Of particular note here is the Hello UI, a pretty cool way to keep your contacts in the "loop", literally. You have four colored dots on the left side (red, green, blue and yellow), each represents groups of contacts; you can house six contacts in any one group, plus tapping an individual contact brings up a myriad of communication options including Speed dial, Message, Delete and various others. What makes the Hello UI cool, is the fact that you can draw a loop around any number out of the six contacts and send them the same message – or all six if you fancy.
Of course you have a normal Phonebook with a side tab (again with a miserly 600 entries only), to scroll thorough names alphabetically, call logs are available and a dialer. The dialer is not the most accurate dial pad I've ever seen – if you go too fast it won't register some taps, so take your time while dialing. Speaking of which, the resistive screen overall fares about as well as the dialing pad does; it flows rather smoothly if you take things slowly, but the minute you start swiping away at full speed it starts to miss a lot of swipes and taps, so just take it slow and easy when using the touch capability. There is a sensitivity adjuster on board, but it doesn't do much good, no matter how you tweak it, it goes from usable to difficult-to-use – the phone's default sensitivity setting works just fine.
Another fun feature in the UI is alert, which pop as elongated bubbles – this happens in case of an incoming message, email, reminder or missed call. You can reply via the appropriate medium by tapping on the bubble or you can simply make them go away. While this may seem cool and quirky, you'll lose sight of who is doing what if you're in a mega chat session with 10 friends in WOW (World of Warcraft), about to go on a raid, so not the most elegant solution for such a scenario.
Messaging is of course fully catered for via SMS, MMS, email and IM. You can log-in with all major social networking sites such as Facebook, Twitter and MySpace; you can also set up your IM session via your mail account as every major provider is catered for including Gtalk (Google Talk) – you also have access to Picasa and Flickr. Writing messages can be done via the tortuously tedious medium of handwriting recognition or the traditional D-pad. No virtual QWERTY though, you'll have to make do with just a physical one.
Features (2 out of 5)
It seems like LG took into account all the flaws in the previous two incarnations of the LG Rumor set of features and improved upon them… slightly.
We have a CDMA 800 and 1900 frequencies phone that relies on EV-DO rev.0 for high speed connectivity, which actually works this time around. We also have Bluetooth 2.1, microUSB 2.0 and PC syncing that actually works. Again no love is shown for Wi-Fi lovers. The internal memory has also received a boost from 22 MB to 46 MB, you can also now use a 32 GB card instead of a 16 GB card.
So, keeping in line with the upgrade policy, the Rumor Touch now sports a 2 MP, ( no flash or auto-focus) camera. You can Toggle with options such as brightness, white balance, color tone, fun frames, a self-timer, and a 2x digital zoom, as long as you're not on the highest of the four available shooting resolutions. There is also a camcorder that shoots videos at 12 FPS in QVGA. But no matter what you do, how you tweak the settings, or in which lighting conditions you take pictures in, they turnout a mess. Pictures have a very string brown orange texture, it almost looks like an old Sepia shot. The videos are so pixilated that you'd be lucky to even make out a single detail. Overall I'm beginning to miss the no camcorder 1.3 MP camera on the LG Rumor 2.
Music is one thing the Rumor Touch does well – you can finally play music in the background and even place a music widget on the homescreen, with the same format support as before with MP3, MIDI QCP, WAV and AMR formats. Videos on the other hand… there's no real dedicated video player, but you can transfer and play 3GP clips.
The phone does come with a full array of apps, and you can download more via Getjar.com. Depending on whether you buy the Rumor Touch from Sprint, or Virgin Mobile and MetroPCS (where it's known as the LG Banter Touch), you'll get the appropriate 3G enabled apps as well. But you're given the privilege of using a world clock, a calendar, a calculator, a notepad, GPS, a USB mass storage mode, voice commands, wireless backup, and a pretty useless document viewer all pre-installed. The initial zoom level is too small and once you zoom-in even a bit, everything gets too big – it sucks. Plus, you can't edit or read documents that are larger than 2 MB in size, or it'll simply freeze or re-boot the phone.
Performance (4 out of 5)
Call quality on the Rumor 2 left a lot to be desired, while the new LG Rumor Touch leaves very little to be desired. I'm happy to announce that the Rumor Touch's call quality ranges in-between excellent to very good. Voices come across clear and natural with little to no background noise – the only gripe I have is the occasional presence of static in areas where the signal bar is low. The loudspeaker tries to do a similarly satisfying job, but fails due to a rather low volume output – you can forget holding loudspeaker calls in a crowded mall or noisy street.
While the LG Rumor 2 had the potential to browse the web, this phone has the ability to browse the web…potentially. You're saddled with a HTML browser (Access NetFront) that does not allow for tabbed browsing or browsing history. Plus, pictures load slowly and sometimes entire websites only open up halfway. But at least you can download a 2MB file in about 45 seconds – overall you'll be better off downloading Opera Mini, as it will provide for a significant boost in aesthetics, speed and functionality.
Battery life is about average. The 1200 mAh Li - Polymer battery lasted for around two days on average use, but since this is a texting phone, and it's assumed users will be texting quite a bit, heavy usage will warrant a daily charge. Talk time is about 7 hours with realistic stand by time of 5 days. So it's not the most powerful battery, but it's a pretty good mid range warrior.
Verdict (3 out of 5)
It seems like the LG Rumor line of phones is doomed; from an under performing debutant, to a terribly done sequel, and a badly timed finale. There is no real reason to own this LG Rumor Touch, although vastly improved from its previous D-pad iterations, the advent of countless cheap, keyboard wielding smart phones makes the LG Rumor Touch utterly redundant.
However, if there is a reason you want a phone with a sliding keyboard and a touch screen, that's not a smart phone, then the LG Rumor is not a bad choice – though it's hardly one of the best, even within its own category.
References
Author's personal experience.