Introduction
When touchscreen phones came along they heralded the end of physical keypads, including phones such as the LG Rumor 2. But for those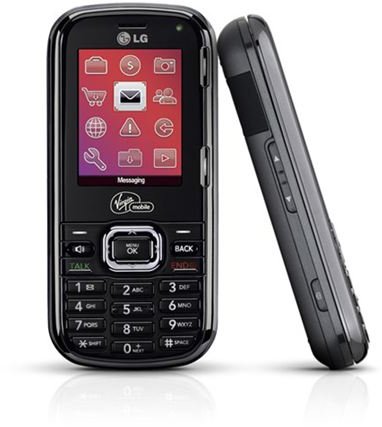 who still love the feel of physical buttons beneath their fingers and have about six hundred texts to send in 10 minutes, is this phone still a viable option today? Initially debuting on Sprint and now available on Virgin Mobile as well, it's time to see if this old school texting phone can still claim a place in your pockets.
Design (3 out of 5)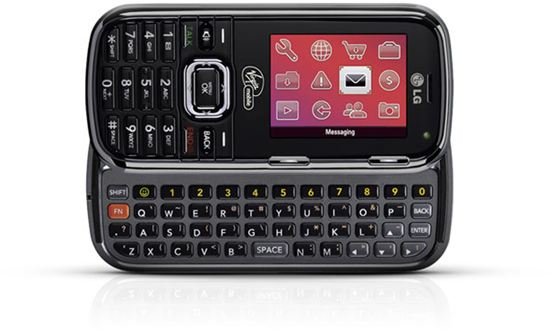 At face value the Rumor 2 looks like an average D-pad phone, and with a 2.2 QVGA screen with a resolution of 240x320 and color support for 262,00 colors, there's not much to be dazzled by. The phone does weigh a pretty heavy 120 g and with the dimensions of 112 x 53 x 18 mm it's definitely nice and easy to handle, but it feels a bit bloated to hold within the palm when slid shut.
The navigational pad is rather difficult to press, it feels tight and cumbersome, while the rest of the buttons also attempt to resist being pressed – at least the keys have back lighting. The phones left side holds the rather short volume rocker and camera shortcut key, while the right side has the 2.5 mm head phone jack… which means you'll be needing a special adapter to plug in a personal set of earphones, and the microSD card slot (at least it's hot-swappable). The phone's bottom end holds the naked microUSB port. The back on the other hand holds naught but the rather dashing round 1.3 MP camera lens, and loud speaker grill.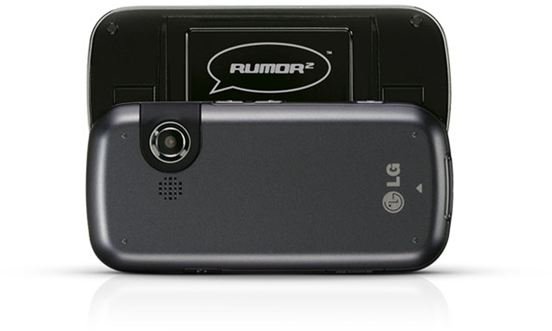 Now we turn the phone into landscape mode and slide it up, the sliding mechanism feels smooth and strong. The four row QWERTY keyboard is among the better of its class; not the best by any stretch of imagination, but there are a lot worse out there. The keyboard is a bit hard on the fingers due to the glossy plastic, but three days in and you should be pretty well adjusted to it. Otherwise we have a dedicated number row (highlighted) and a colored orange FN key. The keyboard has a well pronounced travel once you get used to the sleek surface, plus back lighting, though no option to toggle with its brightness.
User Interface (4 out of 5)
The Rumor 2 has a Flash based interface, and no, it's not Sprint's famous One Click UI, just a generic Flash UI. You get a grid-based 12 icons menu system, which are: Web, Messages, Map, Contacts, Missed alerts, History, Photos, My account, Settings, My stuff, Media Player and Tools. The UI moves smoothly and feels sharp, icons look clean and clear, but since they're all white and black that's hardly an achievement.
The phone book is pretty easy to navigate, and you get features such as voice dialing, ringtone tagging and even vibration tagging, multiple field entry and quick dial. The downside? You can only store 600 contacts, of course very few people will ever use up all 600 slots, but it still feels a bit miserly.
As for messaging, which is the entire point of owning this phone, you are fully catered for. You get a threaded inbox for you SMS's, the E-mail can be set up with Yahoo, AIM, Gmail, AOL and Hotmail, same applies for IM, unfortunately only POP3 protocol is supported – no IMAP functionality here. You can also send MMS's, just add a media file to you normal SMS and it's ready for sending. But alas, syncing is not always buttery smooth, particularly if you attempt to sync with a PC or a Yahoo account, expect a tough battle, arbitrary cuts and at other times a simple refusal to work plague the phones sync feature; sometimes this finicky sync system even affects the other accounts (Gmail, AOL etc). And as for attachments, you can receive a maximum of 5MB per message, and you can open and read all your attachments without a problem, but no editing options are available.
Features (2 out of 5)
It seems the Rumor 2 is dedicated to one goal in this section, to underwhelm.
Connectivity is handled CDMA 800 and 1900, that's about it. No 3G or anything high speed here, it is the only phone in its class and price tag that does not have 3G in Sprint's line up – rather underwhelming isn't it? Local connectivity is handled via Bluetooth 2.1 and MicroUSB, no Wi-Fi and a truly low internal memory of 22 MB, but at least you can perk it up to a maximum of 16 GB using a microSD card.
Even the camera is a lowly 1.3 MP camera; pictures turn out with very strong colors, but seem to be dimly lit, and this dim picture lighting also tends to linger on outdoor shots as well. There is also a slight bit of fuzz in pictures, but overall they are presentable. You can have fun with options such as color tone settings, adjusting the brightness and white balance, playing with nine fun frames, using the self-timer and digital zoom, discovering how useless the night mode is, and checking out the four shutter sounds including a silent option.
Usually at this point we would review the phone's camcorder, but the LG Rumor does not have one – believe it or not this phone does not have the ability to record videos, at all. So we'll just focus on the music player, which again is a major disappointment, poorly mimicking the iPod structure was not a good idea, neither is the fact the music player can't play in the background, so you're left with no multitasking options. Plus the 2.5 mm headphone jack isn't exactly tipping any favors into the Rumor 2's hat – all in all it makes you wonder why they bothered putting a music player on there if there were going to be so many hindrances. Sound quality ranges form average to screechy, and you get some unusual format support with MIDI and QCP, otherwise you have the traditional MP3,WAV and AMR formats.
You can use the video player to play MP4 and 3GP videos, a resolution of 176 x 220 plays best, while 320x240 tends to stutter and freeze.
The phone is pretty bare bones on extra features as well; you only get an alarm clock, a calendar, a calculator, a voice recorder, a unit converter, and a notepad. GPS is on board for Sprint Navigation, Sprint's Family Locator service is available, other features courtesy of Sprint are Loopt, Nascar Spring Mobile, NFL Mobile, and Social Zone.
Performance (2 out of 5)
Call quality on the Rumor 2 ranges from average to terrible, depending on the network strength, which isn't particularly strong either. Callers sound tiny with plenty of static, while your voice tends sound rather mechanical. Overall call quality leaves plenty to be desired, particularly on the loudspeaker as it's underpowered.
Web browsing treads the same path, as does the call quality – the clunky WAP 2.0 browser can display HTML pages, but they render slowly and rarely with pictures fully shown, also there is no native YouTube support, just use Opera Mini and save yourself a ton of headaches.
Battery life is not too bad, you can get about 5 hours of talk time and 3 days on standby out of the 950 mAh battery. Average use will warrant a daily charge.
Overall (2 out of 5)
The LG Rumor 2 is a below average phone in almost every aspect, its underwhelming performance for a rather steep price tag make this phone a very unlikely buy. The Samsung Rant is an almost identical phone physically, while it comes with 3G, Video shooting and a 2 MP camera. Of course you could simply pick a phone from the swarming multitude of smart phones with physical keypads, as long as you're willing to indulge a touchscreen interface.
Either way, whatever you do, simply avoid the LG Rumor 2 – it's bad, bad news all around.
References
Review based on writer's experience of using the phone.