T-Mobile G2x Review - The First Dual Core Processor Smartphone on T-Mobile
The T-Mobile G2x is, to some, one of the most powerful Android powered smartphones currently on the market. In a sense, it could very well be T-Mobile's last hurrah before their possible buy out by AT&T. Released outside of T-Mobile as the LG Optimus 2X, this is pretty much the same phone. Featuring some extremely powerful hardware, along with a stock version of Android and access to T-Mobile's 4G network, this is an impressive addition to the highly competitive U.S. smartphone market.
Specifications:
Dimensions: 4.88 x 2.48 x 0.43 inches (124 x 63 x 10.9 mm)
Weight: 5 oz (142 g)
Display: 4.0 inch LCD capacitive touchscreen display, 400 x 800 pixels
Memory: 6 GB and expandable up to 32 GB MicroSD
OS: Android OS 2.2.2
Processor: 1 GHz Nvidia Tegra 2 AP20H dual-core
Camera: 8 megapixel camera with LED flash, and 1.3 megapixel front facing
Connectivity: GSM 850 / 900 / 1800 / 1900
Data: HSPA+
Bluetooth: Bluetooth 2.1, Stereo Bluetooth
GPS: GPS with A-GPS
Battery: Li-Ion 1500 mAh
Design and Display (4 out of 5)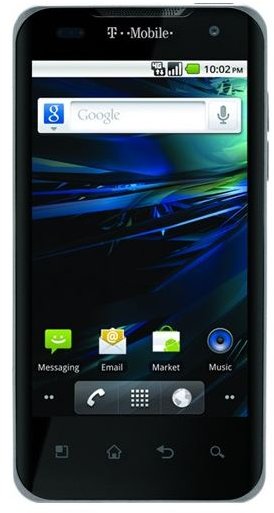 The T-Mobile G2x features the standard form and design like most Android powered smartphones in the market. It's a candy bar design, with a 4 inch LCD capacitive touchscreen dominating the front of the phone. On the right edge reside the volume buttons and the left edge remains smooth and vacant. On the bottom edge resides the microUSB and opposite across the top edge you'll find the power / lock button, HDMI out and 3.5 mm headphone jack. Below the 4 inch capacitive touchscreen are the now familiar, standard Android shortcuts for menu, home, back and search.
The display itself is bright and decent, though not as amazing as an AMOLED screen. Compared with the Samsung Captivate, the screen, while not physically smaller, does still look smaller, most likely due to the four shortcut buttons being placed a slightly awkward length away. There's a lot of empty space beneath the touchscreen, which makes the T-Mobile G2x seem like it has a smaller screen than it really has. An odd choice for LG to take when creating the phone, but it's not too much of a difference to hinder the rating.
Hardware and Software (5 out of 5)
While the design and display on the T-Mobile G2x is teetering a bit above average, the hardware and software is where it really stands out above the competition. Featuring a dual core 1 GHz Nvidia Tegra 2 processor, this release is among the most powerful smartphones currently available, standing side by side with the Samsung Galaxy S 2 and the HTC EVO 3D. The T-Mobile G2x also features a dedicated GPU allowing it to run 3D animated games smoothly.
The software on the T-Mobile G2x is where it differentiates itself a bit from the LG Optimus 2x. The T-Mobile G2x runs on stock Android 2.2.2, while the Optimus 2x runs on Android 2.2.1 with an LG overlay. This stock version of Android is a good thing and it puts the smartphone in a position to quickly receive future updates that can be installed more easily. T-Mobile made a wise decision as there has been some negative feedback over the experiences of updating for Samsung Vibrant users.
User Interface (5 out of 5)
The user interface on the T-Mobile G2x is, like all other Android powered smartphones, easy to use and easy to master. In addition, the dual core processor coupled with the stock version of Android makes the entire user experience feel smooth and fast. There is little, if any, lag when dealing with the G2x, which is surprising as there have been other smartphones that have not been as impressive, even with dual core processors. While updating has not been addressed, one can only assume that an update to Android 2.3 will be an extremely easy transition, simply wait for the over the air update and then allow the phone to restart. Whether or not the update will be sent by T-Mobile or AT&T after the buyout is complete is unknown.
Gaming on this phone is also extremely fun and versatile. You can easily play racing games, utilizing the accelerometer or play first person shooters, though those aren't quite up to par with computer or console versions. The fact that you have to utilize a finger to also aim and view sometimes puts you in a position where your hand covers the screen, making it hard to see what just shot you. One way to avoid this situation at home is to hook up the HDMI cable from the phone to an HDMI compatible device, which is extremely easy to do since the G2x has an HDMI out port.
Features (5 out of 5)
The T-Mobile G2x comes packed with a variety of different features, first and foremost being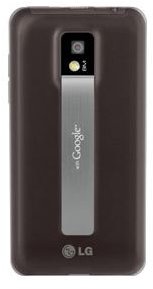 the 8 megapixel camera with LED flash. Not only is the camera sharp when it comes to taking pictures, but it also records video in 1080p, which is a huge improvement over the previous batch of smartphones typically recording up to 720p. The G2x also comes with a front facing 1.3 megapixel camera, which is absolutely great for video chatting over Skype. Which leads us to the next feature that the phone has.
It comes equipped with access to T-Mobile's 4G network, which is considerably faster in certain locales, so your mileage may vary. In areas such as Las Vegas, the G2x theoretically reaches up to 42 Mbps, which is extremely fast. In the market that this T-Mobile G2x was tested in, it consistently hit 5 Mbps and up, easily beating out its competitors.
T-Mobile also added 2 new games to make the G2x stand out, one a racing game, Need for Speed SHIFT, and the other a first person shooter, N.O.V.A. Both are great games and run extremely smoothly on the G2x with no lag interfering. These are great little additions by T-Mobile and it seems their marketing team is trying to market the G2x as a gaming smartphone. All around great features on the T-Mobile G2x help to put it ahead in terms of the competition.
The Final Verdict (5 out of 5)
Overall the T-Mobile G2x is an absolutely fantastic smartphone and ranks in as an 'Excellent' choice. While it does have its cons, such as the slightly awkward design, the rest of the hardware, software and feature set easily make up for it. T-Mobile truly hit it out of the park by choosing the LG Optimus 2x and adding stock Android along with 2 great games. The 4G network is also a great add on for those in the U.S. market, positioning the G2x as not only a powerful smartphone for hardware but for network speed as well.
References