Introduction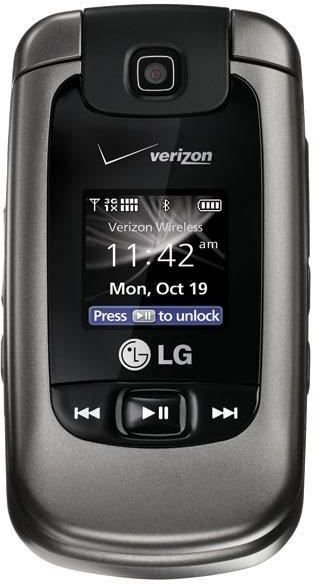 In a time long past, and an age long forgotten (2005), in a time when neither smartphone nor tablet was famous (or even existed in the case of tablets), there existed the flip phone, particularly the VX800 series of flip phones from LG. The phone was a instant hit, it was good, feature rich and had a solid grounding in the basics of a phone (which is something missing from even some the most advanced phones of today).
Unfortunately most of the follow up phones in the series could not live up to the original, and this of course resulted in a sharp decline in sales, so to boost up the battered image of the VX800, they have re-booted the phone and released their newest model, the LG Clout.
Design (4 out of 5)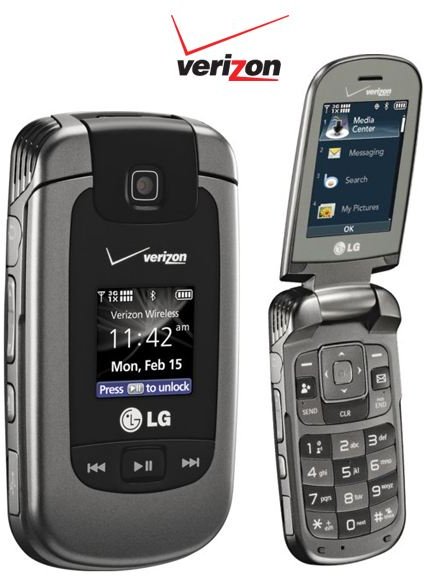 There are two phases of review when it comes to the design, with the flap shut and the flap open, let us begin with the phone shut.
The first thing you notice about the phone is that it a very busy phone, there are buttons almost everywhere, there is not an inch of the Clout left bare (except the back). The phone has dimensions of 95 x 50 x 19 mm and weighs a bit more than its fellow flip phones at 102 g, at the front we find the 1.17 inch TFT screen capable of supporting 65,000 colors, so it can easily support wallpapers, the music player and messaging. Beneath the screen we have the Play/Pause button (which acts as the lock/unlock button as well) and above the screen we have the square 2 MP camera lens.
To the left we have the 2.5 mm jack (when will they learn!) which means you will have to shop around if you want to use a pair of custom earphones, the volume rocker, voice command button and microUSB port, which can also be used to charge the phone and connect it to a PC. The right side houses the hot-swappable microSD card slot, loud speaker button and camera shutter key.
On either hinge of the phone you'll find two loudspeaker grills, which means the phone is stereo sound capable. The back is nice and plain.
Now for the second part of the design review, we flip open the phone. We are greeted by a 2.2 TFT screen with 240x320 resolution capable of supporting 262,000 colors. Beneath the screen you have a four-way D-pad button and three buttons flanking it on either side, there on the left; Select, Contacts and Send keys, to the right; Back, Messages and End Call/Power keys. Under all we find is the Clear button to round up the whole control centre.
Now for the dialing pad, the buttons are all slightly inflated and are checkered between grey and black, they have an excellent tactile feedback and they are pretty big, unfortunately the D-pad, despite being big as well, is rather flat.
Overall the build quality could use some tightening in the hinge department, other than that build quality is indeed very solid.
Use Interface (4 out of 5)
The LG Clout uses a proprietary UI that has been passed down since the first VX800, and not much change has been introduced since.
That's not a bad thing though, as the menu is simple and fun. You have 5 main items to choose from, each opens up a sub menu, for example the Media Center menu opens up the Games, Music Player, Web browser, pictures and various other entertainment related options. Your five options are; Media Center, Messaging, Contacts, Recent Calls and Setting/Tools.
The phone book can store 1,000 contacts, you can assign ringtones, tag photos, use multiple field entries and set a reminder per contact or gather a group of friends using the groups feature. Another useful feature of the phonebook is when you search for a contact, you are shown the number of calls made, the most recent chats or SMSs shared and various other bits of info per selected contact.
Messaging can be done via SMS, MMS, E-mail and IM, though the last one relies on the onboard Verizon app, if you are buying this phone from a provider other than Verizon you might find a different, but similar app or nothing at all. This is not a big deal as you can download the app necessary for instant messaging. Messages can also be viewed directly from the external screen if you don't feel like flipping open the phone.
User Interface Continued (4 out of 5)
Customization options on the LG Clout consist of the following three themes; White, Spotlight and Glow scope. You can also define the font size via the settings menu or use the little known shortcut of simply pressing the volume rocker when you're not listening to music. Another option for customization is changing the main menu view between List, Tab and Grid.
Features (4 out of 5)
The LG Clout comes with a standard set of features for a cheap flip phone, no extras but nothing less then you would expect either.
The Clout is a strictly U.S.A. phone with only CDMA 800 and 1900 for calling and EVDO rev.O for high speed connectivity, local connectivity is supported by Bluetooth 2.1 with AD2P, EDR and microUSB 2.0, no Wi-Fi.
Internal memory is a total of 120 MB but you're only allowed access to 97 MB, as such it would be prudent to make use of a microSD card, the phone can support a 16 GB microSD or microSDHC card.
The phone has a 2MP camera, a significant upgrade as all predecessors came sporting a 1.3 MP camera. It has quite a few shooting options such as; ISO, Panorama, Night mode and White balance. The phone lacks auto focus and has no LED flash, despite the lack of these usually essential elements to a good camera, the 2 MP snapper is one of the best I have seen, and easily compares to the 2 MP camera on the Samsung Galaxy 5. Pictures taken in full sunlight turn out clear with very little noise suppression and bright, focused colors, there is only a truly minuscule amount of blurring on multiple colored picture elements. Indoor the good times continue to roll, with the only exception being the phone overcompensates for the color black, shadows tend to look jet-black as opposed to normal black.
Videos are shot at a useless 15 FPS of CIF quality, the only screen worth watching the videos on is the screen of the LG Clout itself, do not attempt to watch them on another screen.
Now for some media playback, the LG Clout uses a music player called "RED", it is one of the poorer features of the LG Clout, although it has dedicated buttons on the external screen and audio quality is actually pretty smooth thanks to the stereo speakers, it is truly very, very slow. It also does not support album art or a 3.5 mm headphone jack, although the Clout does come with its own 2.5 mm pair of earphones, if anything ever happens to them, good luck finding a new pair. Alternatively you can sync up with a Bluetooth wireless headset, supported audio formats are; MP3, AAC, AAC+ and WMA.
Video playback is pleasantly well supported, you can play any of the following formats; MPEG4, WMV, 3GP and 3G2. The maximum resolution of is 320x240, but play one resolution under that for the best experience.
The following is a list of miscellaneous but important features; VCast Video, Bing Maps, JAVA 2.0 MIDP, VZ Navigator, GPS (drive assist), Voice command, Calculator, Appointment Calendar, Alerts, To Do List, Alarm, Stopwatch, World Clock and Notepad.
Performance (5 out of 5)
The LG Clout is a bare bones phone, so its main weapon is the ability to perform the basic functions of a phone well, and in this light the LG Clout outstrips even some of the best smartphones ever made.
I'm not going beating about the bush, call quality is excellent. Voices sound natural and clear, there is no hint of background noise or any static, the loudspeakers are loud without being sharp. Signals hold very well, there is almost constantly signal bar available, sometimes you can even find one in a dead zone, you can even attend to calls without flipping open the phone.
Now the browser is a 2.0 WAP browser, as such don't expect anything fancy, but it will serve well in a pinch and zooming is not too bad, plus the EVDO does go along way if you have an unlimited data plan. But you're still better off using Opera Mini.
Now the Clout comes with a Li - Ion 1000 mAh battery, and it is one of the better batteries to ship on a flip phone. It easily handles 7 hours of talk time with nearly 20 days of standby, on average heavy users will be charging it once a day, medium users once every three days and light users once a week.
Verdict (5 out of 5)
There is not much to say about the LG Clout, it is a very good phone. If you want a basic phone at a basic price then the LG Clout comes easily and strongly recommended, but there is no such thing as a perfect phone.
Problems included are the slightly weak hinge, slow music player, lack of auto focus or LED flash and over saturation of the color black on pictures.
So as you can see the list of complaints here is rather short, and as for the good stuff…well it's what we wrote the review for right?
References