LG GS170 - A Detailed Review
LG GS170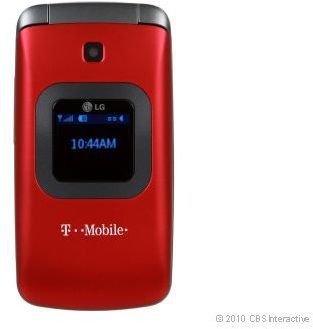 The LG GS170 is an entry level clamshell cell phone with two screens, the external screen is 1.04 inches and the internal one is 1.76 inches. The phone's keyboard is T9 and it has also got a 640x480 camera with digital zoom, but without flash. It also supports a one touch speakerphone, Bluetooth 2.1, micro-USB, MP3 ringtone capabilities and the call quality isn't bad either.
Design (4 out of 5)
The LG GS170 is a basic rectangular flip phone with leveled narrow sides and rounded corners. A soft material that coats the entire cell phone repels dirt and protects it from scratches. At the same time, this soft material also makes the handset easier to grip. The GS170 is extremely light at 2.8 ounces.
The front of the phone houses a 1.04-inch external screen that supports up to 65,000 colors and it displays the date, time, signal strength, battery life, and a caller ID. You can see the camera lens above the external display and towards the left side is the volume rocker while the Micro-USB charging port rests on the right side.
The phone's small 1.76 inch internal display supports 176x220 pixel resolution and 262,000 colors. Still the interface is quite impressive, though not sharp, with colorful menu icons. You can customize the handset theme, look of the home screen, menu style, font size, color of the dialing font, and the backlight time.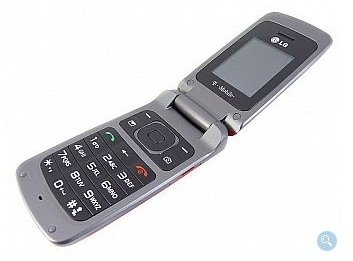 Navigation can be accomplished with a messaging key, two soft keys, a camera key, and a square navigational pad with a confirmation key in the middle. On standby mode, the square navigational pad corresponds to shortcuts for call history, contact list, audio postcards, and a list of additional customizable shortcuts. Below the navigation display are the Send, Back, and the End or Power keys, followed by the T9 keypad. The keypad has large keys and is easy to use.
Interface (3 out of 5)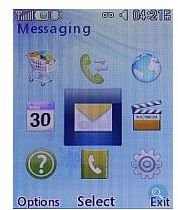 Since the phone is an entry level model, its interface isn't exactly graphical eye candy. However, the LG GS170's simple and straightforward interface offers a stylish three dimensional cube rotation when you jump from the home screen to the main menu. The default home screen presents a grid view but you can opt for a list view as well.
Features (3 out of 5)
The GS170 doesn't offer unique features but it does have a 1,000-entry contact book and in each entry there is room for six phone numbers, an e-mail ID, company name, a birthday, job title, and a memo. The phone's MP3 capabilities allow you to use your own MP3s as ringtones, too.
Other basic features include SMS and MMS messaging, a one touch speaker phone, a vibrate mode, audio postcards, an alarm clock that even rings when your phone is discharged or out of battery, a calendar, a tasks list, notes (plus password protected secret notes), a stop watch, a calculator, a world clock, a unit converter, and a date finder. The phone also has a voice recorder, Bluetooth 2.1, and a basic WAP browser.
Multimedia (2 out of 5)
The music player offered on this handset functions only if you load songs onto the phone. You can play and pause music, but you cannot create a playlist or set songs on shuffle or repeat like on a normal music player. Furthermore, the phone lacks a video player and you can only carry a few songs with you, since the memory is limited and there is a lack of microSD card support on this handset.
The camera on the LG GS170 is VGA. It can only take pictures in two resolutions (320x240 and 640x480) and offers three image quality levels. The camera settings include white balance presets, color effects, a night mode, a shot mode, a timer, and three shutter sounds including a silent option. Naturally with the given resolution, the picture quality is poor.
Data and Connectivity (2 out of 5)
The LG GS170 is an 850/1900 MHz dual band GSM device with EDGE data speeds. Aside from this, the only other connectivity option that the GS170 offers is Bluetooth 2.1 to get other wireless devices connected to it.
The handset also offers a web browser that easily opens websites like Google or Yahoo. You can also download ringtones, wall papers, and purchase games or apps from the mobile store. But if you intend to browse through sites with heavy media content, you should have lots of free memory space on your phone.
Performance (4 out of 5)
The LG GS170 offers impressive call quality. The caller's voice sounds very natural and clear plus the volume is also good. Moreover, the phone excels in battery life with 7.5 hours talk time and 23 days standby time. Its 900 mAh battery has a tested talk time of 7 hours and 46 minutes
Verdict (4 out of 5)
As the phone is crafted for the entry level segment, it offers basic functions and performs fairly well. With good call quality and compact design, it's a good catch if you are looking for an affordable GSM handset.