LG Optimus U Review - LG's Entry Level Android Device for U.S. Cellular
LG has taken a very similar approach to their Korean competitor Samsung for the LG Optimus series of smartphones. The LG Optimus series debuted on other networks as the Optimus S, Optimus T, Vortex and Optimus M. The LG Optimus U is the exclusive version of the phone for U.S. Cellular. The LG Optimus U is very similar to the other Optimus series of phones, specifically the Sprint LG Optimus S. The LG Optimus U is almost identical to the LG Optimus S except for a few minor differences, which will be expanded upon in this LG Optimus U review. After a two year contract and $80 mail in rebate, the LG Optimus U is free on U.S. Cellular. Similar to the other Optimus series of smartphones, the LG Optimus U also aims towards the entry level market, as evidenced by the cheap price.
LG Optimus U Specifications:
Dimensions: 4.46 x 2.32 x 0.52 inches (113 x 59 x 13.2 mm)
Weight: 4.48 oz (127 g)
Display: 3.2 inch LCD Color TFT capacitive touchscreen display, 320 x 480 pixels
Memory: 150 MB + Expandable microSD up to 32 GB
OS: Android OS 2.2
Processor: 600 MHz Qualcomm MSM7627
Camera: 3.2 megapixel camera with VGA video recording
Connectivity: CDMA Dual Band (800/1900 Mhz)
Data: 1xEV-DO rev.A
Bluetooth: Bluetooth 2.1
GPS: GPS with A-GPS
Battery: Li-Ion 1500 mAh
(4 out of 5)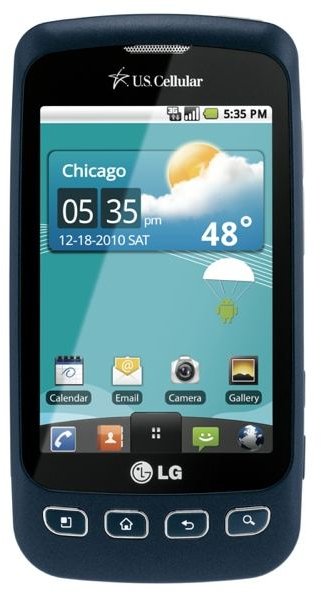 The LG Optimus U is a solidly designed smartphone. Featuring a very familiar candy bar design with a touchscreen display on the front, and a rear facing camera, the LG Optimus U doesn't bring any sort of new design. However, it's a familiar and easy to use design that works. The front of the phone, like the Optimus S is dominated by a 3.2 inch LCD capacitive touchscreen display. Below the display are the four familiar Android shortcut buttons, menu, home, back and search.
Along the left edge of the LG Optimus U resides a microSD slot. The volume, voice dial and dedicated camera buttons reside on the right side. On the bottom edge is the microUSB used for charging and data transfer. At the top is the power / lock button along with a 3.5 mm headphone jack. Rounding out the back is the 3.2 megapixel camera. All in all, if the LG Optimus U were placed next to the LG Optimus S, you'd have a very hard time distinguishing the two. For an entry level device, the LG Optimus U is pretty well built, feels durable and is designed like many higher end smartphones such as the Samsung Captivate or Motorola Droid X. However, there's a huge cost different between the LG Optimus U and higher end smartphones.
Hardware and Software (3 out of 5)
The LG Optimus U isn't as powerful as the higher end smartphones. Rather the LG Optimus U comes with a 600 MHz Qualcomm MSM7627 processor. There is a bit of lag at times, but it's not enough to cause anger or annoyance. The lag was comparable to the myTouch 3G that was released on T-Mobile's network much earlier.
On the software side of the house, the LG Optimus U, like it's Optimus brethren, comes with Android 2.2 (Froyo). The LG Optimus U comes with a fairly vanilla version of Android, rather than adding packages such as Sprint ID. Overall Android 2.2 is a refreshing addition to an entry level smartphone and is actually a more up to date version of Android than what's on Samsung Galaxy S phones (they are still stuck with Android 2.1).
User Interface (3 out of 5)
The LG Optimus U has the usual Android touchscreen interface. As it is stock Android 2.2, there aren't any special features to throw you off if you use Android. If you're not familiar with Android, the LG Optimus U has an easy to learn interface. As it is a touchscreen phone, your gestures control everything on the phone. Simply click a shortcut to have the application run, click and hold the shortcut to move or delete the shortcut. Swipe back and forth, or up and down to move around the screen, and use two fingers to pinch and zoom in or out of areas.
Features (4 out of 5)
The LG Optimus U comes preloaded with the usual Android feature set of applications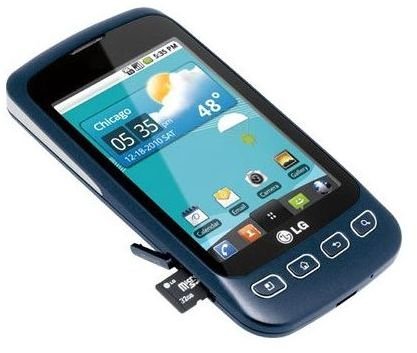 including the Android Market. For a practically free Android powered smartphone, the Android Market allows you to use the LG Optimus U to access 120,000+ applications, free and paid. The LG Optimus U, however, is limited when it comes to running Flash. Though it does have Android 2.2, it is not powerful enough to run Flash player, meaning you'll still face problems with Flash based websites.
The connectivity features are top notch for an entry level smartphone. The LG Optimus U has Wi-Fi hotspot capabilities for up to 5 devices using its EV-DO Rev.A 3G. That means you can have up to 5 devices connect to the internet with the LG Optimus U. It also comes with GPS, which means you don't have to carry around a separate GPS unit.
The 3.2 megapixel camera is perfectly fine for an entry level, near free smartphone. Though the LG Optimus U does not have LED flash, it still took some fairly decent pictures. The colors were a bit dull and the pictures do have a 'camera phone' feel to them, but it takes decent pictures overall. In addition, the camera can record video in VGA, QVGA or QCIF, which, once again, was decent for a near free smartphone.
The Final Verdict (4 out of 5)
Overall, the LG Optimus U is a great addition to their already strong entry level marketed Optimus line up. With a two year contract and mail in rebate, the LG Optimus U is free on U.S. Cellular. Without the mail in rebate the LG Optimus U comes in at around $80, which is still cheap for an Android powered handset. With the price and overall abilities of the LG Optimus U, it ranks in at a 'Good' ranking. The LG Optimus U is a solid phone and cheaply priced.
This post is part of the series: LG Optimus Series Review
A series of reviews on the LG Optimus Series of smartphones from Korean manufacturer, LG. Though not quite as popular as Samsung, LG has been pumping out sleeker and newer smartphones with the Optimus brand.