LG Cosmos Touch - The Entry Level LG Device for Verizon Wireless
LG Cosmos Touch Review
LG has been reaching out to the entry level and mid-tier market with their smartphone releases, rather than aiming high like Samsung or Motorola. The LG Cosmos Touch is no different, aiming at the entry-level market. The LG Cosmos Touch doesn't take the same path as the LG Optimus S or LG Optimus T. Rather than being preinstalled with Android, the LG Cosmos Touch uses a proprietary OS that has a touchscreen interface. It's quite an odd choice, but it does make sense considering the LG Cosmos Touch is aiming toward newer smartphone users who have no experience with high end phones.
LG Cosmos Touch Specifications:
Dimensions: 4.05 x 2.08 x 0.65 inches (103 x 53 x 16.5 mm)
Weight: 4.04 oz (114 g)
Display: 2.8 inch LCD resistive touchscreen display, 240 x 100 pixels
Memory: Up to 16 GB MicroSD
OS: LG Proprietary
Camera: 1.3 megapixel camera
Connectivity: CDMA (850/1900 Mhz)
Data: 1xRTT
Bluetooth: Bluetooth 2.1
GPS: GPS with A-GPS
Battery: Li-Ion 1000 mAh
Design and Display (2 out of 5)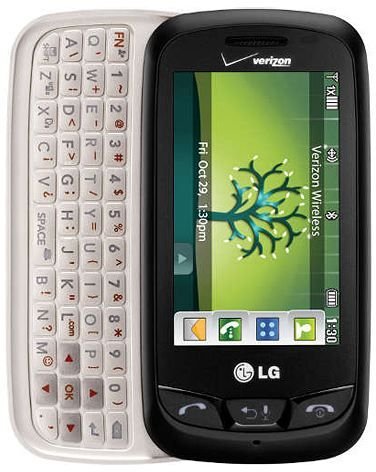 The LG Cosmos Touch is a fairly bulky touchscreen phone. The front of the LG Cosmos Touch is dominated by the 2.8 inch LCD resistive touchscreen display. It's quite interesting seeing a smartphone use a resistive touchscreen, and for users of capacitive touchscreens, the LG Cosmos Touch does take a bit of getting used to. Below the display are thee buttons, Send, Back/Voice, and End. To the right resides the lock key, microSD slot, and camera key. To the left are the volume rocker, and microUSB. Rounding out the top is the 3.5 mm headphone jack.
The thickness of the LG Cosmos Touch is mainly due to the slide out keyboard. Simply push the display and out comes a full physical QWERTY keyboard. The sliding mechanism feels solid and will most likely last a while with no problems. Unfortunately, the resistive screen and thickness makes the LG Cosmos Touch below average compared to other entry level phones.
User Interface (3 out of 5)
The LG Cosmos Touch comes with a LG Proprietary Operating System that's very similar to Samsung's TouchWiz UI. It comes with 3 display screens that you move back and forth through. There are 4 main shortcuts across the bottom for messaging, dialer, menu, and contacts. There's a pull over menu from the left side allowing you to view your applications and to move them to your main 'home' screen. There is some lag when switching from display to display.
The first screen is the messaging screen, which pulls together Facebook, Twitter, MySpace and text messages into one screen. It's a pretty nifty feature to bring together your social worlds onto the LG Cosmos Touch. The next screen is the 'home' screen, where you can place shortcuts to applications and widgets. The third and final page is for your contacts, where you can put photos of your contacts and order them.
Overall, it's an easy to use, easy to become accustomed to, user interface. The simplicity of the user interface actually makes it easier to adjust to for those who don't want complex phones.
Features (2 out of 5)
The LG Cosmos Touch comes with a subpar 1.3 megapixel camera. The camera really should've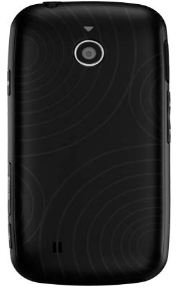 been better for the LG Cosmos Touch. Though the LG Cosmos Touch isn't on the higher end of the spectrum, it still comes it at around $80 on contract which is still somewhat pricey. It's a shame that the LG Cosmos Touch couldn't get a slightly upgraded camera. The picture quality is subpar and is definitely not a digital camera replacement.
The Final Verdict (2 out of 5)
Overall, the LG Cosmos Touch does fall flat. In a highly competitive market, the LG Cosmos Touch truly does fade into the background. Especially on Verizon's network, where more powerful phones, such as the LG Vortex are priced in at around the same price point. For Verizon Wireless customers, it'd be best to stray away from the Cosmos Touch and grab an entry level Android phone. For non-Verizon Wireless customers, it'd be best not to switch carriers for this particular phone.