LG Octane Review - The Messaging Phone for Everyone on Verizon Wireless
LG has been quite a popular niche phone manufacturer for many people in the United States. They released a successful line of EnV series phones. The LG Octane may as well be considered a successor, an EnV4 to a certain degree, with its design. The LG Octane was released in October 2010, to Verizon Wireless. The LG Octane is pretty much a simple phone mainly for messaging, with EV-DO, and featuring a 3.2 megapixel camera, GPS, and a physical QWERTY keyboard.
LG Octane Specifications:
Dimensions: 4.21 x 2.16 x 0.63 inches (107 x 55 x 16 mm)
Weight: 4.5 oz (128 g)
Display: 2.6 inch LCD display, 320 x 240 pixels
Memory: 120 MB + Expandable to 16 GB MicroSD Slot
Camera: 3.2 MP camera
Connectivity: CDMA (850/1900 Mhz)
Data: 1xEV-DO rev.0
Bluetooth: Bluetooth 2.1, Stereo Bluetooth
GPS: GPS with A-GPS
Battery: Li-Polymer 950 mAh
Design and Display (2 out of 5)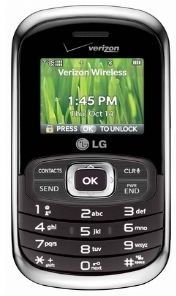 The LG Octane has an interesting dual screen design, similar to the EnV series from LG. The LG Octane is fairly thick for a phone and a bit on the hefty side, mainly due to the flip out physical QWERTY keyboard. The front of the LG Octane features a shiny 1.76 inch display that's small but very vibrant. Below the display is the number keypad with large, easy to read numbers. There's also a directional pad with an OK in the middle to fiddle through the limited menu options on the small display. The directional pad is surrounded by 4 buttons for Contacts, Send, Clear/Voice, and End/Power.
On the left side is the volume rocker, and camera key. While the microUSB, microSD, and 2.5 mm headphone jack are on the right. Pull the LG Octane open from the right to reveal a full QWERTY keyboard. The hinge for the keyboard is solid and easy to open and close. Once opened, the LG Octane shows its 2.6 inch display inside.
Overall, the LG Octane has a bulky but solid design but sadly misses the element of a 3.5 mm headphone jack, instead opting for a 2.5 mm one.
User Interface (4 out of 5)
The LG Octane has an extremely easy to use interface. The large buttons on the dial pad make it easy to see what you're pressing and the full physical QWERTY keyboard has a solid tactile feel. While LG Octane is closed, it's extremely easy to navigate through by feel and when opened, the keyboard allows you to type extremely fast. There aren't too many complicated menu systems on the LG Octane, they've really kept the whole interface simple and easy to use. Simply click through your options using the directional pad, in closed mode or use the directional pad on the keyboard.
Overall, the LG Octane is easy to pick up and use immediately with a very small learning curve.
Features (3 out of 5)
The LG Octane can contain up to 1,000 entries, with each entry being able to hold up to 5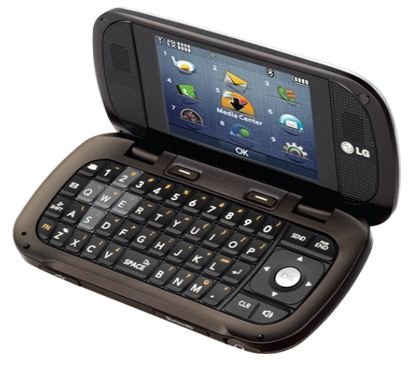 numbers, 2 e-mail addresses, an IM screen name, street address and notes. The LG Octane has the usual basic features of other phones, such as vibrate mode, speaker phone, voice commands, calendar, alarm, clock, calculator and more. The LG Octane also allows you to assign pictures and up to 30 unique ringtones to your contacts, like most other phones in the market.
Now, first and foremost, the LG Octane is a messaging phone. Which is why the LG Octane supports multiple messaging systems, has mobile e-mail, and Exchange integration. One thing to note is that there is a fee of $9.99 a month for mobile e-mail. This added price is a bit of a negative but it's something that's being enforced by the carrier, Verizon Wireless. It is a slight disappointment that an extra hundred dollars a year has to be blown on having a feature that should come with the phone.
The LG Octane can also be used as a USB storage device, has visual voicemail and a document reader that can be used to view Microsoft office files and Adobe PDF files. The LG Octane also has a full HTML browser, which is a nice little addition to the phone. You can zoom in and zoom out of websites, and though it may not be the best browser out there, it still does its job well enough.
The LG Octane also features a 3.2 megapixel camera that can take pictures in 5 different resolutions. It's not the greatest of quality but, in times of emergency it can be a handy back up to have on hand. Another interesting feature with the camera is that you can actually use the 1.76 inch display as a view finder while the phone is closed. If the LG Octane is opened, you can use the 1.76 inch display to help you take self portraits. It's an interesting little design, but note that it does require the phone to be in a somewhat awkward position.
The Final Verdict (3 out of 5)
Overall, the LG Octane, coming in at $99 after a $50 rebate and a 2 year contract, is an "Average" phone. For a messaging phone, the LG Octane pretty much has all the features it needs. The only big downside is that you may have to invest in some new headphones due to the LG Octane using a 2.5 mm headphone jack. While there are better, more powerful smartphones such as the LG Vortex which won't be that much more expensive than the LG Octane, there is still room for the Octane to exist. If you're not into smartphones and the like, but enjoy messaging on your phone, the LG Octane is a solid choice to take.