LG Prada Review: Design and User Interface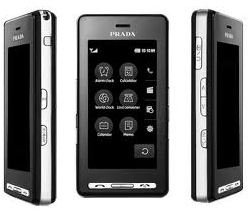 Introduction
The LG Prada is a sleek mobile phone with a 3-inch touchscreen, 2 megapixel camera and a music player. This high-end phone, however, conspicuously lacks 3G support.
Design (5 out of 5)
A mere glance at the LG Prada and you'll realize that this is not a cheap phone at all. It may be one of the most elegant mobile phones ever at least in terms of design. It is covered in a piano black frame with silver lining on its sides. The LG Prada basically looks like a small plasma television. It has dimensions of 3.89 inches in length, 2.13 inches in width and 0.47 inches in depth. It weighs a mere 3 ounces. With its small and lightweight frame the LG Prada can easily slip into a clutch bag or pant pockets.
The 3 inch display can support high resolution images and graphics up to 256,000 colors. Adjustments can be made on its backlight time and brightness settings. The default font size is big enough and very readable. Below the display are keys like End/Power, Send and Clear functions. The left spine of the phone features a volume toggle control, charger jack, and sound profile shortcut. The right side features dedicated keys for the MP3 player and camera and a keyguard lock. The back of the phone has the camera lens and a self portrait mirror.
User Interface (4 out of 5)
While the LG Prada has a touchscreen it doesn't have a stylus with it, so users have to be content and familiarize themselves in using their fingers in navigating the phone. It may take a while before users become accustomed to texting and dialing as the phone features only a few keys. However, the touchscreen comes with great sensitivity so users should have no problem in dialing. The lack of a virtual QWERTY keyboard makes it quite difficult to compose text messages and you have to use the phone's virtual alphanumeric keypad.
Features (4 out of 5)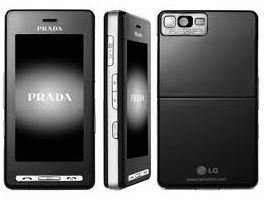 For such an expensive phone it is not surprising that the LG Prada features a good array of functions. The basic features are there such as multimedia and text messaging, calculator, alarm clock, world clock, calendar and unit converter. The more advanced functions include web browser, voice recorder, Bluetooth function, FM radio, speakerphone and email support. There is also a document viewer which users can tap to view their Office documents.
The LG Prada's phone book can save up to a thousand entries. Each contact can have a maximum four numbers, memo and email address. Customization can be made for each contact by assigning them with a photo caller ID, or polyphonic ringtone.
The LG Prada comes with a nice 2 megapixel camera which has numerous settings. The phone camera is capable of capturing photos at a maximum resolution of 1600x1200 pixels and at a minimum of 320x240 pixels. The phone camera also has three quality modes, a self timer, and four color effects. The phone camera can also record video clips.
The music player of the LG Prada is a pretty basic program that supports popular audio formats like MP3 and WAV. There is no need to use a program in transferring music files to the phone with the simple drag and drop property of the Prada's media player through its function as a USB mass storage device.
Customizing the Prada may be done by changing wallpapers and sound settings. The phone has four pre-installed games - Piper, Halloween Fever, Virus and Photo Puzzle.
For such a high-end phone like the LG Prada, it is disappointing to find that it lacks 3G support.
Performance (4 out of 5)
The camera of the LG Prada can be relied upon to take fairly good quality pictures. Photos taken in low light, however, are usually pale. The numerous settings available in the camera phone pretty much make up for it, like the white balance settings, self timer, and four color effects. Video clips taken using the camera phone are not as sharp and brilliant as photos. The media player also plays good quality music.
Voice calls made using the LG Prada are also clear and loud, and users will have no trouble at all hearing the party on the other line. The fully charged LG Prada lasts for up to 3 hours of talk time and for about 13 days of standby time.
Verdict (4 out of 5)
The LG Prada is real eye candy with its breathtakingly beautiful design. There are a few downsides to it like the lack of 3G and a mediocre camera but overall, the Prada has a good set of features. The design alone makes the LG Prada such a highly recommended LG phone.