Top 5 LG Mobile Ringtones Online Sources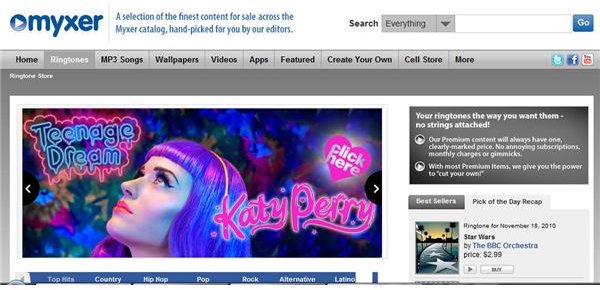 Introduction
If you are the owner of an LG mobile phone, you have a lot of ways to customize how it works, including what tunes it plays whenever you receive a call or a text message. There are a lot of web sites that offer free ringtones for LG mobile phones, but if you want a resource for premium ringtones, perhaps because you trust the quality of premium ringtones more than the free ones, here are some recommended web sites you can visit. Some of these web sites offer both free and premium LG mobile ringtones, and some have larger libraries than others, so it is up to you to choose which one is right for you.
Myxer
Myxer does not just offer a wide array of premium mobile ringtones that are compatible with a range of mobile phones, including LG mobile phones. It also offers wallpapers, apps and videos. The site also gives you the chance to create your own ringtone, just in case the ringtones and MP3 songs available on the site do not meet your tastes. Most of the paid ringtones on the site range in price from $0.99 to $2.99. Myxer offers several kinds of lists to give site visitors an idea of which ringtones, both free and paid, are most popular at the moment.
Billboard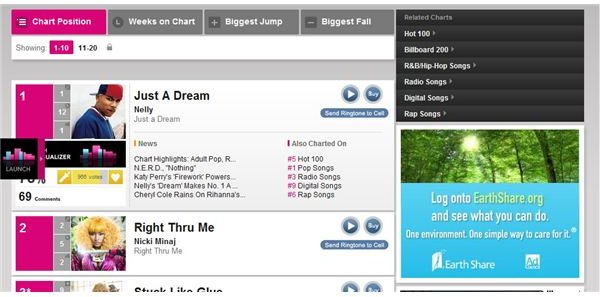 The LG ringtones on this web site are arranged by lists, and not just any kind of lists. These lists are based on Billboard charts. If you want chart information about a song instead of just downloading the ringtone, this is a great site to provide you with that information. If you like the song a lot, you may even purchase an MP3 version of it via the site's integration to the iTunes Store. Discussions are also catered for on the site, which means you can discuss your favorite songs and artists with other music enthusiasts before or after you have made your ringtone purchase. It is more than just a ringtone store. It is a community for music and ringtone lovers.
MTV Mobile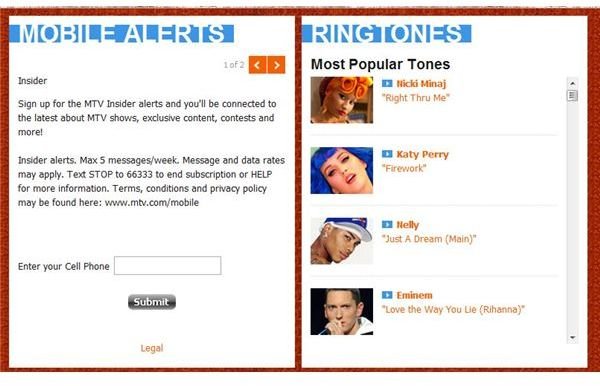 MTV Mobile the section of the MTV web site where all things mobile are covered like apps, news, and ringtones. In their ringtone sub-section, they offer some of the most popular songs from some of the most popular pop artists. If you are a big fan of MTV and its programming, including the music videos, you can expect to find some of the most popular songs featured on their channel as mobile ringtones in this web site.
Ringtone Jukebox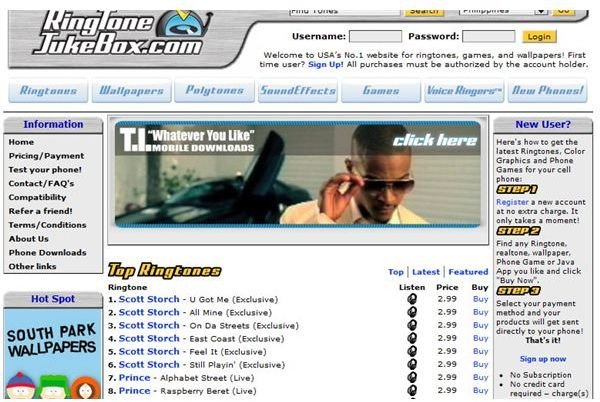 Hailed as the USA's number 1 resource for mobile games, mobile ringtones and mobile wallpapers, Ringtone Jukebox offers a wide range of mobile goodies both free and paid. Its selection of mobile ringtones cover a wide range of categories. These ringtones are of top notch quality, which is quite apparent just by looking at the price for each ringtone. Each ringtone can be purchased for $2.99. The best thing about the payment method in this web site is that it is quite secure since you do not have to enter your credit card number. The amount to be paid will simply be added to your mobile phone bill or it will be deducted from your remaining prepaid minutes.
Ringophone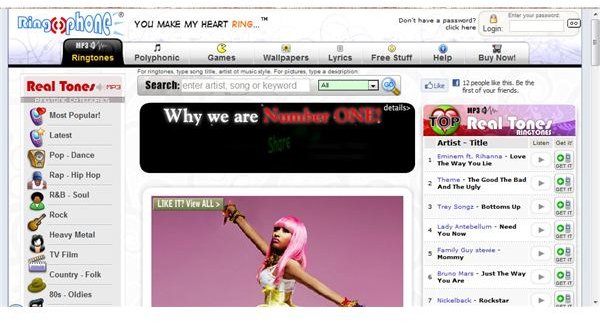 Ringophone sets itself apart from other online resources for mobile ringtones because of one simple, yet elegant, sales strategy: a flat fee. This means that for a fixed price, you can download an unlimited number of LG mobile ringtones on your LG phone. Not only that, you can use one account to download mobile ringtones to several mobile phones. It is an elegant solution for people who love downloading new ringtones constantly and who love sharing them with their friends.