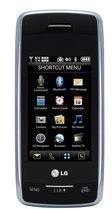 Overview
The LG Voyager comes with a brilliant touch screen and a spacious keyboard. It also offers EV-DO support, a good web browser, an in-built GPS application and V Cast mobile TV. If this is not enough, its call quality is superb. Though you can experience some minor hitches here and there, it's a good messaging and multimedia device.
Design (4 out of 5)
The LG Voyager is a bulky device measuring 4.64 x 2.12 x 0.71 inches and weighing around 4.69 ounces. The Voyager has an eye-catching, slick design that is far more stylish than many LG handsets. The device is solid with sturdy hinge construction. Its 2.81 inches touch screen supports 262k colors in a 400x240 pixel resolution that delivers sharp graphics, animation and colors. The touch screen display also supports a full QWERTY keyboard.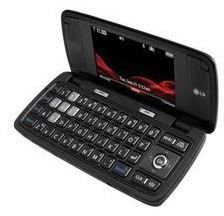 The LG Voyager is equally attractive on the inside as it is on the outside. Inside, a large screen sits between the stereo speakers. The size of the internal display is the same as the external touchscreen with a similar resolution, menu interface and customization options but without touch controls. The LG Voyager also houses a roomy physical keypad on the inside. The complete arrangement of the keypad is spacious and it has large keys.
User Interface (5 out of 5)
The Voyager's UI has been effectively designed for its external touch-screen. Menus and text are large so that you can easily press the selection. The front screen automatically locks after a few seconds of idleness. To unlock the device simply press the lock icon or use the manual lock button located on the left rim. After the screen has been unlocked, you come across 4 icons at the bottom: Phone, Messages, Contacts and Menu. Tapping in the middle of the screen brings up a list of 12 shortcut icons. However, these icons can neither be moved, replaced, nor can they be modified in any way. So be prepared to deal with the preselected ones. Though the external screen works fairly well, you can experience some difficulties while pressing and scrolling through the menu list.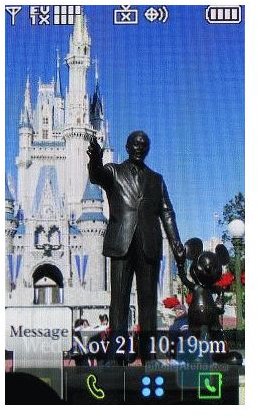 Although every feature of the Voyager can be used on both displays, there are some apps, such as the VZ Navigator, that need the non-touch display and others that are more convenient when used with a D-pad. LG has tried very hard to make sure that the UI meets the needs of users.
Features (4 out of 5)
The LG Voyager is a feature packed phone. Its basic features include a 1,000 contact phone book, text and multimedia messaging, vibrate mode, a calendar, a world clock, an alarm clock, a stopwatch, a tip calculator, a calculator, a voice memo recorder and a notepad. For more demanding users, the device comes with USB mass storage, speaker independent voice commands and dialing, a text to speech feature and instant messaging. Bluetooth 2.1 with profiles for dial-up network, object push, file transfer, headsets and A2DP stereo sound, is also onboard. Although the Voyager supports email, the POP3 application is not user friendly. Also, PC syncing for calendar and contacts is missing. The device comes with 180 MB of internal memory expandable up to 8GB and integrated 3G support that is enough for web browsing.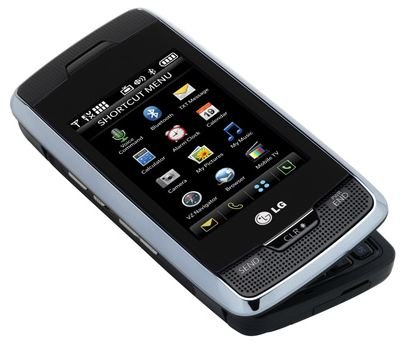 As an EV-DO device, the LG Voyager supports a wide range of 3G services, like the V Cast music store and the V Cast streaming video service. Besides the entertainment applications, the phone comes preloaded with GPS service.
The LG Voyager has a 2 megapixel camera with which you can take pictures in four resolutions plus choose from 4 color effects and 4 white-balance settings. Camera features also include 2.5x digital zoom, brightness control, spot metering, self timer, night mode, three shutter sounds and a neat autofocus. The only thing missing here is a flash.
The phone supports a full HTML browser that provides a great surfing experience. Its external display renders full web pages. You can click through multiple pages, select links and easily view photos. Sweeping your fingers across the display will help you maneuver through web pages but you will have to excuse the not so fluid motion.
You can easily customize the Voyager with a variety of wallpapers, color themes, screen savers, clock formats and a personalized banner.
Performance (4 out of 5)
The LG Voyager is a dual-band CDMA 800/900 device with admirable call quality. Speaker calls are also loud and clear. As for Bluetooth calls, a successfully paired headset provides decent call quality. The strength of the EV-DO connection can be seen by the large number of reception bars on the screen. Game download takes a few seconds, V Cast videos load in about 15 secs and surfing the Web is relatively fast. Also the response time for the touchscreen is quite quick. The LG Voyager lags while streaming videos but the music quality is satisfying. The phone has a battery life of 4 hours talk time and 20 days standby time.
Verdict (4 out of 5)
Overall, the LG Voyager offers many things, it's too bad that it lacks essential features like Wi-Fi and a camera flash. But if you don't mind, the phone will not disappoint you.