LG Dare: Design, User Interface, Features and Performance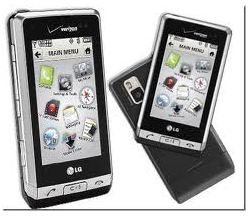 Introduction
The LG Dare is a touch screen phone with a set of sophisticated multimedia features. While the phone is not an iPhone killer, as it lacks features like Wi-Fi, the Dare could still be a good option for those wanting a multifunctional phone that won't break the bank.
Design (4 out of 5)
The LG Dare has a large display that covers almost the entire front surface of the handset. Keys that are visible are the Call, Clear and End/Power functions. The Dare is quite small compared to other touch screen phones as it has a length of 4.1 inches, a width of 2.2 inches and thickness of 0.5 inches. Its stainless steel border gives it a sophisticated design, with a soft black surface on the back giving it a nice feel when held in hand. It has a weight of 3.7 ounces.
Because the LG Dare is smaller in size, it also has a limited space for its main screen which measures 3 inches, which is small when compared to the 4 inch displays of other touch screen phones. The color display can support up to 262,144 colors at a resolution of 240x400 pixels, allowing it to display stunning images and clear text.
User Interface (5 out of 5)
Users may customize several settings like the menu and dial fonts, backlight time, and display themes. The bottom row of the home screen features five shortcut icons for easier access to frequently used LG Dare applications. There is another small arrow icon placed on the upper right corner of the display which leads users to 11 shortcuts that can be assigned to more than 50 phone applications. The Dare also features the option to freely drag and drop icons scattered around the main screen. This is a fun way of customizing the main screen according to the needs of the user. There is a back arrow located on the upper left of the menu screen that users can press to go back to the previous menu, while the Home button leads them back to the main menu.
The LG Dare features haptic tactile feedback that enables the phone to vibrate when the user taps on the screen. It is sort of a physical confirmation that the user has tapped on the appropriate keys.
Texting can be done in several ways: a virtual T9 keypad, or a full QWERTY keyboard that automatically appears when the phone is twisted counterclockwise. The full QWERTY keyboard features a space bar, return button and Shift button for switching between symbols and capital letters. Texting can also be done through handwriting, and the Dare scores well with its impressive handwriting recognition function.
Features (3 out of 5)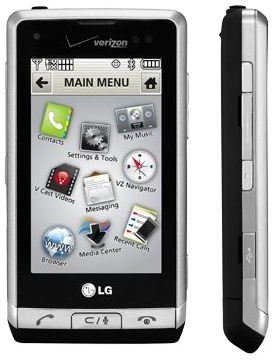 The LG Dare's address book can store up to one thousand contacts and allows up to 5 different phone numbers and two email addresses for each contact. Contacts can be grouped into caller groups and assigned with photos and LG Dare ringtones. Aside from the common features like speaker phone, text messaging and multimedia messages, the LG Dare comes with Bluetooth capability, USB mass storage, GPS functionality, instant mobile messaging, mobile e-mail and voice command dialing and recording.
One interesting feature of the LG Dare is its drawing pad, allowing users to sketch or draw maps with various colors and pen sizes. This built in program is like painter software for your mobile phone. You can draw, save and retrieve your creations any time or they can be sent to contacts as a picture message. The LG Dare also has a web browser, a 3.2 megapixel camera, arguably one of the best in the market, and a multimedia player supporting various audio formats.
Performance (4 out of 5)
Voice calls made using the LG Dare are pretty clear. Volume is acceptable too, especially when using the speakerphone. In terms of its multimedia performance, the Dare also delivers. The quality of songs played using the built in media player is pretty impressive, and it also helps that the phone is capable of supporting an additional 8GB through its microSD card slot.
The LG Dare's built in camera is also impressive capable of taking pictures up to a resolution of 2048x1536 pixels. Users should expect clear and sharp pictures using the camera phone, which also comes with different white balance, color and ISO settings.
Verdict (4 out of 5)
The LG Dare is certainly one of the most impressive handsets from LG. It has almost everything- a sleek and attractive design, and advanced multimedia functions. The lack of Wi-Fi functionality is a major disappointment but for everything it brings to the table, the LG Dare is certainly a good budget buy.