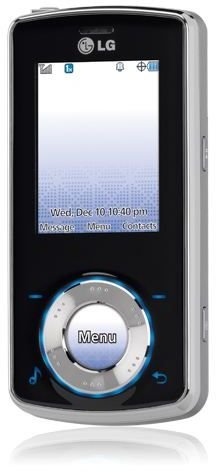 Introduction
The LG Rhythm, as the name suggests, is a music-oriented slider-phone, which has been crafted to entertain you while on the go through its music centric functions, sporting avant-garde music playback functionality like a unique equalizer, special navigation design and 3D sound. Also known as the LG AX585, the phone comes with an integrated color display, micro SDHC card slot, 3.5mm headphone jack, stereo Bluetooth, 1.3 megapixel camera, organizer and FM Transmitter. Available to grapple from both Alltel and U.S. Cellular at $120, the cell phone also keeps you connected with the whole world.
As we all know that the LG Chocolate is the most famous music handset from LG up till now. And since this phone has been rolled out, several updates, for example; the all-new LG Chocolate 3, have been released. Though it didn't have any wow factor to allure mobile buffs, it remained the center of attraction enhancing the company's reputation.
The LG Rhythm looks a lot like the LG Chocolate. It has a slider design and mechanical scroll wheel like the earlier Chocolate phones. Besides that, it comes with an augmented music player including equalizer settings crafted by Mark Levinson.
Design (3 out of 5)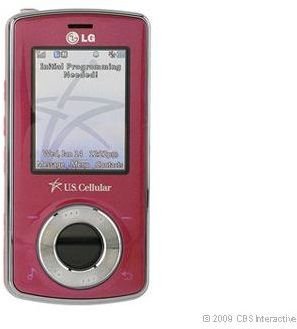 The design of the LG Rhythm has a few unique attributes, but, if you've already laid your hands on the LG Chocolate, you'll find a few similarities between these two phones. The most praise-worthy attribute for the LG Rhythm and LG Chocolate is the mechanical scroll wheels, which, manage to blend into a design that includes extremely perceptive navigational keys and a sleekly-crafted slider chassis.
The smoothness of the edges gives a touch of class to the presentation. The edges are curved in a restrained and unconventional manner, which avoids a box-like look. The handset also looks more high-end due to its back cover which features a textured touch.
User Interface (3 out of 5)
The LG Rhythm features 4.55 x 1.93 x 0.65 inches (116 x 49 x 17 mm) dimensions with a standard weight, and 3.95 oz (112 g battery. The device also has a large external touch-screen (262 TFT 3.0" HVGA Touch), which offers trouble free navigation. It is precisely due to this that one can blissfully navigate through the menu even on the move. Plus, the absence of a key-pad prevents the occupation of unnecessary screen space!
Features (4 out of 5)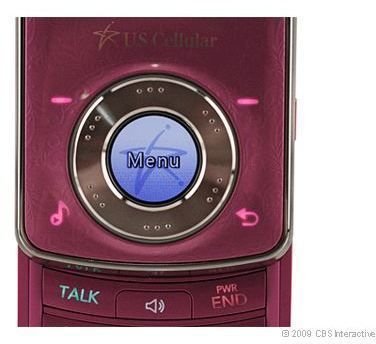 On the features front, the Rhythm has a 1.3 megapixel resolution camera, with Digital zoom, Night mode, Multi shot, Effects, Self-timer and video playback supporting MPEG4 and 3GP formats, allowing for easy capturing of photos and videos.
The phone also comes with a contact book, which can store up to 999 contacts with Ring ID, Picture ID, Multiple numbers per contact and Caller groups along with a built-in memory capacity of 80MB. The device also boasts a slew of other features such as Alarm, Calendar, Tip Calculator, Voice Dialing, Voice Commands, Voice Recording, e-mailing and Speaker Phone. But, the most outstanding features of this music-centric handset is the support for MP3, AAC, AAC+, and WMA file formats.
The LG Rhythm runs on a frequency of 1.9 GHz CDMA PCS, 800 MHz CDMA (Digital Dual-Band) (1900/800 MHz) and 1xEV-DO rev.0 providing a crystal-clear reception and decent call-handling capabilities. The interface is itself very fast and allows call functions and Java-based apps to load and run quickly. The feat of handwriting recognition software also works as an important tool.
Performance (4 out of 5)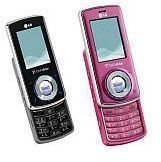 While testing the LG Rhythm, it was found to have an impressive call quality. The voice of the callers was quite crystal clear; there was not any cracking or static. The quality of the speakerphone was also noticed to be decent enough.
The LG Rhythm also has great audio quality, and LG has done an admirable job in making the Rhythm sound like an actual music player. Besides, the handset offers an astonishing smooth bass, digital signal processing and 3D sound. Better use a headset if you want to enjoy the best listening experience.
Battery Life (3 out of 5)
The rated battery life of the LG Rhythm offers a talk time of 3.3 hours and a standby time of around 7.5 days. The tested talktime is quite long at 4hrs and 5 minutes. The FCC says that the Rhythm comes with 0.798 watt per kg digital SAR rating.
Pros and Cons (3 out of 5)
The good: The LG Rhythm is striking slider handset, which brandishes about a mechanical scroll wheel and a ground-breaking center touchscreen for trouble-free navigation. It also brags of excellent audio quality.
The bad: The incorporated touch-sensitive keys on the LG Rhythm take some getting used to, while its photo quality is just run of the mill.
The bottom line: The LG Rhythm, with superb audio quality and a distinct design, is one of the best music phones tried by us.
Verdict (4 out of 5)
Targeted at the music crowd, the LG Rhythm is a smartly-priced phone that, with its high-end functions of music playback, distinctive 1 inch circular touch-screen and 1.3MP camera with video recording capability, will surely turn the heads of all music enthusiasts. It scores over the other LG releases in terms of performance, user-friendliness, advanced styling and design, the striking features and FM transmission. The Rhythm stands apart on many fronts and definitely offers value for money.