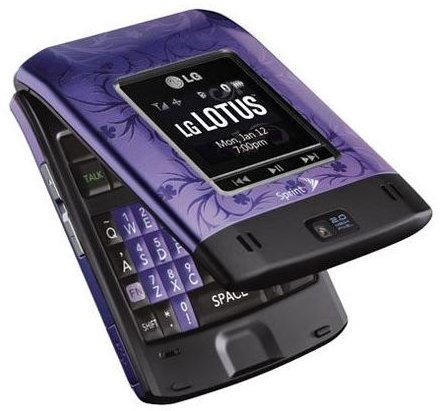 Introduction (4 out of 5)
The LG Lotus is viewed as the seat of Buddha; not surprisingly, any object synonymous with the lotus tends to give a vibe and visualization of delicate elegance. The new LG smartphone with its QWERTY keypad and flip top design happens to be rightly named the LG Lotus. Quaint and small as smartphones come, the flip design makes this compact little device a great style statement while giving you the executive features to work on the move. Priced at around $150, about twice or more the price of comparable competition, it's a thoughtful and choosy buy, but fashionably worth the shelling.
Design (4 out of 5)
Made for Sprint users, this square-shaped mobile phone is sleek and classily designed in attractive hues of Satin Black or Textured Purple which proffer a sense of couture to its functions as an office accessory. The dimensions are 3.3 x 2.4 x 0.7 inches and the weight is just 3.7 ounces; making it quite pocket-friendly. In addition, there is a soft-touch feel to it combining a good grip with the comforting feel in hand.
This mobile phone has received the Red Dot Design Award, not surprisingly, owing to its beautiful and grand looks. But the flip style itself makes it stand apart with grace over its bulkier counterparts.
User Interface (5 out of 5)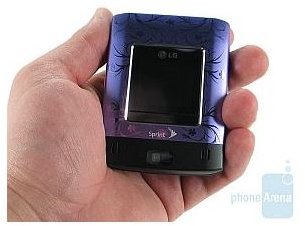 There are two LCD screens similar to most flip phones, but here the external LCD is larger than most others, with 1.4 inches offering support for 65,000 colors. Plus, there are three functional dedicated music keys with Pause/Play RWW and FFW buttons which are just a silver strip below the LCD and pressure sensitive instead of touch sensitive; placed above the Camera and External Speakers as well as the Sprint Logo. In addition, there are also dedicated keys such as Camera, Music and the Micro SD slot on the right edge; whereas the Volume Rocker and charger jack sits on the left edge of the handset.
Once the lid is lifted, the first striking attraction is the 2.4 inch LCD with 265,000 colors support and the eight shortcut keys assignable to various applications. Another total of 14 such shortcuts help a great deal with navigation around the handset. With a rich display and wider screen, not only is live video streaming better; but also allows special goodies such as an active talk bubble updating you on news, horoscope, and weather and so on.
The music isn't bad either, with a reasonably good output quality and the camera is 2MP with quite clear and crisp results.
One cannot help but gaze downwards to the user friendly QWERTY keypad & dedicated texting button. Well spaced, with a smooth elevated feel, the keypad beyond doubt earns this quaint nugget its 5 star usability ratings. The OK and navigational button, along with the usual Left/Right and Answer/Power Off and End buttons sit below the LCD, offering you comfortable and easy handling like few phones.
Features (4 out of 5)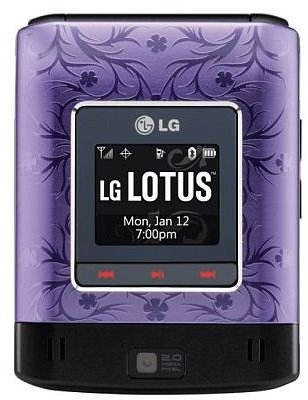 The LG Lotus isn't only a messaging phone, it has a gamut of high-end & multimedia features as well. But before we talk about them, let's first take a look at the basic features. The device boasts a 600-contact phone book, alongside space in every entry for 2 email addresses, 6 phone numbers, a web address, an instant-messenger handle and notes. Additional basics of the Lotus include multimedia and text messaging, an alarm clock, a scheduler, a calculator, notepad, voice memo recorder and a world clock.
For more advanced users, the device offers features like USB mode for instant messaging, email, voice command, PC syncing, a mobile web browser, stereo Bluetooth, and a document viewer. The device also brags of A-GPS which offers support for the Sprint Family Locator services and Sprint Navigation.
The built-in EV-DO in the device allows it to access to the Power Vision of Sprint. It has Sprint Movies, Sprint TV and Sprint Radio. Yes, being a multimedia phone, the Lotus also allows access to the Sprint Music Store.
Besides all that, the LG Lotus has a memory of 80MB, which can be expanded with the help of the built-in microSD-card slot.
An in-built 2.0MP camera can capture images in 4 resolutions, i.e. 1,280x960, 1,600x1200, 320x240 and 640x480 and supports 3 quality settings. Further options of the camera include: white balance, brightness, spot metering, 5 color tones, a night mode, a self-timer, fun frames, multi-shot, a 4x zoom, 4 shutter sounds, plus a silent option. The built-in camcorder has editing options quite like the still camera.
The LG Lotus can also be personalized in many ways such as; you can choose varied types of graphics for screensavers and wallpaper, diverse sounds for alerts and ringtones, and full apps and games as well. The handset comes with a variety of games and apps: a demo version of JewelQuest2, Space Monkey and Guitar Hero III, NASCAR Sprint cup Mobile, Social Zone, Google Maps and Loopt.
Performance (3 out of 5)
The 3.5 performance rating is due to the fact that over other smartphones with many more amenities and much superior technology, the LG Lotus is noticeably about style over features. Though navigation and usage is excellent and so are its mesmerizing looks, the Lotus, somehow, doesn't quite make PDA class in spite of a text dedicated keyboard.
While testing on Sprint's network, the Lotus was found to have superb call quality. The voice of the caller was quite clear and crisp without any static. The speakerphone was also good enough, though on the tinnier side. Besides, decency was also seen in music quality. Though there was a bit of weakness in the bass, the vocals and melody gave a pleasing sound. Better use a headset if you want better audio quality. The LG Lotus has incredible EV-DO speeds. No buffering issues were seen while streaming video from the Power Vision of Sprint. Plus, the video quality also resembles a lot of other Sprint TV phones.
Battery life (3 out of 5)
A rated battery life of the Lotus offers a talktime of up to 5.6 hrs, while on being tested, it offers up to 3hrs and 36 minutes talk time. The FCC radiation tests divulge that the Lotus comes with 1.360 watts per kg digital SAR rating.
Pros and cons (3 out of 5)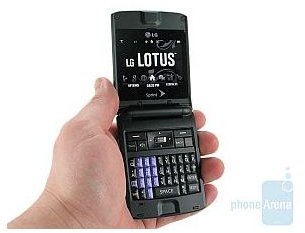 The good: Incorporated with a full QWERTY keyboard, the Lotus is a slender & stylish clamshell mobile phone. It sports a music player, 2.0MP camera, Sprint's 3G services, and a ground-breaking and avant-garde user-friendly shortcut interface, dubbed as One Click. The keyboard is tactile, and call quality is excellent.
The bad: The Lotus lacks Wi-Fi support, though utilizes WAP 2.0 technology, but it has been crafted to be more of a messaging phone than a web-device. The handset would be better if it had the capacity of playing constant FM radio, but that's truly fault-finding. Plus, some mixed feelings have also been expressed with regards to the squareish shape; but, shape penchant is a point to be opinioned. According to some, the shape is out of the ordinary, while others like it very much. Besides, the cell phone also lags a little while switching apps and entering text, and is also a bit pricey.
The bottom line: The Lotus is beautifully and strikingly designed. It boasts of top-notch attributes, and wonderful performance, which together make it one of the top messaging phones to be offered by Sprint.
Verdict (4 out of 5)
The smart & stylish LG Lotus is an ergonomically well-crafted mobile phone that comes with a good set of basic attributes for those who love listening music and surfing the Internet.
LG & Sprint, however, are still required to make a few functions a little more discerning. Its square shape and bigger screen make the device a better option than both; the Rumor & the Rant, unless or until, you have chubbier fingers and require a wider keyboard.