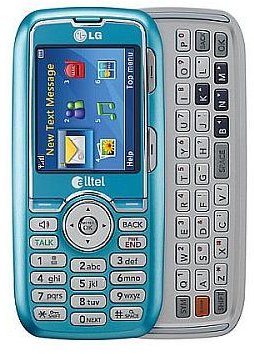 Introduction
Designed solidly for maximizing ease of typing messages & storing names, the LG Scoop does pack in quite a few goodies, but it is not an all-rounder. It does a few things and gets most of them right. Presently available solely for Alltel, the phone itself facilitates a good ergonomic design, providing users a wider grip and solid feel when the slider is used. The phone sits pretty in the lower middle bracket, and for its price ($49 to $99), proves to be a surprisingly responsive, nifty phone to use.
Design (3 out of 5)
Any phone from the stables of LG is bound to bear a proud, once-gorgeous candy-bar lineage. The Scoop is no exception, and at only 117 grams, it feels, surprisingly, light when used. LG uses high quality plastic to mould the phone into a recognizable candy-bar design, and when slid open, the full QWERTY keypad is revealed. Key alignment is quite spacious, and makes the device a serious no-nonsense button-pusher's delight. The handset is 4.3 inches long and 2 inches wide, and, at a depth of 0.7 inches, it feels a bit bulkier, but portable and sturdy too. The beefy body has a 2-inch decent TFT display, which offers support for around 262,144 colors, but on closer scrutiny, the color was found to be on the paler side. Still, for a display stretching to 176x220 pixels, the images are pretty decent. The Scoop can be had in three different shades: slate, citrus, and turquoise.
Features (3 out of 5)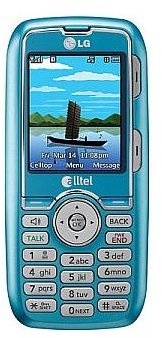 The LG Scoop isn't a geek's delight, but in consideration of its price, it's solid value for money. The phone comes with a nice little 1.3 MP camera built-in. Tucked right beside the external speaker at its back it allows you to capture photos and videos at 220x176 QCIF. Plus, the phone can also be used as a secondary MP3 player if you've missed your player while packing, and plays primary MP3 formats. The device also comes packed with up to 16 MB memory, and an external microSD slot that supports up to 4 GB SD chips.
In addition, the Scoop can also hoard 500 contacts with room in each for two e-mail addresses, 5 phone numbers, and notes. It allows you to assign callers to group them with one of 24 polyphonic ringtones and a photo. The Scoop is additionally decked with a few basic attributes; such as multimedia and text messaging, a vibrate mode, an alarm clock, a calendar, a notepad, a tip calculator, a speakerphone, a calculator, a world clock, and also a unit converter. The higher-end options contain Bluetooth, (IM) instant messaging, voice dialing, a voice recorder, PC modem support, USB mass storage, and email via wireless web browser. Though Bluetooth too comes on board, the Scoop doesn't proffer a stereo profile. The lack of 3G makes the LG Scoop unfit for high-speed data transfers, but it offers support for GPRS, Java and mail installations for IMAP/POP3/SMTP ports.
The built-in 1.3 MP camera looks a lot like the LG Rumor one, but it doesn't offer options like the Rumor. Indeed, you have an option of 5 resolutions such as 640x480, 1280x960, 320x240, 160x120 and 176x144, and you're free to opt for 3 quality settings. Further feats include a self-timer, 5 color effects, a night mode, adjustable brightness, a 2x zoom and 18 fun frames.
User Interface (3 out of 5)
The interface on the Scoop is not remarkably detailed like the more expensive LG Chocolate series, but that is understandable. What it lacks in panache, the LG Scoop makes up for with sheer common sense. The display menu is well-aligned, facilitating easy navigation and direct access to menu functions. Menu access is fluid enough, and not a single menu icon froze even after repeated access. Score one for LG users, this interface just rocks!
Performance (3 out of 5)
Besides, the LG Scoop sports a dual band reception and decent call-handling capabilities. Though the reception isn't crystal clear, it is more than usable even in crowded areas. The interface itself is fast enough, allowing call functions and Java-based apps to load and run quickly. The device also has a pretty ordinary battery backup, which, I believe, is enough for texting away. So, for a solid QWERTY phone, the LG Scoop is a decent enough performer.
Pros and Cons (3 out of 5)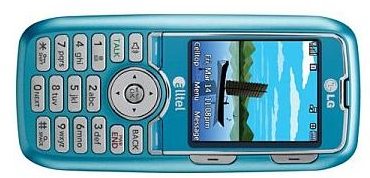 The good: The LG Scoop comes in an easy-to-use and eye-catching design alongside a spacious keyboard and navigation controls. It also brags a nice set of features including multiple messaging options, voice dialing and Bluetooth.
The bad: The LG Scoop doesn't have an admirable photo quality, while the voice quality can be a little harsh. Besides, it has no stereo Bluetooth profile and lacks 3G support.
The bottom line: Although the LG Scoop does not have some required features and attributes, it's a solid messaging phone for Alltel.
Verdict (3 out of 5)
With 3.5 hours battery life and 7 days standby time, the LG Scoop looks to be more than an average performer as a basic CDMA phone, but the smooth as silk use of its full QWERTY keyboard functions is its forte. A true-spirited followed to the LG Rumor; the Scoop offers tremendous value for money, and is perfect for the young, and the young-at-heart, who have their own cameras and MP3 players anyway!