Detailed Review of LG Vu Mobile Phone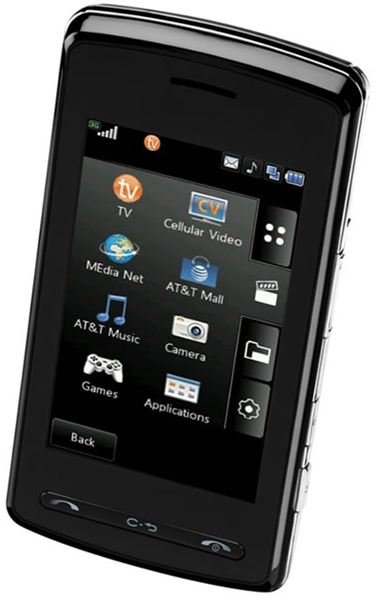 LG Vu
The LG Vu is a slim, powerful and stylish mobile handset that many mobile fanatics will love. This is regarded as one of the best handsets to come from LG. Find out what makes it so desirable in this LG Vu review.
Design (4 out of 5)
The LG Vu comes with a 3 inch diagonal, full touchscreen capable of supporting up to 262,000 colors at a resolution of 240 x 400 pixels. With the high resolution display, users will love the fine detail and bright colors. On the home screen, users can view details such as network strength, battery life, time, date, and photo caller ID. The display likewise acts as the viewfinder whenever the integrated camera is activated, and users can adjust different settings for brightness, backlighting time and dialing font size.
Beneath the screen are three buttons for Call, Clear, and End. On the right spine of the phone are different functions like camera key, volume toggle, hold key, and charger jack. An extendable antenna is located on the right most side of the phone, which can be used to get improved reception for the mobile TV service. At the back of the phone is the camera lens as well as a portrait mirror.
User Interface (5 out of 5)
The phone navigation is controlled through the massive full touchscreen display of the Vu. Four shortcut icons are found on the upper part of the home screen - main menu, contacts list, phone function (which activates the virtual dial pad), and the AT&T Mobile TV. Users have the option of bringing shortcuts of up to 8 applications on to the central part of the screen for apps such as Bluetooth, instant messaging, music player, cellular video, voice command, and new message.
Like the iPhone, navigation is achieved with the fingers. Users will love its intuitive navigation, as they need to tap on an icon to select, or swipe it with their finger to navigate through the menu list.
The numbers on the screen are also large enough to be hit correctly and quickly. The phone supports an option for full QWERTY keyboard, which results in switching the screen orientation to landscape mode for an easier time in texting.
Features (4 out of 5)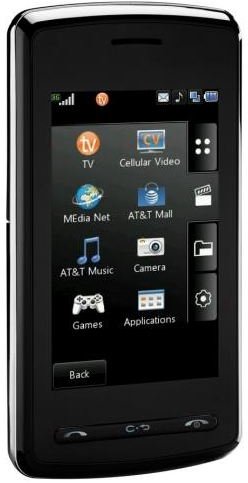 The LG Vu is rich in features, which is not surprising given its high price and market positioning. Arguably the most impressive feature is its live mobile TV from AT&T. This service offers live mobile television, allowing users to receive live TV shows straight to their handsets without even getting charged for data or voice transfer. The service also promises delivery of over 150 programs from provides such as ESPN, CBS, Fox, NBC, and MTV. Users will have to shell out about $15 a month for this service.
The phone is capable of storing up to 500 entries, which is a small number these days, although each entry can be stored with up to five numbers, a couple of email addresses and a small memo. Contacts can also be customized by assigning photos and ringtones. Other basic features include text and multimedia messaging, vibrate mode, calendar, calculator, notepad, world clock, stop watch, task list, USB storage, voice recording, instant messaging, and Bluetooth connection.
With 3G HSDPA support, the LG Vu allows access to the wide range of AT&T broadband services such as streaming video clips from ESPN and Comedy Central through the AT&T Cellular video service.
It also has a media player that has user friendly controls and the option to display album art. Users can make their own playlists and divide songs according to artists, title, genres, and albums.
The LG Vu has a storage memory of 120 MB but it also supports microSD cards for additional storage. It also has a good 2 megapixel camera that allows picture taking in five different resolutions with a maximum of 1600 x 1200 pixels. There are also three quality settings and five white balance settings incorporated, as well as four color effects.
Performance (4 out of 5)
The phone's camera performs well and creates good quality images. The lack of a flash, however, is a disappointment. The LG Vu also has an integrated camera recorder capable of recording of videos in two different resolutions. Video quality is not good, just like in most mobile phones.
The LG Vu can be relied upon for clear audio quality during voice calls, with minimal distortion. Volume during calls is also impressive, while calls made through the speakerphone are good enough.
In terms of web browsing, the LG Vu performs creditably. Web pages are loaded in seconds, and downloading of songs is completed in a minute. Video streaming proved to be fantastic with little buffering time.
The LG Vu has a battery life of 3.5 hours of talk time and 10 days of standby time.
Verdict (4 out of 5)
The LG Vu is indeed one of the most functional and stylish phones to have come from LG. Its great mix of features and form make it a good choice for those who want to have a sleek and high performing mobile phone in their pocket.