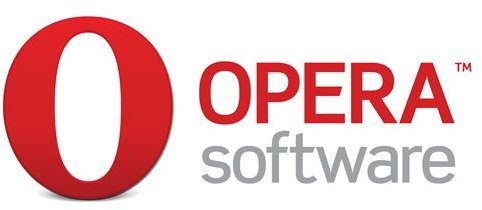 The LG Ally is a simple, yet functional, Android phone that runs on the older Android 2.1 (Eclair, can be updated to 2.2 Froyo manually) platform. Formerly available on Verizon but now discontinued, you can find the LG Ally at various carriers and vendors.
Here is our review of the LG Ally. Now buckle your seat belts as we review and recommend the top ten LG Ally apps.
Opera Mini 5
There is no getting around this simple fact, Opera Mini is simply the single most efficient, stable and widely available mobile phone browser on any platform except iOS, (though Opera Mini 6 is available at the App Store). But when used on the LG Ally, Opera Mini 5 feels like the perfect fit, you get the fast download speeds, the quick rendering, the smart zoom, and when the physical QWERTY keyboard of the Ally is thrown into the mix, it's simply one of the best mobile browsers out there. Period.
But it does not support Flash elements in phones that cannot process Flash content, also it's not really an ideal browser for desktop pages, plus you can't work on things such as Google Documents or Access Hulu videos from the browser, for those kinds of features you'll have to use…
SkyFire

SkyFire uses the "Gecko" rendering engine that ordinarily powers the ever praiseworthy Firefox desktop browser. Plus it also streams and compresses content/data on its own servers (just like Opera Mini) before delivering web pages to your 3.2 inch LG Ally touch screen. The cool thing about SkyFire is that it can change from desktop to Android view at your every whim, it can access Flash on websites that might not ordinarily run Flash content, it has a pretty intelligent smart zoom capability that easily rivals Opera Mini's, and it has enough Facebook based integration to fulfill every Facebook junkie with a euphoric feeling of being constantly connected.
It has the Facebook "Like" button almost everywhere, Facebook "Overview" which is a sort of mini Facebook page that stalks you throughout the browser, then you have "Popular pages" which gives a list of the most popular stories from any website based on the amount of Facebook "Likes" those stories have gotten. There is also "Ideas", where you can select a word or go over an entire page learning new words and then share them via…yep you guessed it, Facebook. In short SkyFire is pretty much a faster, more desktop view friendly version of Opera Mini with a lot of Facebook based functionality.
Aldiko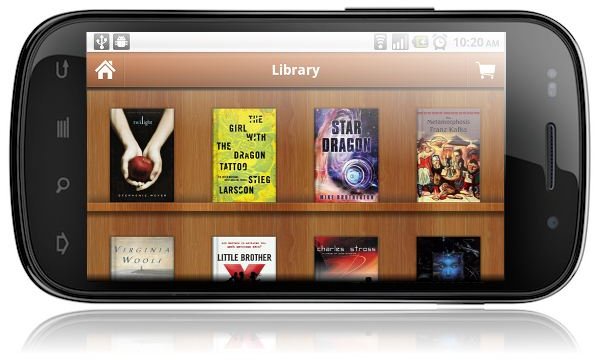 Aldiko is probably the second best Ebook reader on the market, the first being Kindle. But Kindle is just really famous and polished, it's not necessarily the single most diverse, option savvy E-book reader on Android, and neither is Alkido, but it looks just as good as Kindle and has a lot more functions available.
First of all you have a huge library to choose from, free E-books, paid E-books, your own E-books – as long as they make an appearance dressed up as Epubs, TXT's, HTML'S, a Word document, PDB's and PDF's. Adobe DRM technology is also supported, so you can read all those pesky books from Adobe that only work in your Firefox browser courtesy of a plug-in.
You can change from day to night view and all of your books are tagged and search ready, even the ones you've imported. You can have fun with adjustments to text sizes, font types, font colors, and background colors, even margins and alignment are customizable. Plus you can bookmark various pages, adjust the brightness easily and your last page is saved if you exit the app rather suddenly.
Locale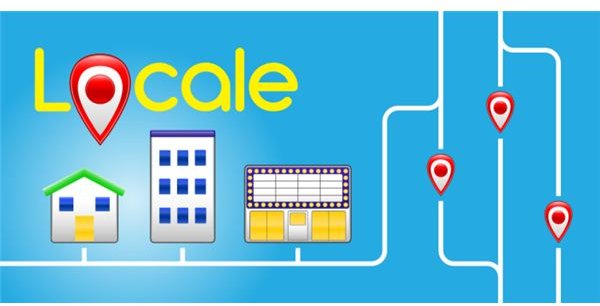 Locale is one of those apps that feels like it was developed by using magic, it manages to know where you are, and then reminds you of a task you have to do. For example, let's say you often forget to charge your phone when you come home, or maybe you forget to put it on charge when driving, just tell Locale to remind you. This is also a great app for people who tend to forgo a Bluetooth earpiece for the traditional hold-while-you-drive style of driving, it will simply remind you not to do so, and switch off or remind you to use the Bluetooth earpiece. Locale somehow figures out when you're home (or anywhere else for that matter) and reminds you to charge your phone or do any other task you fancy, pretty voodoo-like if you ask me.
Anyway, the story behind the development of the app, as told by the developers is – that a mobile phone once rang in court and absolutely no one in the courtroom admitted responsibility, as a result the judge (Robert Restaino) simply put everyone in jail, which amounted to a total of forty-six people.
RealPlayer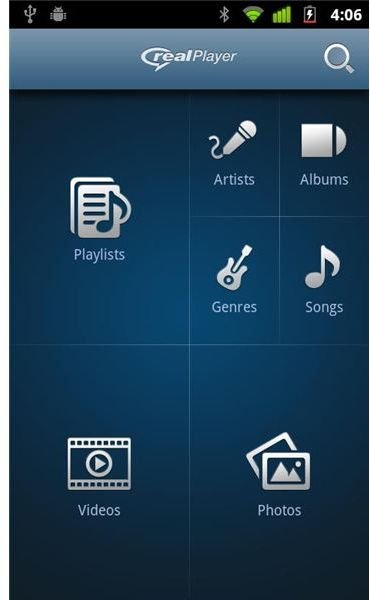 The RealPlayer app for Android is a sort of all in one media center, as you can watch videos, listen to music and view pictures. It has a pretty clean interface that is somewhat reminiscent of the new Windows Tile view on Windows smartphones. But you can view videos in any format that your phone natively supports, which in the case of the LG Ally means MP4's and 3GP movies. From a musical perspective you can play MP3's, AAC's, AAC+'s and WMA's files without a hitch. Pictures that are in JPG, GIF and PNG formats are easy to deal with as well, RAW pictures are a no go though.
Power Music Player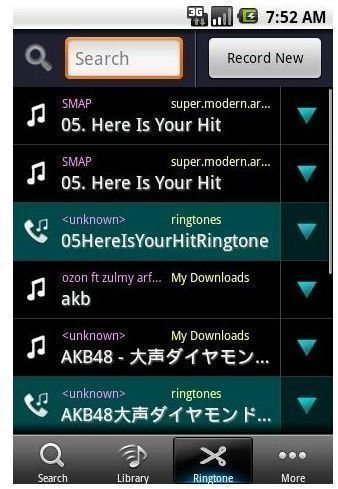 While RealPlayer is an all in one media solution, Power Music Player (as the name suggests) is purely designed to play music. The app plays a very large selection of music formats such as – MP3, MP4, M4V, OGG, WMA, FLAC, WAV, APE and WMV, and that's just the tip of the iceberg.
You can also create your own sounds from various songs or sounds, then designate your custom created sounds as ringtones, alarms or just random sound clippings. Plus you can play files from your directory directly or import them into the Power Music Player.
Google Translate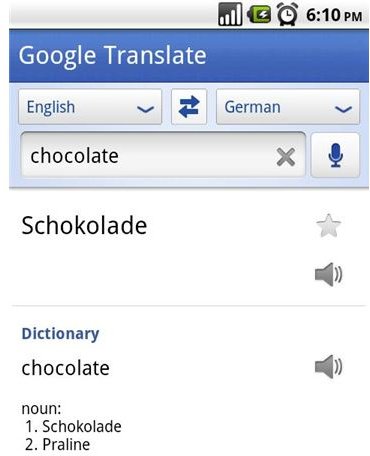 Most of Google's proprietary apps come pre-installed on Android devices, and needless to say they are all top notch. One such top notch app that rarely comes pre-installed though is the Google Translate app. The app lets you translate over 50 languages, plus it has features such as dictionary search, the ever useful text-to-speech, voice input, Romanization so that you can actually read something translated and finally "starring" your favorite translations. All in all a pretty handy app for asking "where is the toilet?" in most languages.
Speedtest.net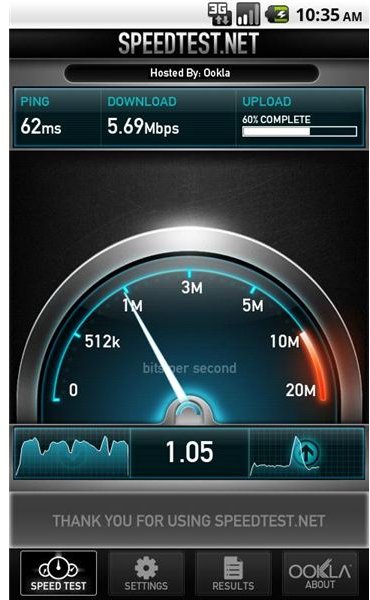 Some apps look sleek, cool or very well designed, very few apps look like they were designed for no other purpose than to look awesome. Luckily the Speedtest.net app does do more than look like it was made by the gods of awesome looking apps – it lets you know exactly how fast your Internet connection is.
You can measure the exact speeds of your 4G, 3G , 2G and even Wi-Fi networks, as a bonus you can share the results to vilify your carrier or ISP, or be stunned by the fact that they actually did deliver the speeds they promised, though this scenario is pretty unlikely.
Or you can just show off the app to your friends, that's another very important function of the app.
Prey Anti-Theft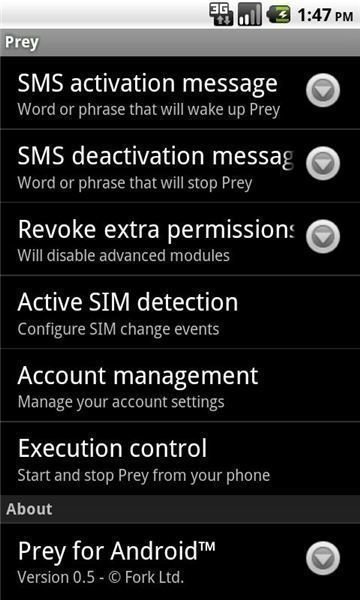 You will, at one point or another, either lose your phone, or it will be stolen or a baby will hide it in its diaper and never own up to the fact. That's where Prey Anti-Theft comes in handy, it uses the phone's GPS capabilities and Wi-Fi (if that happens it to be around), in order to track the location of your LG Ally. It can detect changes in the SIM card if it's thrown away by the thief or chewed on by the baby. It completely locks down the phone if you want. It can ring at the highest volume setting, even if the phone is on silent (keep a close eye on the baby's diaper). It can send an SMS to the phone in question and periodically updates you on the situation at hand.
But the best feature is the fact that this app can be used across platforms, so if it's your Galaxy Tab that's pictured on milk cartons, you can use your LG Ally to track it down, and of course vice-versa applies as well, so you can keep all your Android gadgets in one place and all under the same eye.
Fruit Slice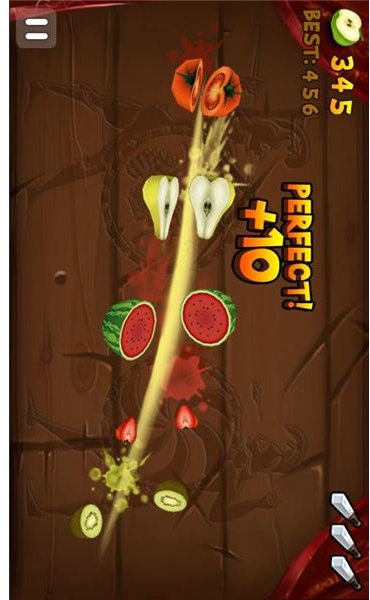 To round off our tour of the ten best LG Ally apps, let's pack up with the Fruit Slice game. As you've probably guessed from the name, it is a game where you cut variously colored fruits as they fall downwards by swiping your finger across the screen. The game looks fantastic despite its rather small file size (5 MB) and levels get harder as the fruits fall faster and you get more and more "bad" fruits that explode or reduce your points.
It's pretty much Fruit Ninja from iOS except here you're a Roman soldier in a metal skirt cutting fruits with your very, very short sword. Somehow Fruit Ninja seems like a cooler character, but otherwise it's the same game. There are loads of other great Android games out there too.
Let us know your favorite applications for the LG Ally by posting a comment.
References