Top Five LG Neon Software Apps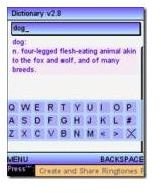 Introduction
The LG Neon can run any app in J2ME format, giving it a wide array of app choices, since it is one of the most popular and most used formats in mobile devices. If you are looking for some LG Neon software you can install in your mobile phone, whether for entertainment or productivity, here are some suggestions.
Vikrant Dictionary
It is always handy to have a dictionary with you wherever you go, especially if you are a writer or a student. Having a dictionary on your LG Neon makes carrying around heavy physical dictionaries a thing of the past, but some dictionary apps have a weakness, and that is their dependence on online service. This dictionary app eliminates that dependence by having all words and descriptions stored on the phone.
Snaptu Facebook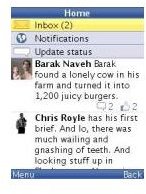 This application brings Facebook and its most used services to the LG Neon with an optimized interface for the mobile device. With the LG Neon designed to provide a great texting and typing experience to its users, posting messages and doing other Facebook tasks is easy and quick to do. You can view your news feed and update your status using this app. It also allows you access to notifications, profiles, photo albums, friend requests and comments. It's the most basic yet most popular set of Facebook features available in a compact presentation.
Hack Proof Password Manager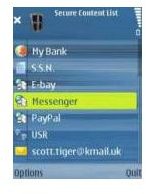 Relying on your phone to keep your passwords for your bank accounts, credit cards, email accounts, computers and other services or devices that need passwords may not be the best idea because if other people get access to your phone, your passwords will then be compromised. This app encrpyts your passwords and you can only access them if you provide the master password, which means your passwords will still be protected, even if your phone falls into other people's hands. You can export your passwords easily too, making it efficient to protect your passwords using different devices.
Mig33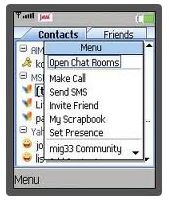 This app turns your phone into a hub of communication for you using instant messaging services like Facebook Chat, Yahoo!, MSN and Gtalk in one consolidated client. This app also lets you engage the rest of the Mig33 community and you can interact with them via group discussions, games, virtual gifts and more. Whether you like staying in touch with your friends or meeting new people, this is your portal into socializing with people just by using your phone.
Bluetooth File Transfer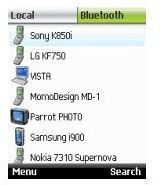 With this LG Neon software app running on your phone, you can get access to any device that supports Bluetooth connectivity. Once connected, you can explore the contents of that device, search for specific files and even edit, delete and rename the files and folders you stumble upon. You can have complete access to any Bluetooth device with this app, which is perfect if you are troubleshooting your devices or if you want to manage them without connecting those devices physically to a computer. This is one piece of LG Neon software that people who like to tinker with their portable devices will love.