Bell Mobile TV iPhone App Review
Concept (4 out of 5)
The concept of the Bell Mobile TV app is good, to bring live TV to users of the Bell (Canada) network on their iPhone. This concept is only really good and not excellent because of the fact that mobile TV apps for mobile phones are already a thing of the past, or at least they are becoming a thing of the past.
Regardless, the Bell Mobile TV app claims that it brings live TV to Bell Mobile users and can even include programming such as NFL and the Olympics. Of course, this could provide a useful service to Bell Mobile members, especially those who are into sports. The only problem with the concept of mobile TV is that fact that it is limited to mobile internet coverage and of course, it requires users to have an active Bell Mobile account.
These days, not many users have Bell Mobile accounts for many reasons. Many users have since switched to Rogers or other networks and therefore they will not be able to use the Bell Mobile TV application.
Functionality & Content (3 out of 5)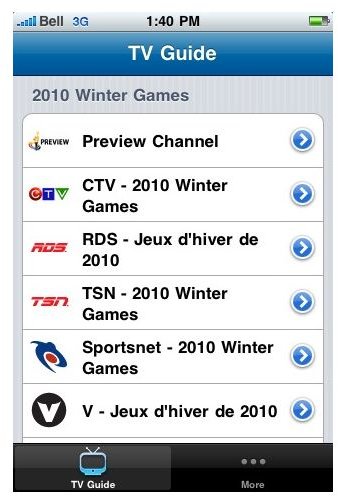 While the Bell Mobile TV app functions fairly well, that is about all the good things we have to say about it. The Bell Mobile TV application itself works well, but it has some major design flaws and is lacking content which makes it an unpleasant experience. Furthermore, the application is free but the majority of the content is not, a detail that Bell Mobile forgot to mention in the application description.
Initial content is very limited in the Bell Mobile TV app. The NFL and Olympics programming are available, however, they are not free. They are priced at $8 and $10 which is more than enough to ruin the entire idea of mobile TV for some users, it was enough to turn me off to the idea. Especially after paying high prices to have access to the Bell Mobile network and regular content, the additional cost to access mobile programming may be too much.
The fairly decent Bell Mobile TV application does not really get its chance to shine because of the lack of decent content. Within the application, controls are limited to basic playback and volume controls. There are no recording options or favorite options, etc. Essentially it is a very basic movie player which works with streaming content. One of the biggest flaws of the Bell Mobile TV iPhone app is the lack of Wi-Fi support. This application only works over 3G when connected to the Bell Mobile network. This means that if you happen to leave 3G coverage or do not get 3G coverage at home, this application will likely not be of much use to you.
Conclusion (3 out of 5)
Overall we don't dislike the Bell Mobile TV app. From a reviewer's standpoint, the app itself is not half bad. It does, however, leave a lot to be desired. One of the main problems with this app is the lack of free content. We would almost prefer for the app to charge a one time fee and come with the content included instead of being free and charging for each individual content package.
For users of the Bell Mobile network with constant 3G coverage, it might be worth a download. Some content is available free and if you are a huge NFL fan or Olympics fan, you may be able to justify the cost of these content purchases. Bell Mobile has promised that more content will become available on the app soon, so that may be something to look forward to.
The Bell Mobile TV app can be downloaded for free from the iTunes App Store (Download Link).